Frescos Naturales is a Latino-owned beverage company. This company makes Refresco's drinks products using fruits, grains, seeds, flowers and water. All the beverages products of this brand are refreshing and healthy.
The founder of this beverages company is Juan Ignacio Stewart. It officially launched this company in 2020. Juan grew up in La Antigua, Guatemala and moved to Boulder, Colorado when he was 17 years old.
Juan made the "Rosa de Jamaica" drink for his son Joaquin and Joaquin liked it very much. His son gave him the idea to sell this drink. In 2018, Juan started selling "Rosa de Jamaica" in the local farmer's market and he got a very good response from the people.
Seeing the interest of people, started developing drinks in many flavours. He launched this business officially in 2020 in partnership with his brother in law Sebastián.
Juan appeared on Shark Tank Season 14 Episode 12 and asked the sharks for $130,000 for 8% equity at $1.6 Million Valuation.
What Is Frescos Naturales?
Frescos Naturales is a Boulder, Colorado Base Healthy Beverages Company. This brand makes healthy drink of various flavours. These include Sparkling Rosa de Jamaica, Sparkling Tamarindo, Sparkling Maracuya, Sparkling Piña, Guayaba and Sparkling Mango.
The price of these beverages is $19.99. Water, fruit/grains/seeds, flowers and sugar are used to make these beverages.
This brand's beverages products are available at 57 different retail stores in the United States.
| | |
| --- | --- |
| Company Name | Frescos Naturales |
| Founder | Juan Ignacio Stewart |
| Founded | Dec 2020 |
| Product | Natural Latin American Special Drinks |
| Asked For | $130k for 8% equity |
| Final Deal | $130k for 25% equity |
| Shark | Daniel Lubetzky |
| Episode (Shark Tank USA) | S14 E12 |
| Air Date | Jan 20, 2023 |
| Business Status | In Business |
| Website | Visit Website |
| Headquarters | Boulder, Colorado, United States |
| Lifetime Worth (Sales) | $650k *estimated |
| Go To Amazon | Buy Now |
| Watch On | Amazon Prime |
Another Shark Tank Pitch
Who Is The Founder Of Frescos Naturales?
Juan Ignacio Stewart is the founder and CEO of Frescos Naturales Beverages Company. Juan comes from the film industry, he completed his studies from the University of Colorado Boulder with BFF, Film Studies + Media Production.
After studies, he worked as a media arts director/teacher for a few years. In 2015, he started a business named Green Belly Foods.
Frescos Naturales Before Shark Tank
The idea of ​​Frescos Naturales was given to Juan in 2018 by his son. Juan started selling Rosa de Jamaica drink in the local market in 2018 and he got a very good response from the people.
They started Green Belly Foods Company in 2015 and this company Gutmalon hot sauces are available in more than 200 markets.
To grow the business, in 2020, they started making self-distributing cans. This company will have to associate with major grocery store chains to grow.
How Was The Shark Tank Pitch Of Frescos Naturales?
Stewart enters Shark Tank with Latin American Beverages brand and asks sharks for $130k for 8% equity. The Sharks liked Stewart's pitch very much. They add 5g to 10g sugar in each recipe and each can has 60 calories.
Every Latin American likes to drink Jamaica but it is not available in most stores. This brand is accepted in Kroger supermarket retail stores.
This product is available at Kroger's 4 major retailer stores. This includes 130 King Supers stores in Colorado, 230 Ralphs stores in Southern California.
The business started with One Flavor of Jamaica and did $182,000 in sales the first year. So far in 2022, their sale has been $100,000, by the end of the year most probably their sale can be from $330k to $350k.
They anticipate selling $850,000 in 2023. The making cost of each can is $0.88 and it is sold wholesale for $2.10. Each can varies in price at retail stores, approximately $4.50.
Daymond John said this business is not for him so he is out. Kevin O'Leary said I'm out. Mark Cuban said the presentation was great but he hates this business, that's why he is out. Lori Greiner said that it is a challenging and very expensive, so she is out.
Daniel Lubetzky said this business is not investable today, But he told the founder and other sharks that this product is on trend, even though it's a tough space. Daniel said if you can convince other sharks to invest then he will come in it.
Kevin O'Leary said he would do the deal but at 30% equity. Stewart said he could go up to 20% equity, but Kevin said no. Daniel countered Stewart 25% equity, Stewart said ok but they need financing in production so they need help for that. Daniel said he will go with only 25% equity.
Finalize: Daniel Lubetzky invests $130k in exchange for 25% equity in "Frescos Naturales".
What Happened To Frescos Naturales After Shark Tank?
The drinkfrescos.com website crashed on Jan 20, 2023, after this episode of Shark Tank aired, which could be due to heavy traffic. Thousands of visitors must have visited the website of this brand simultaneously due to which the website crashed.
Many people had shared the photo of the website crash on Twitter.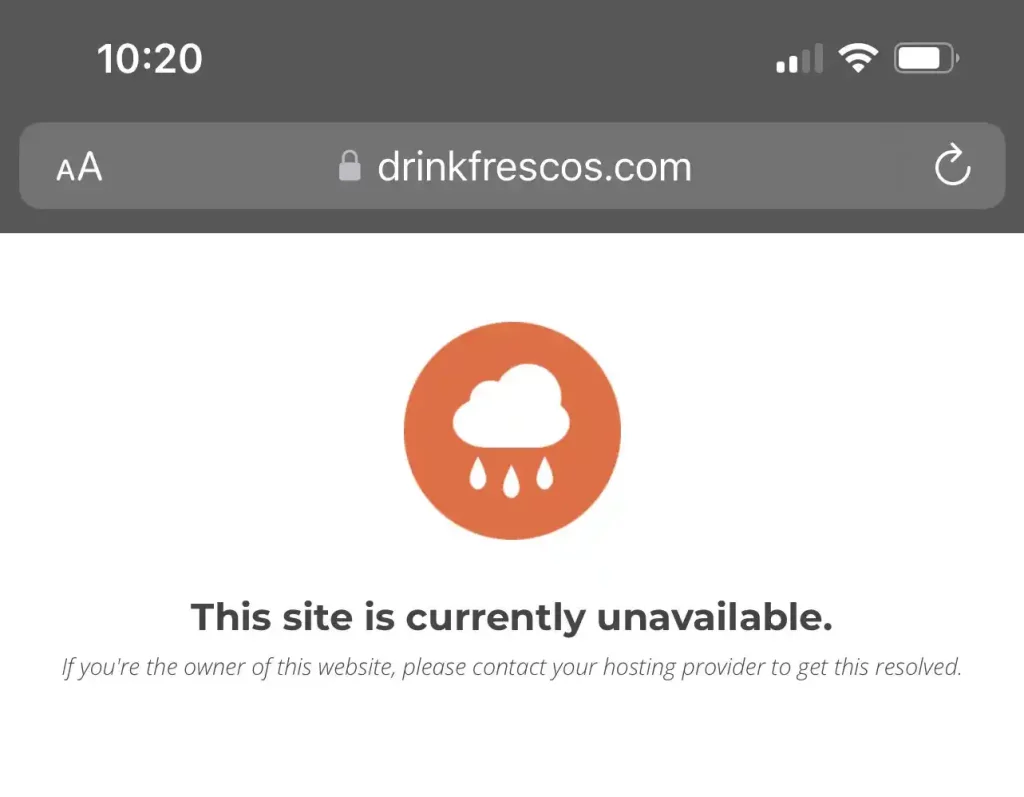 On January 26, 2023, Juan uploaded a video to the company's official Instagram account @drinkfrescos, The update was given in the video Juan and his team are working day and night on product packaging.
Recently the products of this brand have become available on King Soopers online store.
Frescos Naturales Shark Tank Update
Juan has already given many business pitches for investment in his business. After this episode of Shark Tank airs on Jan 20, 2022, a lot of people in Boulder, Colorado are starting to recognize this new brand that they didn't know before.
We're following Juan Ignacio Stewart along with his company for further updates.
What Is Net Worth of Frescos Naturales?
Frescos Naturales is estimated to be worth $520K. According to some media sites, the market size of the beverages industry in 2023 is $88.77 billion in the United States. Many health brands are coming into the beverage industry with drinks made from various natural fruit ingredients.
It is being projected that by 2027 the industry will be worth up to $158.90bn in the United States alone. In Shark Tank Season 14, a new beverages company Wildwonder appeared and guest shark Tony Xu invested in it.
Is Frescos Naturales Still In Business?
Juan runs the Frescos Naturales business very well along with his sauce company Green Belly Foods. Juan has been exploring the Foods and Beverages industry for many years and is his brother-in-law partner in a new beverage business.
This company's headquarters is in Boulder, Colorado, United States and 5-10 people are working in it.
Yes, Frescos Naturales is still in business as of January 2023.
frequently asked questions
When Was Frescos Naturales Born?
Frescos Naturales was born in 2018 but this food and beverages company officially launched in 2020, according to LinkedIn.
Who founded Frescos Naturales?
Frescos Naturales was Founded by Juan Ignacio Stewart