Wildwonder is the world's first sparkling prebiotic beverage. This sparkling drink contains vegan probiotics, prebiotic plant fiber, herbs, and luscious fruits. Their beverages contain only 6g of sugar with fruit flowers.
Tea Crush was founded by Rosa Li in 2017 and was rebranded to Wildwonder in 2018. In 2020, the beverage company's product was being shipped to 100 independent retailers and 300+ offices.
Li raised $2.1 million in funding in a seed round on Sep 15, 2021, to expand the business. Li said that she wanted to move out of Silicon Valley and become a national brand.
Rosa Li appeared on Shark Tank Season 14 Episode 11 and asked the sharks for $500,000 for 5% equity at a $10 Million Valuation. The founder aims to make this business a well-known brand in the country in the wellness beverage category.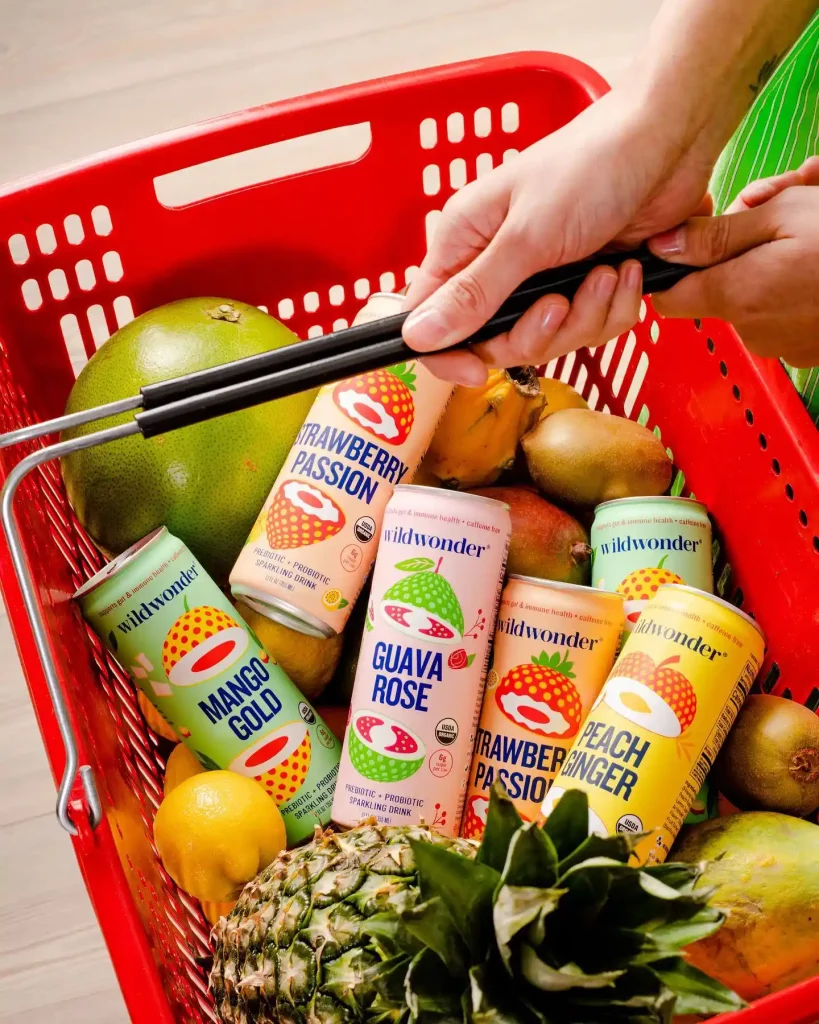 What Is Wildwonder?
Wildwonder is a sparkling super herb prebiotic beverage. This drink contains vegan, probiotics, and plant fiber which helps with digestion, brain health, and more.
This drink comes in 5 flavors including Guava Rose, Strawberry Passion, Mango Gold, Peach Ginger, Pear Turmeric, and Lemon Ginger. Sugar is 6g, fat 0g, and protein 0g in all these drinks.
The cost of 12 cans one time is $42.00 and the cost of 12 cans in subscription is $36.96. You get a 12% discount on your subscription. They give 5% of the profit of the business to Empower Women and Marginalized Communities.
The drink is available at The Fresh Market, Sprouts, Goods Mart, Sunlife Organics, Amazon, and on the company website.
| | |
| --- | --- |
| Company Name | wildwonder |
| Founder | Rosa Li |
| Founded | 2018 |
| Product | Healing drinks |
| Asked For | $500k for 5% equity |
| Final Deal | $500k for 6% equity + 3% advisory shares |
| Shark | Tony Xu |
| Episode (Shark Tank USA) | S14 E11 |
| Air Date | Jan 13, 2023 |
| Business Status | In Business |
| Website | Visit Website |
| Headquarters | South San Francisco, California, United States |
| Lifetime Worth (Sales) | $4 Million *estimated |
| Go To Amazon | Buy Now |
| Watch On | Amazon Prime |
Another Shark Tank Pitch
Who Is The Founder Of Wildwonder?
Wildwonder was founded in 2018 by Rosa Li. But in 2020, this brand was officially launched.
Li earned her MBA master's degree from the Stanford University Graduate School of Business. After graduation, she worked in various companies, including Warburg Pincus, True&Co, Pomelo Fashion, and more. From 2015 – 2017, she ran the Rosali Tea business.
Wildwonder Before Shark Tank
Wildwonder was founded in 2018 by Rose Li. In 2017 the name of this company was "Tea Crush" but in 2018 the name was changed.
In 2020, the company's beverages were available at select Independence stores in Northern and Southern California. "Li," said that the company's performance was affected during the COVID-19 pandemic.
Along with the change in the name of the company, the packaging of the product also changed completely. After rebranding, several campaigns were run on social media to create identity.
On September 15, 2021, Li raised $2.1 million in funding. Li said the funding would make the company a national brand.
Currently, Wildwonder is available in 1000+ Sprouts, Fresh Market, Sunlife Organics, Whole Foods, and Erewhon across the country. Apart from this, these drinks are also available on Amazon and Drinkwildwonder website.
How Was The Shark Tank Pitch Of Wildwonder?
After entering the shark tank, Rose says that her grandmother taught her the philosophy of foods as medicine. She says that the medicine worked for her stomach. Rose asked the shark for $500k for 5% equity.
Lori Greiner tasted Guava Rose and it tasted like rose water. Each can have 35% calories, 90% less sugar than soda, and 50% less sugar than kombucha. Tony Xu said can we go to school together, Rose said yes we did thank you for remembering us.
Rose Li said she grew up in China and was raised by her grandparents for 12 years, Her parents immigrated to America, and at the age of 12 she could not speak English and within 3 years she joined her school's debate team.
In 2020 the product became available in 200+ grocery stores and websites within 3 months of launch. So far their total revenue has been $1.4 million and they will go up to $2.5 million in revenue.
This year it is not profitable. They are focusing on increasing the gross margin. Making cost is $0.90 and the retail price is $3.49. Within a year they will bring the making cost down to $0.70. Last year they raised $2.1 million at Pre-money (Safe: Simple Agreement for Future Equity) and $6 million Cap.
Kevin O'Leary said he would not be able to deal with 5% equity. Lori Greiner said she thinks you're in a very big market, so she out. Mark Cuban said this Strawberry Passion was so good he would order it, but now he is out.
Barbara Corcoran said that she had invested twice in the beverage business and suffered huge losses, she noted her lawyer and came out of the beverage deal and her lawyer said if you go into another beverage company I will kill you, that's why she is out.
Tony Xu offered $500k for 9% equity and this is his final offer. Rose countered $500k for 6% + 3% advisory shares. Tony said done.
Finalize: Tony Xu invests $500k in Wildwonder for 6% equity + 3% advisory shares.
What Happened To Wildwonder After Shark Tank?
After this episode of Shark Tank aired, people shared their options in the conversation between Doordash CEO Tony Xu and Rose Li.
Several Reddit users have pointed out that the Wildwonder Drink Shark Tank pitch was fake. Many Reddit users started fighting with each other to prove this pitch was fake and real.
Some Reddit users also said that they would definitely "try" this product once.
What's new on Wildwonder
The product of this company is available in 1300+ sprouts and fresh market retail stores across the country. Information has been received from some reliable sources that the deal with Tony has been canceled.
By June 2023, they have launched a new flavor 'Pineapple Paradise Prebiotic + Probiotic Sparkling Drink'.
Wildwonder Shark Tank Update
Rose tells Shark Tank about the tonic made by her Chinese grandmother and how the tonic cured her stomach. That tonic was made by Grandma from wild herbs and botanicals.
We're following Rosa Li along with her company for further updates.
What Is the Net Worth of Wildwonder?
Wildwonder has an estimated worth of $8.3 million. As of 2021, the company has raised a total of $2.2 million in funding from various investors. A startup will need much investment to grow in this beverage industry.
The estimated market value of the global herbal beverages market in 2020 was $1.56 billion. This industry is growing slowly and many new startups are being formed in this industry.
Is Wildwonder Still In Business?
Found Rose Li is focusing on making this brand a popular brand across the country. The brand's products are already available in several supermarket stores and will be available in the rest of the major retail stores in 2023.
The company is headquartered in South San Francisco, California, and employs 5 – 10 people.
Yes, Wildwonder is still in business as of June 2023.
frequently asked questions
Who founded the Wildwonder?
Wildwonder was founded by Rose Li in 2018.
What is Wildwonder's Valuation?
Wildwonder's current valuation is estimated at $8.3 million.