A lion latch is a storage in which small rings and necklaces are stored safely and without damage and that appeared in Shark Tank Season 13 Episode 1. This storage is portable and there is a hole in the top layer, it can be attached to the bag, etc. by hooking it.
The Lion Latch is a simple tiffin box-like storage with rubber on the inside and plastic on the outside. It locks rings, small necklaces, earrings, ankle bracelets, hearing aids, and pills with ease without damaging them.
The founder of this company, Lerin Lockwood, was very worried about her wedding rings because she is a sports coach, Rings can get a lot of damage while playing sports.
Lockwood started looking for a place that is protective, convenient & consistent so that the rings cannot be damaged in any way.
She did not get any kind of option in the market. After this, she decided that she would make her own storage for the rings, etc. After that Lion Latch started.
The Lion Latch was featured in Shark Tank Season 13 Episode 1 and asked the Sharks for $150,000 for 15% equity at a $1 Million Valuation. This company did a total of $530K in sales from 2015 – 2020.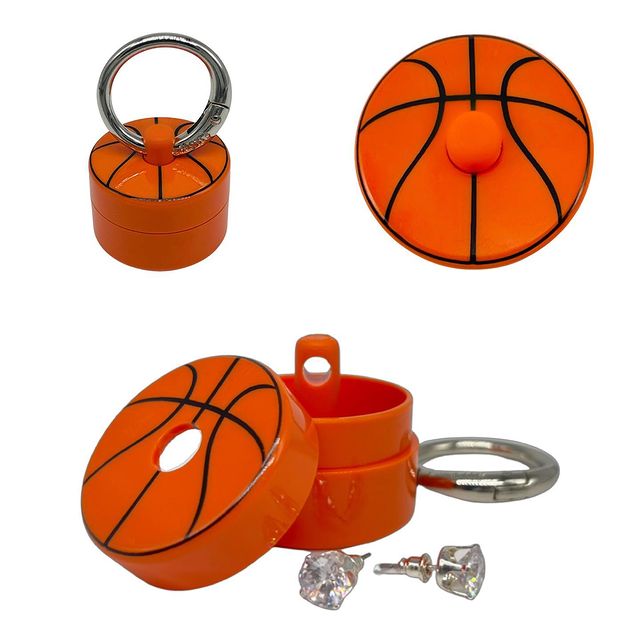 What Is Lion Latch?
The Lion Latch is a compact, portable jewelry storage container and is made using ABS plastic. Aluminum alloy can be attached to this container.
It is a small round locker and can be used to store different types of small jewelry. This includes rings, small necklaces, earrings, ankle bracelets, hearing aids, or pills.
This small round locker has a hole in the top layer which can be attached at any place in the key chain, bag, backpack, etc. Until the carabiner is not opened, it cannot be opened by bringing it.
This container size is 1" deep, and 1.5" in diameter, and comes in different colors like hot pink, turquoise, purple, blue, orange, red, maroon, and neon green.
The price of this container is $10.95. This business has launched a new product Travel Jewelry Case which is priced at $41.95.
| | |
| --- | --- |
| Company Name | Lion Latch |
| Founder | Lerin Lockwood |
| Founded | 2025 |
| Product | compact, portable jewelry storage container |
| Asked For | $150k for 15% Equity |
| Final Deal | No Deals |
| Shark | No Shark |
| Episode (Shark Tank USA) | S13 E1 |
| Air Date | Oct 8, 2021 |
| Business Status | In Business |
| Website | Visit Website |
| Headquarters | Horseshoe Bay, Texas, US |
| Lifetime Worth (Sales) | $2M *estimated |
| Go To Amazon | Buy Now |
| Watch On | Amazon Prime |
Another Shark Tank Pitch
Who Is The Founder Of Lion Latch?
The founder and CEO of Lion Latch are Lerin Lockwood. Lockwood started this business in 2015.
After completing her bachelor's degree from Texas State University, she studied sports management, master's degree from the University of the Incarnate.
She joined Texas Eclipse Club Volleyball as an assistant volleyball coach. She worked as an art teacher in Marble Falls ISD for 10 years.
In August 2014, she joined the Rising Stars Youth Volleyball League as a youth volleyball coordinator.
Lion Latch Before Shark Tank
Lion Latch was started in 2015 by Lerin Lockwood. Lockwood is a sports coach and when she plays she has to take off her earrings and rings. The idea for this product came to him when she was catching a softball during a game.
When she took off her gloves and saw the finger, the stone of her engagement rings had come out. This problem didn't just happen with Lockwood.
When we do any kind of work, then we take off our rings and jewelry and keep them in a safe place. Sometimes what we think is a safe place is not safe.
Lion latch container in which multiple rings and jewelry of small size can be stored. This container has a carabiner clip that closes securely and its hook can be stuck in bags etc.
When Lockwood was making prototypes of the product, she made multiple shape prototypes, finally, he approved small round prototypes.
Starting the business in 2015, she launched a successful Kickstarter campaign with her funding goal of $14,000 and she raised $14,592 amount of funding in this campaign from 225 backers.
She has shipped the product to all the backers and they really liked the product. Lockwood needed more funding and expertise to grow her business, so she decided to join Shark Tank.
How Was The Shark Tank Pitch Of Lion Latch?
Lerin Lockwood entered Shark Tank with the Lion Latch Company and asked the Sharks for $150k for a 15% equity. She told Shark about her story when she lost her jewelry. Lerin tried to understand the shark about the importance of this product.
This company has done a total sales of $530,000 in the entire 5 years. She said that in 2021 she will make sales of $230,000. The making cost for each unit is $1.50, the wholesale price is $5 and the retail price is $10.
Kevin, Mark, Emma, ​​Lori, and Barbara are not interested to invest in this business. All the sharks are out.
Finalize: Lion Latch did not get a deal on Shark Tank.
What Happened To Lion Latch After Shark Tank?
Lion Latch did not get a deal in Shark Tank as Shark found this business scope limited and it is not investable. This product is a simple small size jewelry container.
Right now this product has been patented. This product has not made many sales so far. This company has launched a new product Travel Jewelry Case in which the jewelry can be easily stored.
It is the plan of the company that in the coming time it is going to launch more different types of products.
The sales of this product were very good at the time of Christmas in 2021, orders were received from different cities in the United States. Lerin shipped the product to his local post office in Texas whose value was thousands of dollars.
Lion Latch was featured by Fox 44 News in January 2022. This company has been featured by multiple media publications, including The View and GMA.
Lion Latch Shark Tank Update
Lion Latch did not get a deal in Shark Tank but it got very good sales. She got a thousand orders within a few hours after this episode aired.
In 2021, this company's annual revenue was in the range of $800K – $1.5 million. This Texas base company has launched Studded Tumbler product, the price of this product is $17.95.
We're following Lerin Lockwood along with her company for further updates.
What Is Lion Latch's Net Worth?
This company has not done many sales so far, if we talk about Lion Latch's Worth, then it is around $100K to $350K. It is launching more new products. Right now we do not have the correct information about the revenue of this company, so we are analyzing the last year's sales of the product.
Is Lion Latch Still In Business?
Lerin Lockwood is doing this business part-time and she is self-employed and she also does a job. Currently, Lerin is working on some new products.
The sales rate of this business is not able to grow much till September 2022. This product needs to be marketed in order to bring in sales.
Lion Latch is listed on Amazon and sales of this product through Amazon are very good. This product has got a rating of 4.8 on Amazon and most people have given a positive rating to this product.
Yes, Lion Latch is still in business as of December 2022.