The Cheese Chopper is a tool that is used for slicing, grating, and storing cheese. Its three handle wire, blade, and grater give a perfect size to the slice of cheese. If you want to eat cheese at any time, then cut one slice of cheese in the cheese chopper and enjoy the cheese.
Tate Koenig, the inventor of this unique cheese cutter, needs funding to bring this tool to everyone's kitchen. So it appeared in Shark Tank Season 12 Episode 20 and asked the Sharks for $75,000 for 10% Equity.
Tate Koenig loves inventing new products and keeps experimenting with different things. The idea of ​​the cheese chopper came to him when he was cutting a big cheese and it got scattered all around.
A lot of things also get put on the finger and many get wasted. Tate realized that this is not only happening to him, there are many people who are facing this problem.
Cheese chopper was born as a solution to this problem. It is a 3-in-1 cutter that comes with wire, blade, and grater handle. A perfect size of cheese is cut through this tool.
This cheese cutter is available in the alternative market but not many products have 3 in 1 cheese slice option. Its special thing is that it provides storage to store the Cheese.
People already use Knife to cut cheese or they buy cheese slice packs from the market. It is not so easy to cut with a knife, it spreads and every pack of it on the market comes quite expensive.
Homemakers might like the cheese chopper tool a lot and their work will also become easier with this tool.
What Is The Cheese Chopper?
The Cheese Chopper is a 3-in-1 cheese slicer, shredder, and storage container that prevents wastage of cheese. This is a perfect cheese cutter for the kitchen, this tool can be used by anyone easily.
If we go to cut the thing in the knife, then there is a chance of getting a finger cut in it but this tool is completely safe.
This tool comes like a Container in which a large pack of cheese is stored. It has a moving system that moves things back and forth.
You can cut a perfect slice of cheese for yourself by choosing any cutter from wire, blade, and grater.
As standard storage, this tool's airtight container keeps cheese fresh 2x longer and reduces the use of plastic wrap and oversized containers.
All the components of this tool are dishwasher safe. This Cheese Chopper is priced at $34.99 in 2022. This tool is available on both Amazon and its website platform. The price of this tool is $39 on Amazon.
| | |
| --- | --- |
| Company Name | The Cheese Chopper |
| Founder | Tate Koenig |
| Founded | 2018 |
| Product | 3-in-1 cheese slicer, shredder, and storage container |
| Asked For | $75,000 for 10% equity |
| Final Deal | No Deals |
| Shark | No Shark |
| Episode (Shark Tank USA) | S12 E20 |
| Air Date | April 9, 2021 |
| Business Status | In Business |
| Net Worth | $340K *estimated |
| Website | Visit Website |
| Headquarters | Portland, Oregon Metropolitan Area, US |
| Go To Amazon | Buy Now |
Another Shark Tank Pitch
Who Is The Founder Of The Cheese Chopper?
Tate Koenig is the Founder & CEO of The Cheese Chopper. In 2009, he became the co-founder of Citizens of the World (a Non-Profit Organization) and is currently its president.
Tate completed his Bachelor of Science in Business from Oregon State University in 2012. Prior to college, he had worked in Hubbard Auto and Electric. TK Orchards Company.
After completing his business studies, he joined Shelter Products Inc in 2013 as a lumber broker.
Since 2002, he is the Operations Manager of the Full Contact Fighting Federation. Idaho Pacific Lumber Company has had a lumber broker since 2018.
He had run many fundraise campaigns for Citizens of the World (Cow).
The Cheese Chopper Before Shark Tank
The Cheese Chopper was launched by Tate Koenig in 2018. Because those cheeses were very much frustrated after cutting, all the things were spread here and there and some waste was also being done.
Tate also researched this online cheese cut tool but did not find any all-in-one solution. After this, he decided that he himself would make this tool.
After Tate made the prototype of his product, he also applied for its patent and he got it.
In June 2020, the founder launched a pre-order base fundraising campaign for the tool on Kickstarter with a goal of only $15,000. But he got a raise of $100,436 from 2,249 backers.
In the same month, he ran a successful Indiegogo campaign in which he raised $111,826.
It was all pre-order fund Raise. They had to ship the cheese chopper to the inventor but due to pandemics, they could not get the manufacturer.
Because of this, they had to ship all the products by February 2021. They have just shipped the product to all their customers.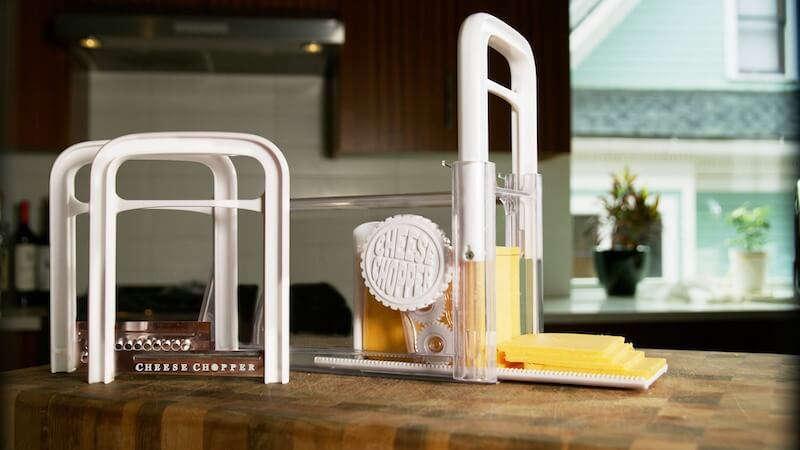 How Was The Shark Tank Pitch Of The Cheese Chopper?
After Tate Koenig entered Shark Tank, he told the shark about The Cheese Chopper through a demo session. He also gave information about his story and background. Tate then asked Shark for $75,000 for 10% equity. The valuation of his company was $750k.
This tool retails for $39.99 and is manufactured for $6.65. He ran campaigns on Instagram, Facebook, and Kickstarter for pre-orders, which earned him $125,000.
To bring this pre-order sale, Tate did not do any kind of paid marketing, it is all organic.
All the sharks got out of this business deal, they said that Kickstarter revenue is not any sales, it does not get true feedback from the customer.
What Happened To The Cheese Chopper After Shark Tank?
The Cheese Chopper didn't get a deal in Shark Tank but it got a lot of sales because of this episode.
Currently, Tate has shipped all the pre-orders, and reviews from the people show that this product is getting a very good response.
After this product became available on Amazon, its sales increased a lot because Amazon is a global platform, and every person uses this platform.
This company is making the cheese chopper and is making multiple products, it includes The Simple Slicer & Dicer, Collapsible Pizza Container, Handmade Walnut Coasters & Other Collapsible Containers.
The Cheesechopper is doing paid marketing on social media, people are also liking this product very much.
Most of the interest in the kitchen product is female and social media is a very good platform for this product to bring sales. If it markets the product on Pinterest then it can get very good sales.
On September 23, 2022, Another time Tate Koenig appeared in Shark Tank Season 14 with his new product, a pizza pack, and asked Shark for $100k for a 10% equity. Lori Greiner invested $100,000 in it for 13% equity. This time Tate got a successful investment in Shark Tank.
The Cheese Chopper Shark Tank Update
The Cheese Chopper had another Shark Tank episode on April 9, 2021, and in just a few months, it did half a million sales.
Before Shark Tank, On Kickstarter, he had got very good pre-order sales, and still his pre-order continues.
On September 23, 2022, Tate enters Shark Tank Season 14 Episode 1 with his new product Pizza Pack and asks the Sharks for $100k for 10% equity. Lori signs an investment deal with Tate for $100k for a 13% equity.
This company is offering free shipping on orders over $30.
What Is The Cheese Chopper Net Worth?
Kitchen Appliances Market Size of $237.3 Billion in 2019 and now it has increased a lot, there are many people, and there is more competition in this industry. Now, The Cheese Chopper's net worth is $340K.
Is The Cheese Chopper Still In Business?
The Cheese Chopper Company is making multiple products and they are trying to expand into different categories.
It is selling its product both on Amazon and on its website. Most of their sales are coming through Amazon, many people are using this product right now.
People's reviews on Amazon show that people are liking this product. It has a rating of 3.8 out of 5 and 50% of people have given a 5-star rating.
Yes, The Cheese Chopper is still in business as of October 2022.