Pie Wine is a sparkling wine that is the best combination with pizza. This wine business was created in early 2022 by Kevin Klein and Josh Green. Both of them have been very good friends for over 30 years and they spend their time eating pizza.
They were looking for a perfect drink which would be a good combination with pizza and would also be tasty but they could not find that drink in the market. To fill this gap in the market, They created Pie Wine, also known as "The OG Pizza Wine".
Like every business, Kevin and Josh also faced many difficulties in their business. After solving all the problems, they successfully launched the product in the market.
They needed funding to grow their business so they appeared on Shark Tank Season 15 Episode 1 and asked the sharks for $200,000 for 7.5% equity at a $2.6M Valuation.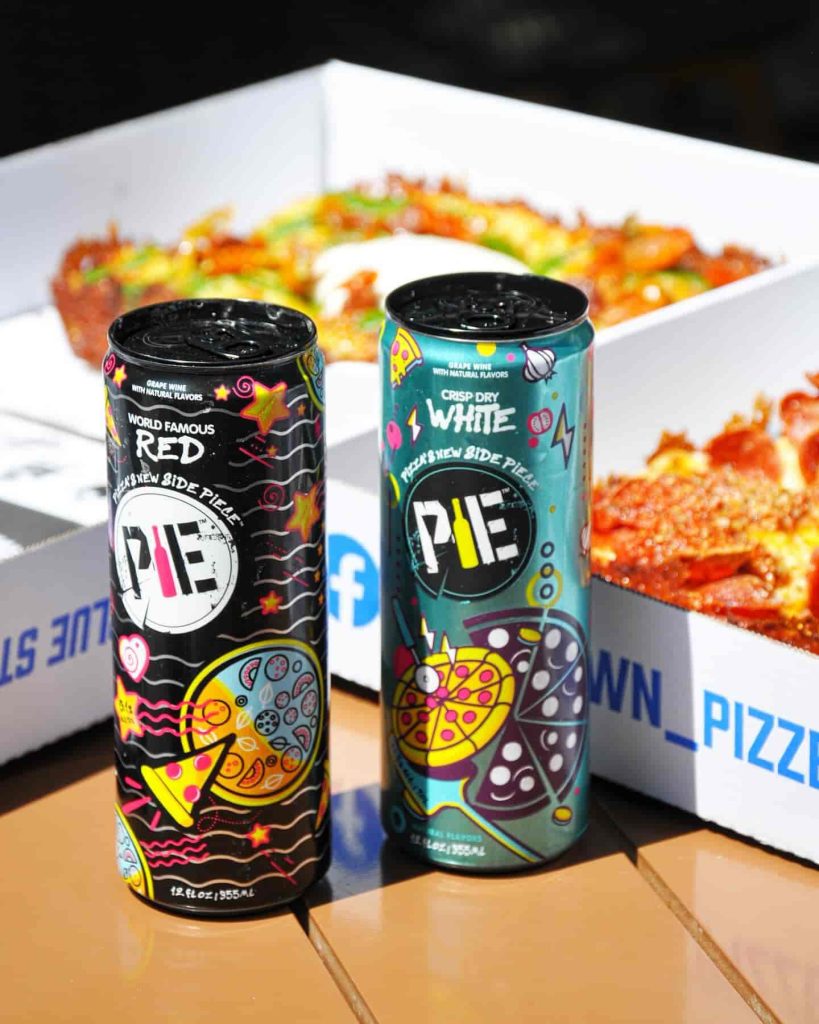 What Is Pie Wine?
Pie wine is a sweet sparkling wine that is a companion to a pizza slice. This Wine is Available in 3 Flavors Crisp White Wine, Sweet Za Wine, and Red Wine. The price of 4 Pack 12 Oz Cans Size is $20.
Company Name
Pie Wine
Founder
Kevin Klein and Josh Green
Founded
2022
Product
Pizza's New Side Piece Wine
Asked For
$200k for 7.5% equity
Final Deal
No Deals
Shark
No Sharks
Episode (Shark Tank USA)
S15 E1
Air Date
Sep 29, 2023
Business Status
In Business
Website
Visit Website
Headquarters
Los Angeles, California, US
Lifetime Worth (Sales)
$1M *estimated
Buy and Watch
Buy Now
Amazon Prime
Another Shark Tank Pitch
Who Is The Founder Of Pie Wine?
The co-founders of Pai Wine Company are two best friends Kevin Klein and Josh Green. They started this company in early 2022.
Kevin Klein
After completing his graduation, Kevin worked as a content writer and host in different media companies. For 2 years he has been the host of "Morning Show Host KLEIN.ALLY.SHOW".
How Was The Shark Tank Pitch Of Pie Wine?
After entering the Shark Tank, Kevin and Josh asked the Sharks for $200k for 7.5% equity. They explained their business to the sharks. When the sharks tasted their wine, they liked it very much.
They are currently distributing in 8 states and have made distribution commitments ranging from $300k-$400k Wholesale. They plan to distribute in 18 states and expect to make $0.5M in 30 days. They are projecting sales of $6.5 million by the end of the year.
Till now they have invested $300k in this business. The making cost of the product is $1.50, the distribution cost is $3.25 and the selling cost is $5.50.
Pai Wine did not get investment from Shark Tank, the shark said that the business is early and there is a lot of competition.
Finalized: Pie Wine didn't get the deal on Shark Tank.
What Happened To Pie Wine After The Shark Tank?
Pai Wine did not get the deal in Shark Tank, the shark said that this business is in the early stages. In this episode, Kevin O'Leary reveals that he is going to start his own sparkly wine business soon.
Guest Shark Candace Nelson shared the photos with @PieWines and @GatsbyChocol on Twitter on September 30, 2023.
What's new on Pie Wine
Last Update: November, 2023
This episode of Shark Tank aired on September 29, 2023, and all the wines were sold out within 4 days. The product was restocked on October 3, 2023. There are still many people who are waiting to taste this wine.
The founder had revealed that this beverage will soon be available in Westfield Topanga.
Pie Wine Shark Tank Update
Due to the effect of the Shark Tank show, the entire stock of Pie Wine was sold out, although after a few days, the stock was back again. At present, we do not have much information related to this brand.
What Is Pie Wine Net Worth?
Pie Wine's net worth is estimated at $0.5 million. The bigger the beverages industry is, the more competition there is. There are many brands competing in this industry. Some media sites estimate the beverage market size in the United States to be $64.38 billion in 2023.
Note: This report is based on our research and data so far. In this, we are only estimating the annual revenue.
| | |
| --- | --- |
| Years | Annual Revenue |
| 2023 | TBD |
| 2022 | $1M *estimated |
| | | |
| --- | --- | --- |
| Years | Funding Amount | Investor |
| N/A | N/A | N/A |
Is Pie Wine Still In Business?
Pie Wine Company was started in early 2022 and is still running. Co-founder Kevin is currently working in the party of this company.
The current headquarters of this company is in Los Angeles, California, and according to the LinkedIn profile, 3 people are currently working in it.
Yes, Pie Wine is still in business as of November 2023.
frequently asked questions
Who founded Pie Wine?
Pie Wine was founded in early 2022 by Kevin Klein and Josh Green.
Did Pie Wine get a deal on Shark Tank?
Pie Wine did not get the deal in Shark Tank, the shark said that this company is still in the early stages.