GATSBY Chocolate is a low-calorie, vegan chocolate bar business founded in June 2021 by brothers Ryan Bouton and Doug Bouton. Co-Founder Doug is the Founder and CEO of Chicago-based Halo Top International Ice Cream Company.
Justin Woolverton and Doug Bouton founded the Halo Top brand. This brand is known in the United States for its Pints ice creams.
GATSBY Brand's first product milk chocolate style and almond dark chocolate style bars was launched and the co-founder of the brand Doug was already running an ice cream business.
By 2022, Gatsby chocolate bars will be available at famous retail stores Kroger, Ralphs, Fred Meyer, and More.
Co-founders Ryan Bouton and Doug Bouton both appeared on Shark Tank Season 15 Episode 1 for funding and asked the sharks for $500,000 for 5% equity at a $10M Valuation. Almost all the products of this brand are available on Amazon and Walmart stores.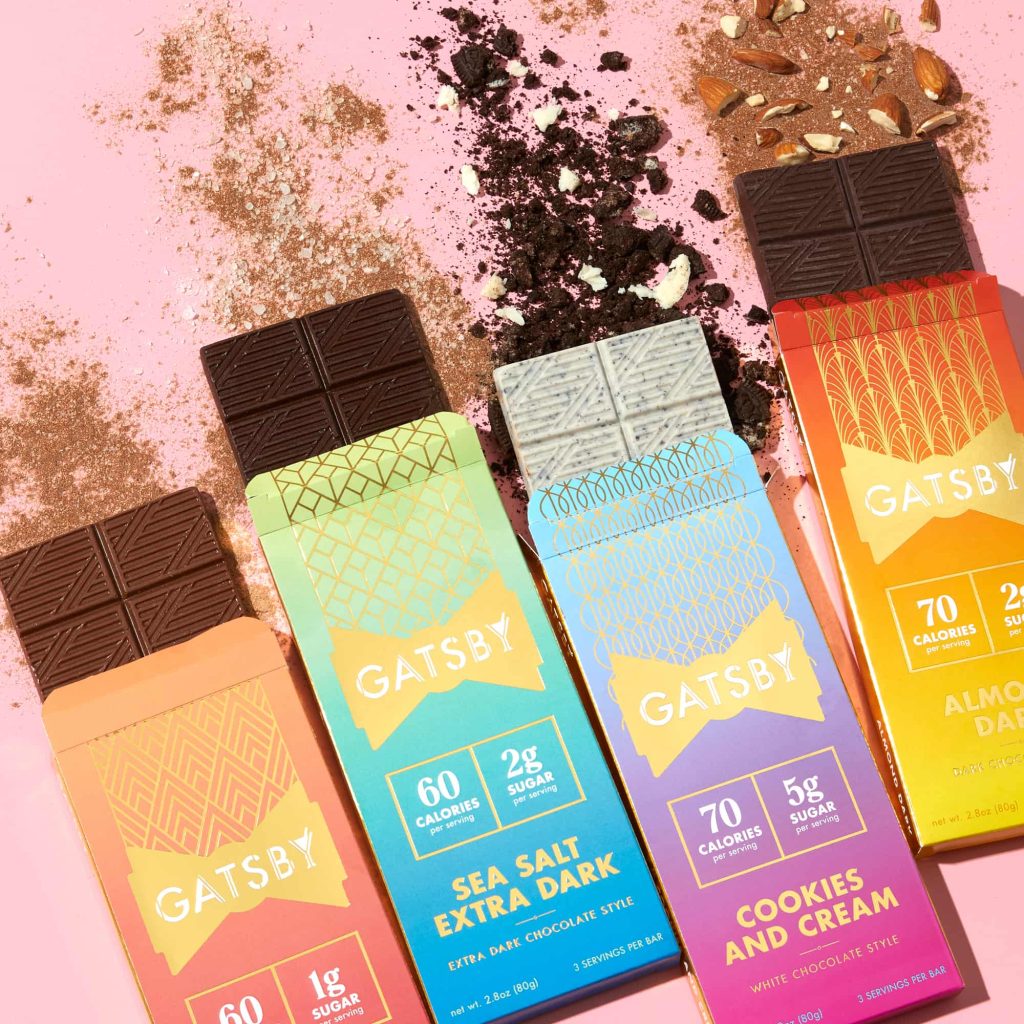 What Is GATSBY Chocolate?
Gatsby Chocolate is a chocolate bar brand. this product is made from PREMIUM, ALL-NATURAL INGREDIENTS like figs and keto-friendly MCT oil. Their chocolate bars contain up to 75% less sugar and 50% less calories than a normal chocolate.
Apart from all this, this product is completely vegan and gluten-free. The normal chocolate GATSBY bar contains 65 calories whereas the other chocolate contains up to 152 calories.
Chocolate bar is available in different flavors Fudge Brownie, Sea Salt Extra Dark, Almond Dark, Cookies & Cream, and more.
Company Name
GATSBY Chocolate
Founder
Ryan Bouton and Doug Bouton
Founded
June 2021
Product
Low calories chocolate bar
Asked For
$500k for 5% equity
Final Deal
$250k + a $250k loan for a 20% stake, which increased to 30% at $10M in sales & 40% at $50M in Sales
Shark
Lori Greiner
Mark Cuban
Episode (Shark Tank USA)
S15 E1
Air Date
Sep 29, 2023
Business Status
In Business
Website
Visit Website
Headquarters
Chicago, Illinois, US
Lifetime Worth (Sales)
$4.5M *estimated
Buy and Watch
Buy Now
Amazon Prime
Another Shark Tank Pitch
Who Is The Founder Of GATSBY Chocolate?
The co-founders of Gatsby Chocolate Company are brothers Ryan Bouton and Doug Bouton. These two brothers started this chocolate bar business in June 2021.
Doug Bouton
Doug Bouton is the co-founder of the popular ice cream company Halo Top and is also the co-founder & CEO of Gatsby Chocolate.
After completing his law degree from the University of Virginia School of Law, Doug worked at Proskauer Rose LLP for a few years.
Ryan Bouton
Ryan is the Chief Marketing Officer of both the companies Gatsby Chocolate and Halo Top International.
How Was The Shark Tank Pitch Of GATSBY Chocolate?
After entering the Shark Tank, both Ryan Bouton and Doug Bouton explained their business to the sharks and asked for $500k for 5% equity. This company's valuation is $10 million, which guest shark Candace Nelson did not expect. Daymond immediately said, "I am out.", after some time he said I am joking.
Sales for the last 12 months were $2.5 million. The retail price of a single bar is $3.99, wholesale is $2.70, and the making cost is $1.90. The margin in this is about 40%.
They are expecting annual sales of approximately $2 million this year and last year they lost $3.5 million. Daymond is Out bus Lori Greiner is interested in this business.
Lori Greiner offers $250k cash & $250k loan at 6% interest rate for 20% stakes. Kevin O'Leary offered $500k for all venture debt for a 12% stake. Doug said if they get the right deal, they can lose 20% stake like celebrity brand ambassadors. Lori changed her offer and said she wanted a 25% stake.
Lori Greiner and Mark Cuban teamed up and offered $250k + a $250k loan for a 20% stake, which increased to 30% at $10M in sales & 40% at $20M in Sales. Doug countered 30% at $10M in sales & 40% at $50M Sales.
Finalized: Lori Greiner & Mark Cuban invested $250k + $250k Loan for a 20% Stake in Gatsby Chocolate, which increased to 30% at $10M in sales & 40% at $50M in Sales.
What Happened To GATSBY Chocolate After The Shark Tank?
Gatsby Chocolate got a deal on Shark Tank. Mark Cuban and Lori Greiner invested $250k cash and a $250k loan for a 20% stake.
After watching this episode of Shark Tank, many people tasted Gatsby's chocolate bar and they liked the taste very much. This chocolate bar has low calories which is why people like it.
Lori launched a voting poll on Twitter named: "Do you like this & would you buy this #GatsbyChocolate – Lower calorie, better for you chocolate bar?"
It got 237 votes and 59% of voters said that they would buy it.
Guest Shark Candace Nelson shared the photos with @PieWines and @GatsbyChocol on Twitter on September 30, 2023.
What's new on GATSBY
Last Update: November, 2023
This chocolate is available in many Sprouts retail stores in California.
GATSBY Chocolate Shark Tank Update
Gatsby Chocolate gets successful funding on Shark Tank. After the airing of this episode, we are expecting that there will be a lot of people who will buy this product. Our estimate is that the one-day sales of this company will go up to a thousand dollars.
What Is GATSBY Net Worth?
Gatsby's net worth is estimated at $3.5 million. According to the Shark Tank show, this company had burned approximately $3.5 million in cash by 2022. After finalizing the deal with Mark and Lori, they will focus on making this business profitable and will select a face for this chocolate brand.
Note: This report is based on our research and data so far. In this, we are only estimating the annual revenue.
| | |
| --- | --- |
| Years | Annual Revenue |
| 2023 | $2M *estimated |
| 2022 | $2.5M *estimated |
Years
Funding Amount
Investor
2022
$500k
Lori Greiner
Mark Cuban
Is GATSBY Still In Business?
Gatsby's business was started in June 2021 by brothers Ryan Bouton and Doug Bouton. The business started with a loss. By October 2023, they had lost more revenue than they had made.
The current headquarters of this business is in Chicago, Illinois, United States and it has 11-50 employees as per its LinkedIn profile.
Yes, GATSBY is still in business as of November 2023.
frequently asked questions
Who founded GATSBY?
GATSBY was founded in June 2021 by Ryan Bouton and Doug Bouton.
Did GATSBY get a deal on Shark Tank?
Chocolate bar Manufacturing company GATSBY gets a deal on Shark Tank, Lori Greiner, and Mark Cuban invest $500k for 20% equity.