Pretty Rugged is a luxury, redesigned brand that manufactures windproof, waterproof, and spillproof faux fur blankets and outerwear products. It uses RuggedTex and SatinTex technology which is a unique technology to make its product.
Tracy Slocum The founder of this company came to him with this business idea when she was boating in Lake George, Her Mornings and Evenings.
With the arrival of the rainy season, they made the family cold and wet, so they started looking for blankets to warm and dry. But she could not find anything that could solve her problem.
Tracy decided that she would make it himself which would be windproof, waterproof, and rainproof. To start this business, Tracy got inspiration from her Great-Great Grandfather, Captain Joshua Slocum, he is the first man to sail alone around the world.
Pretty Rugged Appeared in Shark Tank Season 14 Episode 5 and Asked for $200,000 for a 10% Equity at a $2 Million Valuation from the shark. It is a kind of luxury product and its price is also much higher than a normal product.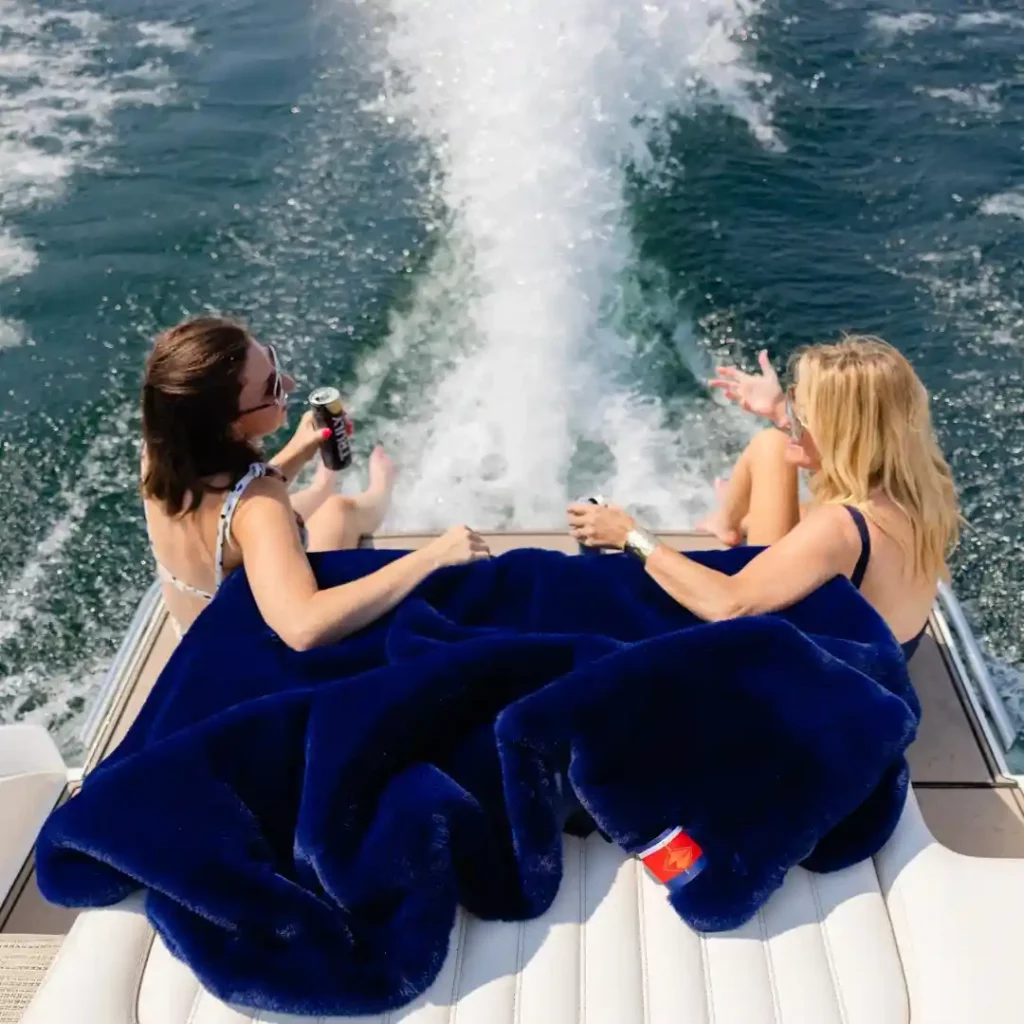 What Is Pretty Rugged?
Pretty Rugged is a luxury brand that uses RuggedTex and SatinTex's new technology to manufacture windproof, waterproof, and washable Blankets, outerwear and many more product .
It sells different types of blankets, corporate gifts, boating, luxury, faux fur, waterproof, accessories, and outerwear. They believe that they are making life a luxury for their product.
Their original blanket and TS luxe blanket are 50″ x 70″ (about 4′ x 6′) in size.
It provides personalized custom name design blankets and outwears products. This includes Corporate, Names & Dates, Pets, Boating, Outerwear, and Wedding.
They have different types of products available in the Outerwear category, this includes TS Luxe Cardigan, TS Luxe Poncho, The Blakely Bomber, Pretty Puffer Vest, The Collins Capelet, 3 in 1 Shawl, and The TS Vest.
Her Red Faux Fur Long Lap Blanket costs $150. This waterproof Pretty Puffer Vest costs $210. All their products will be available on Amazon with good discounts.
| | |
| --- | --- |
| Company Name | Pretty Rugged |
| Founder | Tracy Slocum |
| Founded | 2017 |
| Product | a Luxury redesigned brand |
| Asked For | $200K for a 10% Equity |
| Final Deal | $200K for a 25% Equity |
| Shark | Lori Greiner and Robert Herjavec |
| Episode (Shark Tank USA) | S14 E5 |
| Air Date | Oct 21, 2022 |
| Business Status | In Business |
| Website | Visit Website |
| Headquarters | Latham, New York, United States |
| Go To Amazon | Buy Now |
Another Shark Tank Pitch
Who Is The Founder Of Pretty Rugged?
Tracy Slocum is the founder and CEO of Pretty Rugged Company, she started this business in 2017 in Latham, New York.
Tracy worked as a pharmaceutical salesman after graduating from Le Moyne College in Syracuse, New York. After this, Tracy also opened her own food store in Albany, besides starting a business called "J. Slocum" which produces clothing lines.
Tracy wanted to become an entrepreneur and she had been thinking about it for a long time so she started multiple business. In the present time, her blanket business is going well.
Pretty Rugged Before Shark Tank
Tracy got this business idea inspiration from her great-great grandfather, Captain Joshua Slocum. Her great-grand father is a first man to sail alone around the world.
Her great-grandfather began his journey from Boston on April 24, 1895, completing 46,000 miles and ending on June 27, 1898 at Newport, RI.
Captain Slocum used furs to keep himself warm and dry during her voyage. Inspired by this, Tracy made the world's first blanket with luxe faux fur, its one side is waterproof, windproof, washable RuggedTex® fabric on the other.
This blanket can be used for multiple activities like picnics, tailgating, après-ski, outdoor sporting events, Outdoor activity curling up on the couch and so much more.
Tracy has worked hard to take this business out of New York and has also traveled a lot for this. She introduced her blankets at fashion shows, trade expos, and networking events etc. and her product became a hit too.
Tracy had worked in the clothing line for many years, so she has a very good experience in this industry. Her first business was also on developing a clothing line.
She has sold more than 30,000 blankets over the years, bringing in over $8 million in sales. Tracy needs a good mentor along with an investor to grow her business, so she decided to help of sharks in Shark Tank.
How Was The Shark Tank Pitch Of Pretty Rugged?
Tracy Slocum entered Shark Tank with his company Pretty Rugged and asked Shark for $200k for a 10% equity. Tracy gave complete information about her business to Shark and also gave her blanket product demo session.
The price of their blankets is different according to the size, shape and material. The cost of making these blankets is $36 to $40 but they sell for $200 to $250, the margin is very high, so it look expensive.
Her margin is 80% in direct to consumer model and 70% on wholesale. She has sold 30,000 units so far and has a lifetime sales of $3 million so far. Her last year (2021) sales were $1.97 million but she made $32,000 Net profit in it.
She spends more of money in Advertise, she did trade shows and last year she spent $180,000 in it. This year she has done a lot of trade shows, almost 20.
Kevin O'Leary and Emma Grede did not find this business to be very investable, so they got out of it because of this.
Mark Cuban liked this product but he does not know how he will be able to help in it, so because of this he is out of it. At present, her book sales, growth sales are of $715,000.
Lori Greiner and Robert Herjavec decided to invest in this business together as a team, Lori said she would help with marketing and Robert in finance. Their offer was $200k for a 25% equity at a $800,000 Valuation. Tracy countered 20% equity but Robert said no.
Finalize: Lori Greiner and Robert Herjavec Invest $200K in 'Pretty Rugged' for 25% Equity.
What Happened To Pretty Rugged After Shark Tank?
Pretty Rugged is a lifestyle premium brand with a focus on premium products that provide warm and dry. The sales price of her product is quite expensive, the reason being that the margin of the product ranges from 80% to 70%.
According to the report, for a business to be successful, it needs to have an average margin of 25%-40%. The margin of this business is up to 80%, despite this, its sales are quite good. If the margin is reduced a little then this business can do very good sales.
This business has lifetime sales of $3 million as of October 2022. It would not be wrong to say that its sales could be more if it was marketed well.
Even after selling million dollars in a year, this business is not so profitable because most of the money is spent in Advertisement.
Many Twitter users have shared their opinion, most people have given positive response. People really liked the inspirational story of Tracy Slocum.
Pretty Rugged Shark Tank Update
Tracy gave a very good presentation of her business Pretty Rugged in Shark Tank and this shark has also liked it very much. Though their blankets product is quite expensive but it also provides a good quality blanket which is warm and dry to the users.
Before investing in any business, shark must check its previous sales data. If that product is really investable, then they invests in it. Lori Greiner and Robert Herjavec found this business to be investable, so they invested in this business.
We're following Tracy Slocum along with their company for further updates.
What Is Pretty Rugged Net Worth?
In the present time, the sales rate of this company is very good and it is also growing slowly. Despite their product being expansive, they are getting a lot of sales. So we think Pretty Rugged net worth can be around $750,000.
Is Pretty Rugged Still In Business?
Tracy understands this clothing business very well and she had run a business of her own for 3 years before, but now it has been closed.
Tracy says that Pretty Rugged is not just a brand, it is a feeling that provides warm and dry while giving a stylish look.
The blankets won "Best in Market" and "Best New Product" at NY Now in 2018. Her pet blankets were featured on "Oprah's Favorite Things List" during the 2018 holiday season.
The brand has been featured by multiple media publications including Good Morning America, The Talk, Newsweek, Saratoga Today and many more.
The headquarter of this retail company is in Latham, New York and at present total 2-10 employees are working in it.
Yes, Pretty Rugged is still in business as of November 2022.