54 Thrones is an African plant botanical skincare line that creates a variety of skincare products inspired by traditional African beauty rituals. Most of the natural ingredients are used in the skin care products it manufactures, which is an important part of the African tradition.
This company especially works to represent African beauty rituals in its skin care products. These beauty products are made in African style by selecting the highest quality African beauty ingredients.
African is a beautiful country and people there use traditional methods to make beauty products, No kind of chemical is used in this.
There are many African beauty brands like 54 Thrones who make products using traditional methods and sell them in United States. There are many African beauty brands in the United States that are known for their natural beauty.
The African root represents clean beauty and roots, herbs, oils and butters are used in most beauty products.
Founder Christina Funke Tegbe appeared with her company 54 Thrones on Shark Tank Season 13 Episode 4 and asked the shark for $250k for a 10% equity at a $2.5 Million Valuation.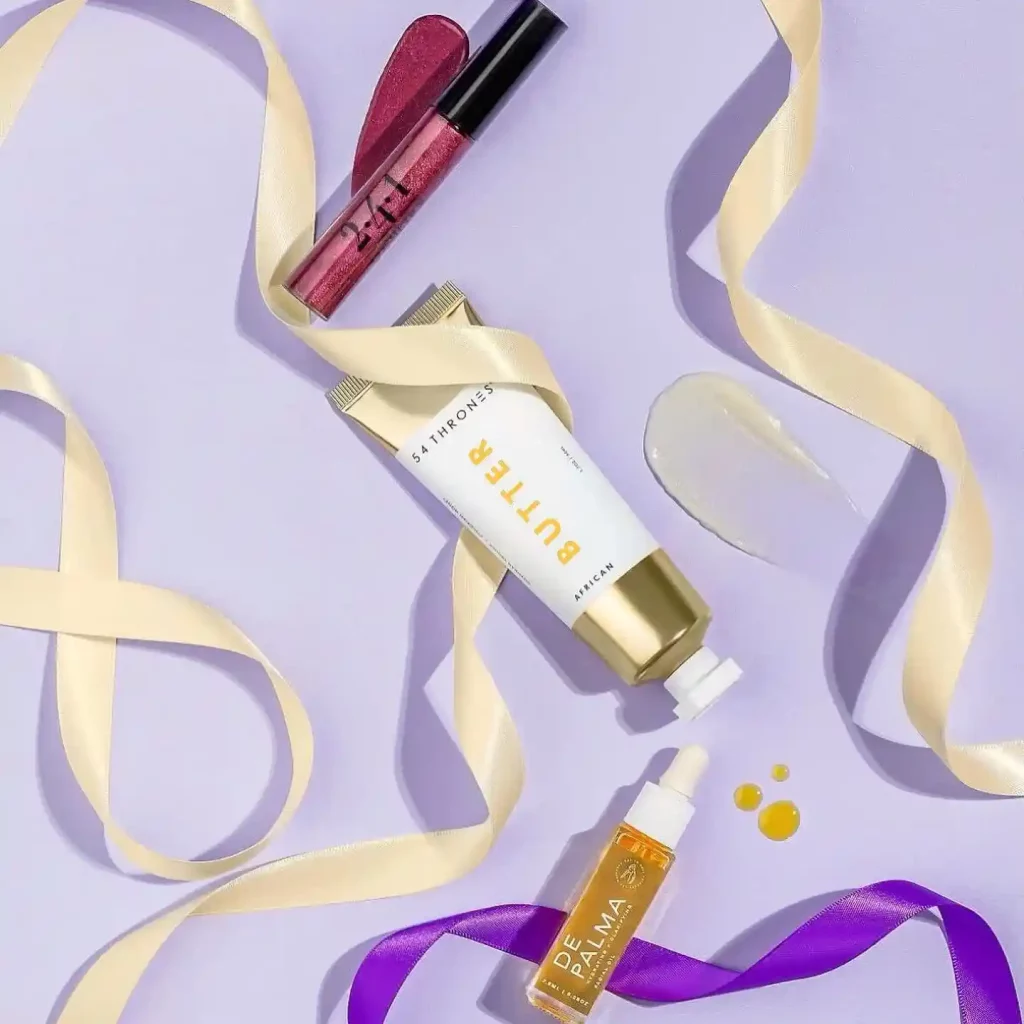 What Is 54 Thrones?
54 Thrones is an African plant botanical skincare line that manufactures a variety of skincare products using botanical ingredients.
It uses natural and traditional methods to make all the beauty products so that any kind of waste and side effects are not felt on the skin.
The founder said that the name of 54 Thrones Company reflects the 54 countries of Africa. To manufacture the product, it imports natural ingredients from different countries of Africa. It contains many ingredients like blue tansy flower, shea butter nut, marula oil, jojoba fruit, kigela africana extract and many more.
It sells a variety of natural skin care products for body and face and its price ranges from $16 to $120. The product is also available on the company's website, Sephora stores and some selected Neiman Marcus stores.
| | |
| --- | --- |
| Company Name | 54 Thrones |
| Founder | Christina Funke Tegbe |
| Founded | 2016 |
| Product | elevate traditional African Beauty Rituals |
| Asked For | $250k for a 10% equity |
| Final Deal | $250k for a 17.5% equity |
| Shark | Nirav Tolia and Kevin O'Leary |
| Episode (Shark Tank USA) | S13 E4 |
| Air Date | Oct 29, 2021 |
| Business Status | In Business |
| Website | Visit Website |
| Headquarters | Houston, Texas, United States |
| Lifetime Worth (Sales) | $2.5M *estimated |
| Go To Amazon | Buy Now |
| Watch On | Amazon Prime |
Another Shark Tank Pitch
Who Is The Founder Of 54 Thrones?
The founder and CEO of 54 Thrones Beauty Company is Christina Funke Tegbe, who is African American and originally comes from Nigeria.
She started a business named "AvailVA" in 2019, closed it after 2 years. But before that in 2015, it had founded "COT Industries", it provides services to local business.
Christina studied Business Law and Management from Tulane University. She has also completed her Masters in Business Administration from the University of Houston-Clear Lake.
After completing her studies, she worked as a Senior Consultant in Cumberland Consulting Group for 3 years.
She has done multiple business from 2015 to 2021 in her career. But she is currently focusing on her 2016 venture "54 Thrones".
54 Thrones Before Shark Tank
Before starting this company, Christina used to do corporate job and she mainly belongs from Nigeria. She has grown up experiencing the beauty of Africa and has a little knowledge of the natural beauty of Africa.
Shea tree is widely grown in Africa and shea butter is produced from the nuts of shea tree. Christina's Nigerian aunt sends her shea butter in Texas and it becomes a body moisturiser.
So this led to the birth of 54 Thrones, which partners with African co-operatives to create a line of clean beauty products. They have many beauty products but the most popular is African Beauty Butters.
The brand is a part of the Sephora Accelerate 2021 program and includes a host of other brands. This black women's own beauty brand has been featured in many beauty magazines including Elle, Bustle and BeautyMatter.
Christina had a good product but she needs a proper strategy for marketing and money too. So Shark will help in fulfilling this need of this company.
How Was The Shark Tank Pitch Of 54 Thrones?
Christina Funke Tegbe entered Shark Tank with her company 54 Thrones and asked the sharks for $250,000 for a 10% equity. Christina explained to Shark about her product and business story.
Christina was working as a consultant a few years ago but left it because she had to learn her language and history. She had $401k in cash and with that she set out to travel to Africa and saw hardworking women making Argan Oil and Shea Butter.
She came to know about African beauty secret there, after that she thought of starting her own brand and working with co-workers. Her sales in 2020 were $0.5 million with only $8,000 spent on marketing. After that she got sales through word of mouth.
It was also in "Oprah's Favorite Things" which boosted their sales but before that their revenue was $300,000.
Christina says she will make $1 million in 2021. She is going to launch her product in Sephora in United States and Canada. This holiday season, she plans to expand her product line to Nordstrom.
It does direct-to-consumer (DTC) business through its website, last year 75% of sales were DTC. But this year 25% DTC and 75% retail sales have happened.
The making cost of this butter set product is $12 and it is sold for $80 with a profit margin of around 70%.
Robert Herjavec loved this pitch but he is out because he is not passionate about this business. Mark Cuban said "You are a rock star" but he is not able to understand this business properly, so he is out because of this.
Lori Greiner said that she has deal with many young women who are working on cosmetic and skin care products, Unfortunately, you are so competitive with what we are already doing so that's why she's out.
Nirav Tolia said that his wife has been working for Neutrogena for almost 8 years and he has little knowledge about skincare. Nirav will give half money for this business if any shark wants to join him in this business deal.
Kevin O'Leary and Nirav both of them countered $250k for 20% equity. Christina countered 15% equity. After a conversation between Nirav, Kevin and Christina, Christina countered by $250k for 10% equity.
Kevin said that he would not do this deal. Christina countered another $250k for a 17% equity, but Kevin said it was closer to 20% equity. Kevin and Nirav Invest $250K for 17.5% equity (10%/7.5%). Christina agreed to this offer.
Finalize: Nirav Tolia and Kevin O'Leary Invest $250K in '54 Thrones' for 17.5% equity (7.5%/10%).
What Happened To 54 Thrones After Shark Tank?
Christina gave a great presentation in Shark Tank and all the sharks really liked it. So both Niran and Kevin invested in this African beauty brand.
After watching this episode of Shark Tank, many females must have thought of buying and using this product. The company's website received more than 100,000 visitors a month after the episode aired.
This product was featured on the Today American talk show in January 2022. My 2022 this beauty product has become available at CredoBeauty Store at 11 locations in the United States.
In December 2022, this product has become available at more than 37 retail stores in the United States and this company is only shipping the product through its website in the United States.
Christina had posted on her Linkedin account on November 2022 saying that she talked about her business on QVC Studio.
54 Thrones Shark Tank Update
54 Thrones Company got deal in Shark Tank and this company must have generated very good sales after Shark Tank, However, it has not been revealed yet. Christina attended the 18th Columbia African Economic Conference on April 2022 and was a speaker in it.
In Shark Tank, Christina said that she would make sales of up to $1 million in 2021. So right now the founder is focusing on expanding her business across the United States.
We're following Christina Funke Tegbe along with her company for further updates.
What Is 54 Thrones Net Worth?
This company's sales report has not been revealed yet, but the founder had said that in 2021, she would do $1 million in annual sales. Apart from all this, this product is currently available in 37+ retail stores in the United States.
Analyzing all these things, we think that 54 Thrones can be worth $850,000. This company signed a deal in Shark Tank at a valuation of only $1.4 million.
Is 54 Thrones Still In Business?
Christina is currently focusing on growing her brand and is more focused on the retail market apart from online. This product is available in more than 37 retail stores of Sephora, Nordstrom and CredoBeauty.
This beauty product is unfortunately not available on Amazon in December 2022. Amazon can become a very good platform to increase the sale of this product.
The brand has been featured in many beauty magazines and media publications including People, Elle, nymag, Byrdie, USA Today, Adweek, inStyle and many more.
The headquarter of this beauty brand is in Houston, Texas, United States and around 5 to 20 employees are working in it.
Yes, 54 Thrones is still in business as of December 2022.