Wedfuly is a virtual wedding service that provides the facility of virtually attending weddings to friends and family through online zoom Video Calls. Due to this, more people will not have to be called physically for wedding or engagement and the expenses will also be reduced.
At the time of Covid19 pandemic, this is a good way through which the user can celebrate their wedding with friends and family. It becomes a memorable wedding in life.
During the Pandemic, the wedding industry was completely closed because there were strict rules of the government, there would be no gathering of people.
In this time, those who were planning their wedding or engagement, only some people from each other's family could participate in it.
So to solve this problem, Caroline Creidenberg launched her tech wedding startup Wedfuly in 2017. With this, the couple can have a nice wedding without spending much.
Founder Caroline appeared on Shark Tank Season 13 Episode 5 regarding her company Wedfuly and asked the sharks for $200k for a 5% equity at a $4 Million Valuation.
What Is Wedfuly?
Wedfuly is a wedding tech startup that provides virtual wedding service to its customers for their wedding and engagement.
Those people who are not able to be physically present in Wedding and Engagement, it presents them virtually through zoom call.
It sends professional videographers to its service on the stage and 2 professional-grade cameras capture the wedding from different angles. Whatever is shot in the wedding is shown through direct zoom to the people who are attend wedding virtually.
This company offers two service people, Wedfuly Pro and Wedfuly Full Service, its price is $800 and $1800. Apart from this, they provide add-ons and for this they charge extra.
| | |
| --- | --- |
| Company Name | Wedfuly |
| Founder | Caroline Creidenberg |
| Founded | 2017 |
| Product | virtual wedding services tect startup |
| Asked For | $200k for a 5% equity |
| Final Deal | $200k for a 10% equity |
| Shark | Robert Herjavec |
| Episode (Shark Tank USA) | S13 E5 |
| Air Date | Nov 5, 2021 |
| Business Status | In Business |
| Website | Visit Website |
| Headquarters | Denver, Colorado, United States |
| Lifetime Worth (Sales) | $4.8M *estimated |
| Go To Amazon | Buy Now |
| Watch On | Amazon Prime |
Another Shark Tank Pitch
Who Is The Founder Of Wedfuly?
Caroline Creidenberg is the Founder and CEO of Wedfuly Company. She studied Bachelor's degree in Computer Science from the University of Denver. During her studies, she was a marketing intern at Adstra.
After this, she worked as a self-employed web/ios developer for 1 year. After working as a software engineer for 8 months in Nasdaq, she left it and started Wedfuly company.
Wedfuly Before Shark Tank
Starting a startup has to face many difficulties and challenges, so Caroline also had to face such challenges. She built her team and partnered with Zoom to make video calls.
On March 28, 2020, she got her first customer, Dustin Smith and Erin Hensley. Both of them had done their wedding in a virtual way with the help of Wedfuly.
In this wedding, about 120-plus family and friends were connected through zoom video call. This virtual wedding company has done more than 700 weddings so far.
Caroline needs contacts along with investment to grow her business, so Shark Tank can be a very good platform for this.
How Was The Shark Tank Pitch Of Wedfuly?
Caroline entered Shark Tank with her company Wedfuly and asked the sharks for $200k for a 20% equity. She did her presentation on Shark Tank wearing a wedding dress and it was pretty cool.
Caroline told about Pandemic and how the wedding industry was completely down because of it. There are many people who were planning their wedding but had to postpone and cancel it. Because of this she started Wedfuly a virtual wedding services.
Daymond John believes that Wedding is a time to be celebrated and he don't like its valuation then he is out. Mark Cuban said that in 1998, his brother Brian had a live stream wedding.
Till March 2020, this company has performed 700 weddings. Caroline built an app to work with wedding planners, While working, she realized that the traditional wedding industry does not fit all types.
There are courthouse weddings and big blowouts in the wedding market, and the minimum wedding cost is $30,000. She saw that last year 40% couples are not able to plan their wedding.
Caroline said that they can handle 30 weddings in one day, apart from this they collect guest's data like email, number etc.
This business started in March 2020 and has sold $1 million so far in 2021. Last year she sold $700,000 and made $100,000 in revenue, this year she will do $1 million and make $300,000.
The average revenue per customer is $1,500 and the profit margin is 75%. Base packages range from $800 to $1,200, with add-ons charging extra. Funding has not yet been raised in this company.
Kevin O'Leary liked the data collection business angle of this business and offered $200k for a 20% equity. Caroline counters Kevin by $200k for a 10% equity.
Kevin said no. Lori Greiner liked the founder's story, but this business isn't right for her, she's out. Mark Cuban does not think that this business will be able to scale, so he is out because of this.
Robert Herjavec thinks Caroline is a greate operator and will offer $200k for a 10% equity. Both Caroline and Robert agreed to this offer.
Finalize: Robert Herjavec Invest $200K in 'Wedfuly' for 10% equity.
What Happened To Wedfuly After Shark Tank?
Robert has taken 10% stake in this virtual wedding company and he will try to scale this business with Caroline.
After the episode aired, Daniel Lubetzky congratulated Robert. Many Twitter users have shared their opinion on this business deal in Shark Tank.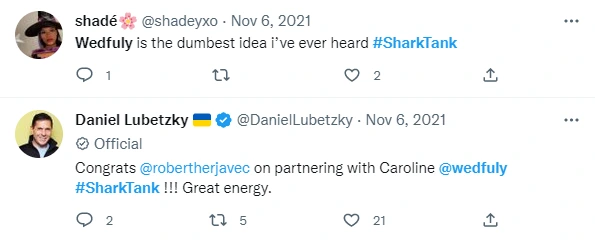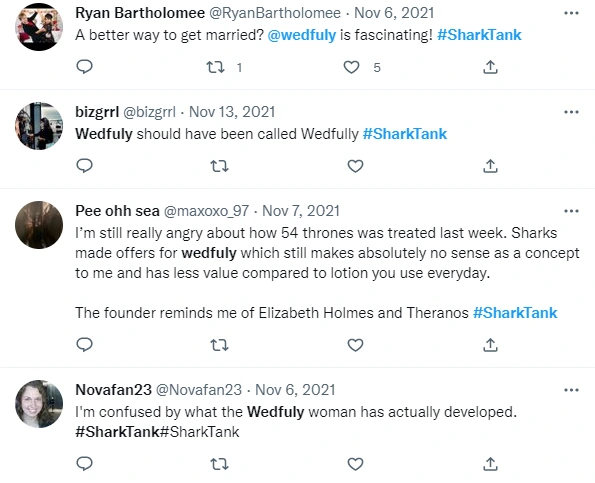 In this way many people have shared their opinion on Twitter. The company has been featured in numerous media publications including The New York Times, Today, Vogue, Brides, The Cut
Wedfuly Shark Tank Update
This company has been able to take investment in Shark Tank and the team of this company is very happy with this deal as they will get mentorship from Shark Robert.
More information about this business is not available yet but it has done more than 1000 weddings. Robert has not closed the deal with this company in December 2022.
We're following Caroline Creidenberg along with her company for further updates.
What Is Wedfuly Net Worth?
During the Covid19 Pandemic, this business did very well and the founder said that she would make $1 million by the end of 2021. This company has signed a deal in Shark Tank at a valuation of $2 million. Looking at the company's last year's revenue, we assume that Wedfuly would be worth $0.6 Million.
Is Wedfuly Still In Business?
This virtual wedding service has done many weddings in Colorado so far and posts photos of those weddings on social media.
Many wedding-tech startups were formed during the pandemic, including Zola, LoveStream and many more.
This company's headquarters is in Denver, Colorado, United States and about 5 to 10 employees are working in it.
Yes, Wedfuly is still in business as of December 2022.