Legacy Shave is a modern shaving cream brush that can be easily applied to the face after being attached to the shaving cream can. Now there is no need of a separate brush to take out the cream from the shaving cream box and apply it on the face.
Legacy Shave is the modern shaving cream can version of an old fashioned shaving brush. This product prevents wastage of shaving cream and can be used anywhere.
Mike Gutow started this company along with his brother Dave Gutow. Legacy Shave's Evolution Brush is an attachment that attaches to any type of shaving cream and gel.
This brush enhances the user experience and provides the cleanest, closest shave. It is the world's first shave brush that attaches to a shaving cream can and prevents wastage of foam.
Legacy Shave Business owner Mike Gutow appeared on Shark Tank Season 14 Episode 7 and demanded $300k for a 10% equity at a $3 Million Valuation from the shark.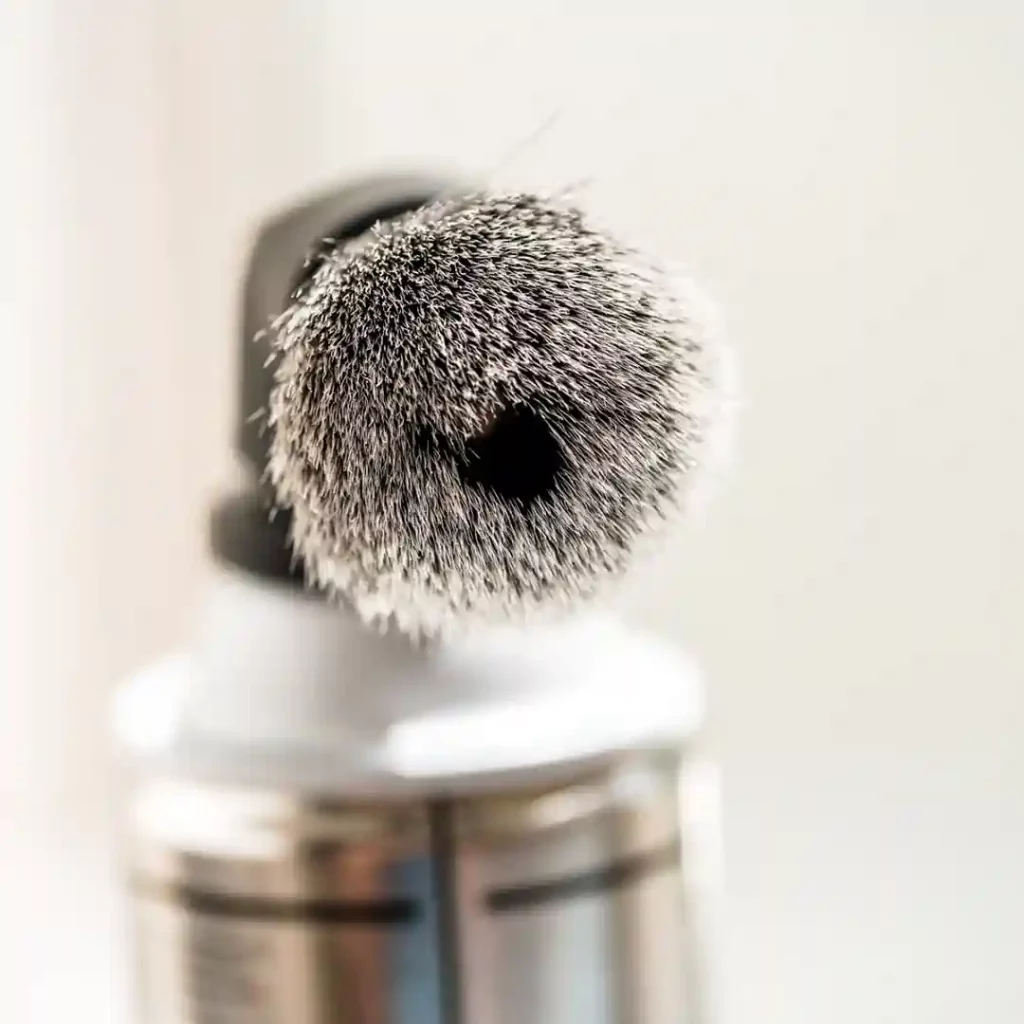 What Is Legacy Shave?
Legacy Shave is a business that manufactures Legacy Shave's Evolution Brush. This brush attaches to any shaving cream can and gel can.
The waste of shaving cream can be prevented by using this brush. This premium quality brush comes with a variety of custom designs.
After attaching this brush to the shaving cream can, it has to be pressed and a good amount of cream will come out of the brush.
By applying the cream on the face with the help of a brush, shaving can be done without wasting much foam. This company sells shaving blades, nail grooming, soap and many more with customized brushes.
Legacy Shave's Evolution Brush is priced at $24.95 and Legacy Shave Cream is priced at $9.95.
| | |
| --- | --- |
| Company Name | Legacy Shave |
| Founder | Mike Gutow and Dave Gutow |
| Founded | 2016 |
| Product | World's First Shave Brush Attached to A Can of Shaving Cream |
| Asked For | $300K for a 10% equity |
| Final Deal | $700K + a royalty of 3% of net sales in perpetuity for 95% of the company |
| Shark | Lori Greiner |
| Episode (Shark Tank USA) | S14 E7 |
| Air Date | Nov 18, 2022 |
| Business Status | In Business |
| Website | Visit Website |
| Headquarters | Royal Oak, Michigan, United States |
| Go To Amazon | Buy Now |
Another Shark Tank Pitch
Who Is The Founder Of Legacy Shave?
Legacy Shave Company is owned by Mike Gutow and co-owned by his brother Dave Gutow. Mike has run the Save Lake St. Clair Organization for 3 years. Mike earned a Bachelor of Arts – BA in Business from Michigan State University.
Dave also did his studies from Michigan State University. Together these two brothers started this company in 2016.
Legacy Shave Before Shark Tank
The Legacy Shave Shave Brush Company was launched in 2016. The owners of this business, Mike and Dave, did this to solve the shaving cream waste problem.
Both these brothers had to face a lot of difficulties in the beginning of the business, but they kept moving forward with their business.
Mike and Dave's father passed away from cancer, it was a sad moment for both the brothers. After this both these brothers started cleaning the basement of their father's house where their mother and father lived for 40 years.
These two brothers found a dozen boxes under their father's work bench, after opening it, they found 200 shave brushes assembled.
For business, both these brothers had run a campaign on Kickstarter and in that their goal was completed in just 24 hours.
This company's brush was featured on Sharper Image and CBS 2 Chicago news. After this, Mike has decided to bring this product in Shark Tank season 14.
How Was The Shark Tank Pitch Of Legacy Shave?
Mike Gutow entered Shark Tank with his company Legacy Shave and demanded $300K for a 10% equity from the shark. Mike pitches the shark very well and also tells that his global shaving industry is worth $50 billion.
Mike introduces Legacy Shave's Evolution Brush through a proper demo session. Mark Cuban told Mike that this was the best presentation ever.
Legacy Shave's Evolution brush is sold for $24.95 and its making cost is $5.39. Mike explained completely how and when he got this business idea. Mike told how his father assembled 3000 units. Mike and his brother found out about it after their father's death.
In November 2022, this company has sold more than 1000 units and from this they got revenue of million of dollars. This is a total 5 years sale.
In the first year, they did $70,000 in sales and they did not get any profit from this sale. $70,000 in sales in Year 2, $390,000 in Year 3, and $96,000 in 2021. So far in 2022 they have made $42,000 in sales and have $63,000 in purchase orders.
Mike has personally invested $400,000 in this business so far. Barbara Corcoran said that she is not the right investor for this business then she is out. Mark Cuban says this business is not a fit for him then he is out.
Kevin O'Leary said that he cannot join this journey, then he is out. Robert Herjavec said that this shaving business is not possible for him, so he is out.
Lori Greiner made a offer $1 Million For A 100% Equity And She will give to mike 3% Royalties Of The Next Sale for life. In this deal, Lori will buy Mike's company's patent, product and everything.
Mike counters Lori $1 Million + a royalty of 3% of net sales in perpetuity for 95% of the company. Looking at Mike's counter offer, Mark Cuban said you are very smart.
After this, Lori reduced the money given, her offer was $700K + a royalty of 3% of net sales in perpetuity for 95% of the company.
Finalize: Robert Herjavec invested $700,000 for the entire company while allowing it to retain 5% equity.
What Happened To Legacy Shave After Shark Tank?
Lori Greiner has bought out 95% of the equity in this shaving company by paying $700k to Mike. Mike and his brother Dave have been running this business for 5 years, but this business has sold a total of $ 1 million.
This $1 million sale in 5 years is very less because the founder does not know how to do marketing properly.
Mike himself has made a personal investment of $400,000 in this business. Lori is a very good marketing expert and she will try to grow this business.
Mike said the global market size of the shaving industry is $50 billion. If Lori takes their company to a billion dollar worth, Mike has 5% equity.
Many people have shared their opinion on Twitter regarding this business. Most people say that they liked Mike's story very much.
After this episode of Shark Tank aired, most of the products of Legacy Shave were sold out in just 1 week. This product appeared on the QVC Tonight Show on November 2023.
When "QVC" Tonight Show aired after Shark Tank, this company sold 2500 units and made 800 new customers.
We cannot thank everyone enough for this special time in our business and your continued support. Dad, I hope you are watching and seeing what our invention with you 28 years has become. Your Legacy lives on. This is just an amazing journey and we appreciate all of our customers new and old for this special moment.

Instagra/legacyshave
Legacy Shave Shark Tank Update
Mike pitched very well on Shark Tank and he told his business story to the sharks. Mike told about his father's death due to cancer, Kevin O'Leary became very emotional after hearing this.
Lori Greiner took over 95% equity in the company by paying $700k and Mike now only has 5% equity. In November 2022, this company's lifetime sale is about $1 million.
We're following Lori Greiner and Mike Gutow along with their company for further updates.
What Is Legacy Shave Net Worth?
It has been 5 years in the running of this company in 2022 but this company has not done much good sales. After doing some analysis, we think this Legacy Shave would be worth $0.1 million to $0.4 million. The growth of this business under Lori can be very good. The company got a deal in Shark Tank at a valuation of $736k.
Is Legacy Shave Still In Business?
Mike's business story is an inspiration to many. Mike and his brother faced a lot of difficulty in starting this business. The founder of this company is not an expert and he had no prior experience of running the business.
After Shark Tank, there will be many people who will buy this Legacy Shave's Evolution brush and will share their experience using it on social media.
If someone wants to buy this brush then this brush is available on Amazon along with shaving cream. It has got 4.3 rating out of 5 on Amazon, this product has surprised most people.
The headquarter of this company is in Royal Oak, Michigan, United States and 2 to 10 employees are working in it.
Yes, Legacy Shave is still in business as of November 2022.