When you go to a party and you knowingly unknowingly put some intoxicant in your drink, This has a very bad effect on your health. This is a big problem for Teenager Society. To solve this problem, Nightcap has come up with Drink Cover and Spike Prevention Scrunchy products.
So this Nightcap especially solves a big problem of drink spiking. Before talking about the Nightcap product, let us understand what is this drink spiking.
Drink spiking is not a new word, it has been going on for many years, its victims are teenagers in schools, and colleges, with the highest percentage of women.
Without informing you, someone mixes things like drugs and alcohol in your drink, that is called drink spiking.
drink spiking is a big problem of today's time because most college and school children are the victims and gradually they become addicted to drugs etc.
It has been found in many reports that sexual assault occurs through spiked drinks, most drugs are used for drink spiking.
To stop this drink from spiking, Nightcap launched its product.
Both Brother and Sister Shirah Benarde and Michael Benarde brought their business Nightcap to Shark Tank and asked Shark for $60,00 for 20% equity.
Due to this demand, the valuation of this company is being done at $375K.
People do not know how the idea of ​​Nightcap came about. Founder Shirah Benarde came up with the solution to this drink-spiking problem. Shirah learned about this problem from her old friends who were in college.
To solve this problem, she had the dream of NightCap when she was only 16 years old. The next day she took some pantyhose and cut it out to make the first prototype.
Shirah's older brother, Michael, was already in college and was aware of this drink-speaking problem.
After that, this sister and brother decided that they will take this NightCap as a business and will help those people.
What Is Nightcap?
Nightcap is a temporary solution to the Drink spiking problem. This product is a type of drink cover and spike prevention scrunchie.
According to LinkedIn, Nightcap was launched in 2019 and its headquarters are currently in Tallahassee, Florida.
This flexible cover of NightCap is made of nylon/spandex combination and can fit all types of standard drinking glasses.
It has been made completely fashionable so that it can be worn in hair and hand etc. and it will also look good.
This product can be machine washed, it has a small space for inserting the straw so that drinking can be done.
The straw they have is stainless steel and is specially designed with a cleaning brush.
Apart from all this, this product is portable, it can be taken with you anywhere, college party, picnic, canteen, etc.
Despite all this, "NightCap says that they cannot guarantee safety, everyone should make or buy their own Drink.
| | |
| --- | --- |
| Company Name | Nightcap |
| Founder | Shirah Benarde and Michael Benarde |
| Founded | 2019 |
| Product | Drink Cover and Spike Prevention Scrunchie |
| Asked For | $60k for 20% Equity |
| Final Deal | $60k for 25% Equity |
| Shark | Lori Greiner |
| Episode (Shark Tank USA) | S12 E12 |
| Air Date | Feb 5, 2021 |
| Business Status | In Business |
| Website | Visit Website |
| Headquarters | Tallahassee, Florida, United States |
| Lifetime Worth (Sales) | $2.7M *estimated |
| Go To Amazon | Buy Now |
| Watch On | Amazon Prime |
Another Shark Tank Pitch
Who Is The Founder Of Nightcap?
Shirah Benarde is the Co-Founder and CEO of Nightcap Company and his brother Michael Banarde is its President and Co-Founder.
Shirah When she was 16 years old, she made the first prototype of this product. Right now she is working full-time in her company as well as studying Public Relations, and Advertising at the University of Tampa.
When Michael was 21, he saw this prototype made by his sister, which was a real temporary solution of drink speaking.
Michael completed his Bachelor of Science studies at Florida State University and he studied MBA from the same university.
he has opened his own Michael Banarde Consulting, in which he helps startups and small businesses to scale through strategizing marketing, manufacturing, product development, and other creative strategies.
Nightcap Before Shark Tank
Nightcap is a temporary solution to the drink-spiking problem. According to alcohol.org, there are 56% of women have unintentionally become victims of a drink spiked.
This is a very big issue, and to solve it, both the brothers and sisters have made their small efforts.
The founder launched a crowdfunding campaign for his business on Indiegogo in October 2019, raising $12,275 from 217 backers.
After the success of the crowdfunding campaign, Shirah and Michael took their idea to the market in December 2019 through their website, Nightcapit.com.
So he won multiple awards in his initial stage, this includes Florida State University's InNOLEvation Challenge, Tallahassee Startup Week's Annual Pitch Competition, FSU's Turkey Tank, and FSU's Jim Moran Micro Grant.
Apart from all this, this business was featured in many media like Fox Business Network, USA Today, etc.
Shirah and Michael had sold 250,000 units across 30 countries in just 2 years which is a good thing for this business.
This product started going in Vassar College stores in January 2020. In such a short time it became so popular that it was shipped to 46 international countries due to requests.
Did Nightcap Get a Deal on Shark Tank?
Shirah & Michael, founders of nightcap Drink Cover, pitched their product Shark at Shark Tank. They had made a temporary solution to a real problem.
During his pitch, he told Shark all the details about how this product works and what happens through it.
Shirah had told in Shark Tank that 70% of their customers are from the 18 to 24 age group, and 98% of their customers are women.
When Shirah was about to start this business, she had given this to 100 women whose age was 18 to 25. In this, 26% said that this drink is spiked.
The cost of this nightcap drink cover is $11.99 and its making cost is $2.82 which is a good margin.
She has been doing business for 11 months till she came to Shark Tank, in September she generated $68,000, But in 6 weeks she did sales of $40,000.
Regarding this sales number, Michael said that he did not have the right knowledge of marketing at the beginning. He believed that with just simple Facebook ads, he would bring sales, but that did not work.
After this, he optimized his website and improved social media marketing. In March, he did social media marketing, in April he improved the website and in June his sales started coming.
Gradually his sales grew to $4,500 in May, $17,000 in June, and $20,000 in July.
When he started his company, his parents invested $18,000 in this company. He raised funds through crowdfunding and also raised $15,000 in some pitch competitions.
Lori Grenier said about this business that she liked it, she has not yet seen any product in Shark Tank that is above the social mission. Lori's offer was $60,000 for 25% equity, only an extra 5% of the founder's equity.
Along with this offer, Lori also said that she would do social media marketing for this business, and make videos and she would reach it in every woman's hand.
Shirah Benarde and Michael Benarde accepted Lori's offer of $60,000 for 25% equity.
What Happened To Nightcap After Shark Tank?
In Shark Tank, Lori invested in this business and she would engage her marketing team to grow this business. Lori said that she wants to see this product in every woman's hand.
This deal with Lori has been finalized and this Lori continues with this business even in July 2022. This business has been listed on Lori's website.
Its website was completely redesigned to design a professional website after Shark Tank.
When this episode was released, there was a huge growth in its sales as the solution to this Drink Spiking problem was not yet come.
Because this company used to provide temporary solutions, so the growth of their sales became so much.
In Shark Tank Season 13 Episode 18, it was reported that the company had made $2.1 million in sales from a deal with Shark Tank.
To make this product more Fashionable, they launched more colors NightCap Scrunchie Color Pack.
Julia Michaels has also invested in this business. Due to the drink spiking problem, at present 12% of their sales are coming from the United Kingdom.
This 2022 they launched a new product StopTopps: The Drink Spiking Prevention Sticker.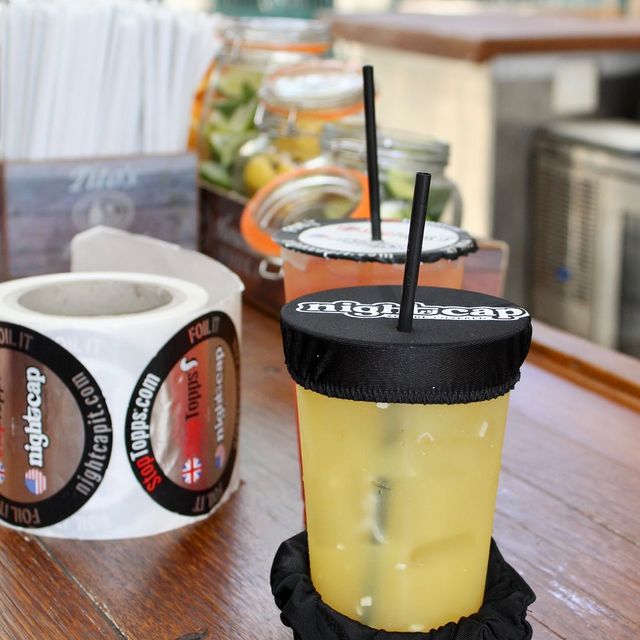 Nightcap Shark Tank Update
If you want to buy this Nightcap drink cover then it is exported to 46 countries. In the United States, you can buy it through the Nightcap website.
Amazon is the best option for the United States outside country people, it is available on Amazon, and you can take this product at a good discount.
If seen in today's time, there are a lot of drink spiking cases, this Police has also said. Therefore, before taking anything, it should be checked.
People are also robbed through this drink speaking. That's why one should always be alert that no one should take anything from unknown people.
With Lori, Nightcap company has improved its marketing strategy and has been able to expand internationally.
This NightCap product is available through Amazon in the most popular countries including the United States, United Kingdom, Canada, and EU.
What Is The Nightcap Net Worth?
In 2022, this company had done that it was successful in achieving $2.1 million in revenue. Looking at this revenue, we think Nightcap's Net Worth could be around $350,000. The founders are currently focusing on expanding their business.
Is Nightcap Still In Business?
Two years ago, this company participated in the FSU's InNOLEvation Challenge Competition, in which 50 startups competed.
Nightcap brought a winning amount of $10,000 by winning this competition.
Right now it is focusing on its marketing, it is on Facebook, Instagram, and Tiktok.
Due to this social media marketing, he has achieved 52.8k followers on Instagram.
Yes, NightCap is still in business as of November 2022.