Woosh Air is an Air Quality Monitor & Smart Air Filter that converts into an 'HVAC' system to filter the entire house's Air. We can install this Woosh Air Filter at the same place in the house from where the air comes into the house.
With this, this filter will be able to work like an 'HVAC' (heating, ventilation, air conditioning) system and it will completely protect the air coming inside the whole house.
Woosh product actively monitors air quality. When it is integrated with Nest or Ecobee Smart Thermostat, it automatically circulates filtered air when the air quality is prior.
A simple room air purifier filters the air of a specified place but an 'HVAC' system works to filter the air of the whole house.
At the time of covid 19 pandemic, all the companies started making their employees work from home. But the atmosphere of the house is not suitable for working.
To create a workplace at home, many things have to be taken care of, one of them is having good air. A report was released by lung.org in 2022, in which it has been told that over 137 million American people are currently living in polluted air.
Polluted air is a huge problem all over the world and it has come up with an affordable solution to the problem, Woosh Automatic Air Filter.
This company founder Winston Mock appeared in Shark Tank Season 14 Episode 4 and demanded $500,000 for a 10% Equity at a $5 Million Valuation from the shark. It is a good company that tries to solve the polluted air problem at an affordable price.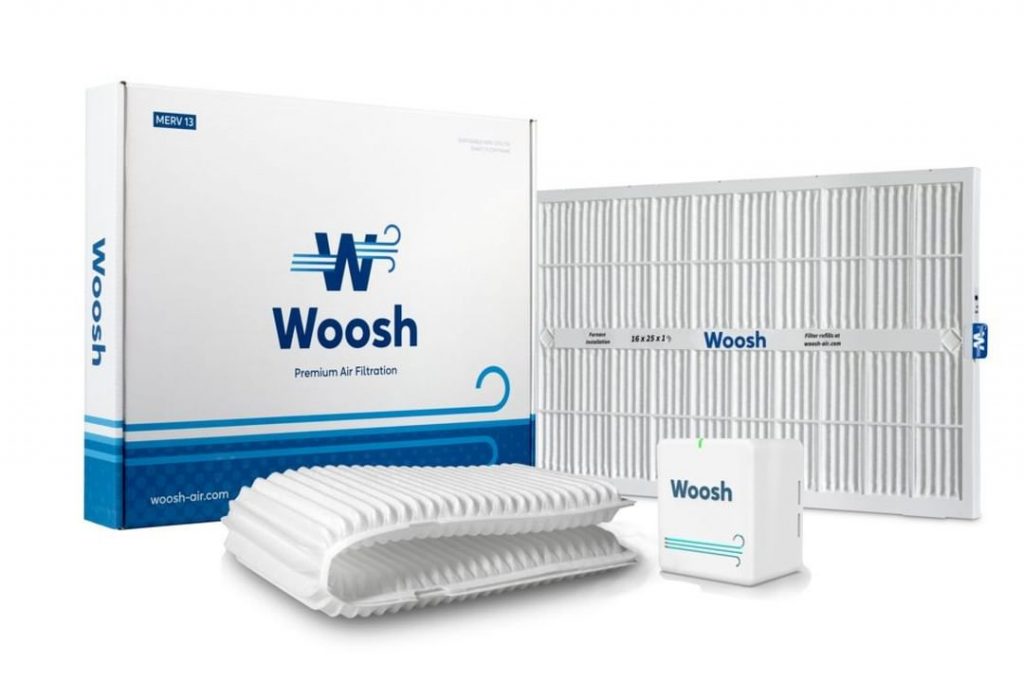 What Is Woosh Air?
Woosh is an air filter that converts into an 'HVAC' system to purify the air of entire the house. This filter filters much more than a normal air purifier, the air of the whole house.
Its Air Quality Monitor & Smart Air Filter work together to perfectly filter the polluted air from all the corners of the house.
Whenever this monitor receives a signal of poor quality, it gives instant alerts and automatically turns on the circulating filtered air.
The Woosh air filter uses a Russable plastic frame. Its smart air filter includes a lot of things like Magnets, Pull Tabs, Engineered Filters, Wireless Connectivity, Integrated Sensors, and Gasketing.
This the Woosh air quality monitor and the Woosh smart air filter integrate with each other. Whenever the monitor receives a poor air signal, it sends an air circulation request to the filter. Smart air filter filters out the poor air completely.
The Woosh uses MERV 13-rated Fold™ filters that are recommended by the CDC and EPA to mitigate the spread of COVID-19 and remove wildfire smoke.
Air quality can be managed and checked through this Woosh app. In this, up-to-date information is available about outdoor and indoor air quality.
This filter comes in two variants Smart Filter Starter Kit and The Ultimate Woosh Clean Air Bundle. Its price is $99 and $149.
Company Name
Woosh Air
Founder
Winston Mok
Founded
2020
Product
Smart Ecosystems, Electrification, Property Owners, and HVAC service providers
Asked For
$500K for a 10% Equity
Final Deal
$500K for 10% equity + $0.50 cent royalty on each unit Sold
Shark
Kevin O'Leary
Episode (Shark Tank USA)
S14 E4
Air Date
Oct 14, 2022
Business Status
In Business
Website
Visit Website
Headquarters
San Francisco, California, US
Lifetime Worth (Sales)
$1M *estimated
Buy and Watch
Buy Now
Amazon Prime
Another Shark Tank Pitch
Who Is The Founder Of Woosh?
The founder of Woosh Company is Winston Mok, who has previously been a Senior Product Manager at Google. In 2020, he started the company in the San Francisco Bay Area.
The founder has studied Engineering, Computer & Mechatronics at the University of Waterloo.
Earlier also he started two companies Techstars and Simply Good Technologies however it got closed after a few years.
Mark Dodd is the head of IoT at this company. Although he was previously a senior software development engineer at Amazon for 5 years. Mark has studied B. Sc., Computer Engineering at the University of Manitoba.
Woosh Before Shark Tank
This company was started by the founder Winston Mok in 2020. There was a 2018 forest fire in California and due to this, the air of the entire area was polluted.
The bad thing about this is that there is a lot of lack of air filters. To solve this problem, he made Woosh Products from Air Filters and Fans in his California garage.
He talked to many house owners about this product and also made many prototypes. final product prototype made in-home 3D printer, air filters, and computer sensors. On June 2020, he did beta testing in San Francisco.
After this, he launched his product in Sacramento, Austin, Dallas, Boston, Philadelphia, Chicago, and Toronto.
He took feedback from many people about the product and kept changing its design. He is still improving. Winston says that he will soon launch the Woosh Smart Air Filter in the market with a new design.
Winston Mock launched a successful Kickstarter campaign with a goal of $10,000 but raised $62,817 from 336 bankers as of September 3, 2022.
It is currently pre-ordering on Kickstarter. This filter key product frame is manufactured in Asia and designed in California. The material used for the filter was made in the USA.
The Woosh has raised a $1.3 million investment from 4 (Alex Haro, Chris Nguyen, Quiet Capital, and TI Platform Management) investors on April 14, 2022, in a Pre-seed round.
This company is yet to expand internationally, so Winston decided that he can take the help of sharks in this.
How Was The Shark Tank Pitch Of Woosh?
Winston Mok entered Shark Tank with his company Woosh and asked Shark for $500k for a 10% equity at a $5 Million Valuation. It explained its business to Shark in a very simple way and it was very energetic. He also told Shark about his business journey.
Right now this product is on per-revenue and he raised $62,000. This filter and frame cost $99 dollars and replacement filters cost $20 separately. This company's average margin on every single unit is 33%.
Kevin O'Leary decided he would make an offer and his offer was $500,000 for 10% equity and a royalty of $0.50 cents in perpetuity. Robert Herjavec is not particularly interested, so he dropped out to make the offer.
Daymond John and Lori Greiner also drop out. Kevin's offer is still there but Winston Mok decided to accept Kevin's offer.
Finalize: Kevin O'Leary invests $500K in Woosh Air Filters for 10% equity + $0.50 cent royalty on each unit Sold.
What Happened To Woosh After Shark Tank?
Woosh did not get many offers in Shark Tank as their product was on per revenue. Kevin put the royalty to Winston and this Winston accepted this deal of Kevin. Winston is sure of his product, it will sell very well.
Many Shark Tank viewers have shared their opinion on this unique business idea of ​​this ex-Googler Winston on Twitter.
After Shark Tank, many people are ready to buy this Woosh Air Filter. Thousands of visitors visited the Woosh website on October 13, 2022.
In October 2022, Woosh Company participated in TechCrunch Disrupt 2022 event. They shared a photo with the Emerson Sensi team on Instagram.
What's new on Woosh Air
Last Update: August 8, 2023
By August 2023, all the smart air filter products of this company have been sold out, But still many backers on Kickstarter have not received their orders.
Woosh Shark Tank Update
Woosh Air is a startup that hasn't been around for many years but has been able to raise investments. It had been a huge investment in the initial stage of the business that Googler Winston is very excited about Shark Tank.
Kevin O'Leary is a very good partner for this air filter company. Although many people consider Kevin to be strict he has a good knowledge of the business.
We're following Winston Mok along with their company for further updates.
What Is Woosh Net Worth?
This company is fixing a real problem like polluted air that too at an affordable price. Based on the company's sales, we estimate Woosh's net worth to be around $200,000. The founder says that he will launch many more air filter-related products in the coming time.
Note: This report is based on our research and data so far. In this, we are only estimating the annual revenue.
| | |
| --- | --- |
| Years | Annual Revenue |
| 2023 | TBD |
| 2022 | TBD |
| | | |
| --- | --- | --- |
| Years | Funding Amount | Investor |
| N/A | N/A | N/A |
Is Woosh Still In Business?
On October 14, 2022, The Woosh company was joined in Shark Tank to grow by taking investments. This Air Purifier product of the company filters the air of the whole house very well.
This new innovative company was featured by many major media publications, it includes Business Times, Tech Startups, NonWovens, Bloomberg, Business Wire, and many more.
This company did over 100 beta testers in North America to collect feedback and improve the product.
This private manufacturing Woosh Air Inc. company is headquartered in San Francisco Bay Area, West Coast, Western US and there are 2-10 employees working in this company.
Yes, Woosh Air is still in business as of August 2023.