Cabinet Health is a healthcare company that provides plastic-free packaging to consumers and enterprises. The company provides daily base medicines with sustainable packaging. This company specially provides better and plastic-free packaging.
Users can order non-controlled, oral-dose prescription medications with sustainable packaging from Cabinet Health. This company does not provide liquid, cream, or compounded medications.
This company has partnered with HealthHavenRx and that pharmacy company fulfills prescriptions with Cabinet Health Sustainable Pouches.
Cabinet Health Company was launched in 2018 by Achal Patel and Russ Gong. These two close friends combined their experiences and founded this medicine and sustainable product development company.
Cabinet's Ethical Supply Chain Has Deep Roots With India as CEO Achal Patel's Grandfather Builds First Acetaminophen Factories in Gujarat.
Every year 194 billion+ plastic medicine bottles are produced all over the world. It has a bad impact on the oceans, landfills, and air through plastic medicine. Every week a person consumes 5 grams of microplastics and that is the size of a debit card.
Cabinet Health was born to solve the single-use plastic problem in the pharmaceutical industry. This company is changing the medicine packaging industry by building plastic-free medicine cabinets.
The founders of this company, Achal Patel and Russ Gong appeared in Shark Tank Season 14 Episode 11 and asked the sharks for $500,000 for 2.5% equity at $20 Million Valuation. This is a new innovative startup which is solving the single-use plastic problem in medicine.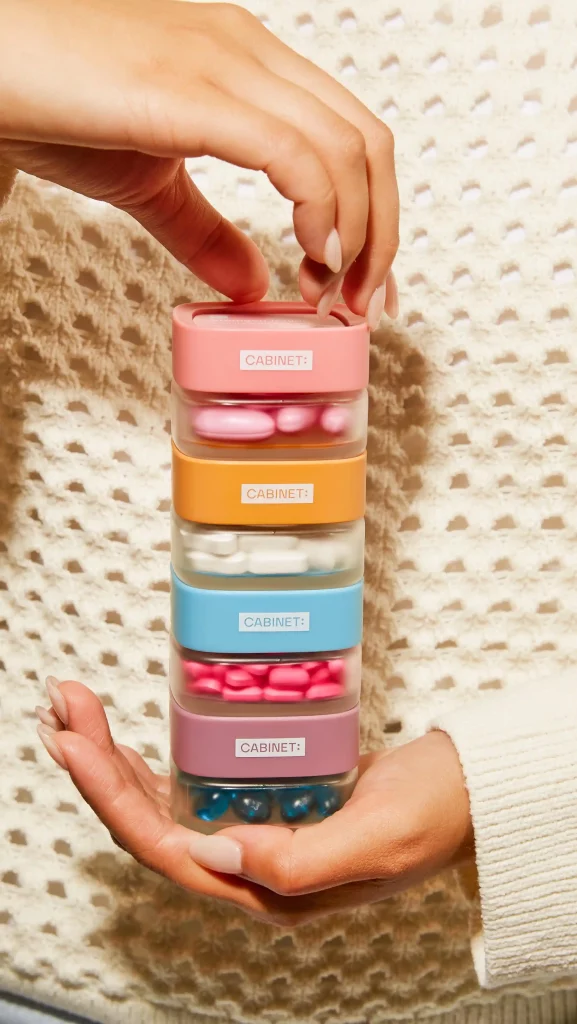 What Is Cabinet Health?
Cabinet Health is one of the world's most sustainable healthcare companies. This company makes plastic-free medicine containers and pouches.
Users can order medicine like Allergy Relief, Pain Relief, Cold & Flu, Sleep & Stress, etc. from this pharmacy online portable. Users will receive reusable cabinet glass containers and pills in compostable refill pouches. Pills from the compostable refill pouch must be added to the refillable glass bottle.
In every received packet the user receives the cabinet bottle, pill as well as a magnetic label which has to be affixed to the cap of the bottle for identification.
Compostable refill pouches are made from wood cellulose and other biomaterials. The Cabinet Bottle is made from 100% recyclable glass.
| | |
| --- | --- |
| Company Name | Cabinet Health |
| Founder | Achal Patel and Russ Gong |
| Founded | 2018 |
| Product | sustainable healthcare plastic free packaging |
| Asked For | $500k for 2.5% equity |
| Final Deal | $500,000 for 7% equity + 2% Royalty |
| Shark | Tony Xu and Kevin O'Leary |
| Episode (Shark Tank USA) | S14 E11 |
| Air Date | Jan 13, 2023 |
| Business Status | In Business |
| Website | Visit Website |
| Headquarters | New York City, New York, United States |
| Lifetime Worth (Sales) | $25 Million *estimated |
| Go To Amazon | Buy Now |
| Watch On | Amazon Prime |
Another Shark Tank Pitch
Who Is The Founder Of Cabinet Health?
Cabinet Health Company was launched in 2019 and the co-founders of this company are Achal Patel and Russell Gong.
Achal Patel
Achal is the co-founder & CEO of the company. He studied foreign affairs at the University of Virginia and worked in various positions at Deloitte Consulting.
Russell Gong
Russell is the co-founder and president of the company and studied Artificial Intelligence at the MIT Sloan School of Management. He served as an infantry officer in the United States Army for 8 years.
Cabinet Health Before Shark Tank
This healthcare company has its roots in Gujarat, India. The grandfather of the company's CEO, Prachal, is a Gujarati and in 1960 he opened the first acetaminophen factories in a small town in India.
Both Achal and Russ come from different backgrounds and after doing a lot of research, they started Sustainable Product Development Company.
As their first product, they made Version 1.0 Effiable and Compostable System. This company has also been certified by B Corporations.
They have partnered with Valisure, Grove, rePurpose, Techstars, etc. In December 2022 this sustainable healthcare packaging company has raised $17 million in funding led by Global Impact Fund. This funding includes both debt and equity.
So far the company has raised a total investment of $23.6 million from various investors including TechStars, SOGAL Ventures, Gaingels, and Pixel Perfect Ventures.
How Was The Shark Tank Pitch Of Cabinet Health?
Achal and Russ enter the shark tank and say cabinet health is the world's first compostable and refillable system. They sell and manufacture high-quality medicines and supplements. They asked $500k for 2.5% equity.
The selling cost of their starter set is $10-$20 to the customer and the glass bottle comes with the starter set. Their margin in this product is 60%-80%.
They have 700,000 customers so far. Achal is the 3rd generated healthcare entrepreneur his grandfather built the first acetaminophen factories in India.
This year their sales have been $14 million, they are now profitable on a unit basis and they are investing more in research and development. They have $8 million in inbound cash this year. This year their net profit is negative 20%. Lori said why 20% is negative.
They have invested $2.5 million in research and development this year. Barbara Corcoran said there is a lot of risk in this, so she is out. Next 12 months they are projecting $25 million in revenue and a negative 10% net income.
They have raised $13 million so far, with their latest funding round at an $81 million valuation. Mark Cuban said it's not a fit for him so he's out.
Kevin O'Leary said he would not be able to deal at the $20 million valuation, Kevin countered with $500k for 12.5% ​​equity. Tony Xu said he is a big believer in sustainability and offered $500k for 10% equity. Achal asks Tony, Kevin, and Lori to team up. Lori Greiner said valuation is out of the world, so she is out.
What Happened To Cabinet Health After Shark Tank?
After Shark Tank, the DoorDash CEOs Tony & Kevin uploaded a video saying that this is a great company that is solving the plastic problem in medicine.
On August 2022, they launched a crowd-safe campaign on the Republic platform, and in this, they raised a total amount of $217,640. The annual revenue of this company in 2021 was $10m revenue.
Within a few weeks of this episode being aired, 96k+ visitors visited the company website.
What's new on Cabinet Health
At present, the performance of this company is going well. Right now they are doing $25 million in annual revenue.
By May 2023, Cabinet Health's Sustainable Packaged Medicines have been rolled out at around 700 CVS Stores across the country.
As of May 26, 2023, they have 14 SKUs of cabinet health medications, including Allergy Relief, Pain Relief, and more.
Cabinet Health Shark Tank Update
Cabinet Health appeared on Shark Tank on January 13, 2023. They told Shark about a real problem in the medicine industry and presented their cabinet glass container as a solution.
We're following Achal Patel and Russ Gong along with their company for further updates.
What Is the Net Worth of Cabinet Health?
Cabinet Health is estimated to be worth $7.1 million. On December 2022, this healthcare packaging company raised an investment of $17 million. The total funding of this company has been $23.6 million in June 2023.
The global pharmaceutical packaging market size was estimated at $127 billion in 2022, with the industry expected to grow to $265.5 billion by 2030.
Is Cabinet Health Still In Business?
Cabinet Health Company is a solution for single-use Plastic medicine packaging material. It is the mission of the company will reduce the plastic in medicine industry.
This is the claim of the company that every week people are consuming 5 grams of microplastics through plastic packaging medicine.
This new startup has been featured by many media companies including Business Insider, Crain's New York Business, Axios, and many more.
This company is headquartered in New York City, New York, United States, and employs 5 to 20 people.
Yes, Cabinet Health is still in business as of June 2023.
frequently asked questions
Who Founded Cabinet Health?
Cabinet Health was founded in 2018 by Achal Patel and Russ Gong.
What is Cabinet Health worth?
Cabinet Health is estimated to be worth $7.1 million.
Feedback Form