Ghia is a non Alcoholic aperitif drink that does nothing to numb the night. The drink was started by the founder, Melanie Masarin, inspired by the Mediterranean tradition. Because it is alcohol-free, anyone can drink it.
This drink is made by combining good ingredients. The taste of this makes the summer season much better and can change one's thinking about drinking and socializing.
Melanie was spending time with her family and friends near the Mediterranean Sea during the summertime. So here he noticed the lack of non-alcoholic drinks, after which Melanie decided that he would fill this gap in the beverage market.
Melanie started this alcohol-free aperitif drink company in 2019 because she knew that by 2025, the non-alcoholic industry was going to be USD $1.6 Trillion.
Melanie appeared in Shark Tank Season 14 Episode 4 with her company Ghia Drink and asked Shark for $250K for a 5% Equity at a $5 Million Valuation. Melanie is very thinking about this company and she wants to become a big brand in the non-alcoholic market.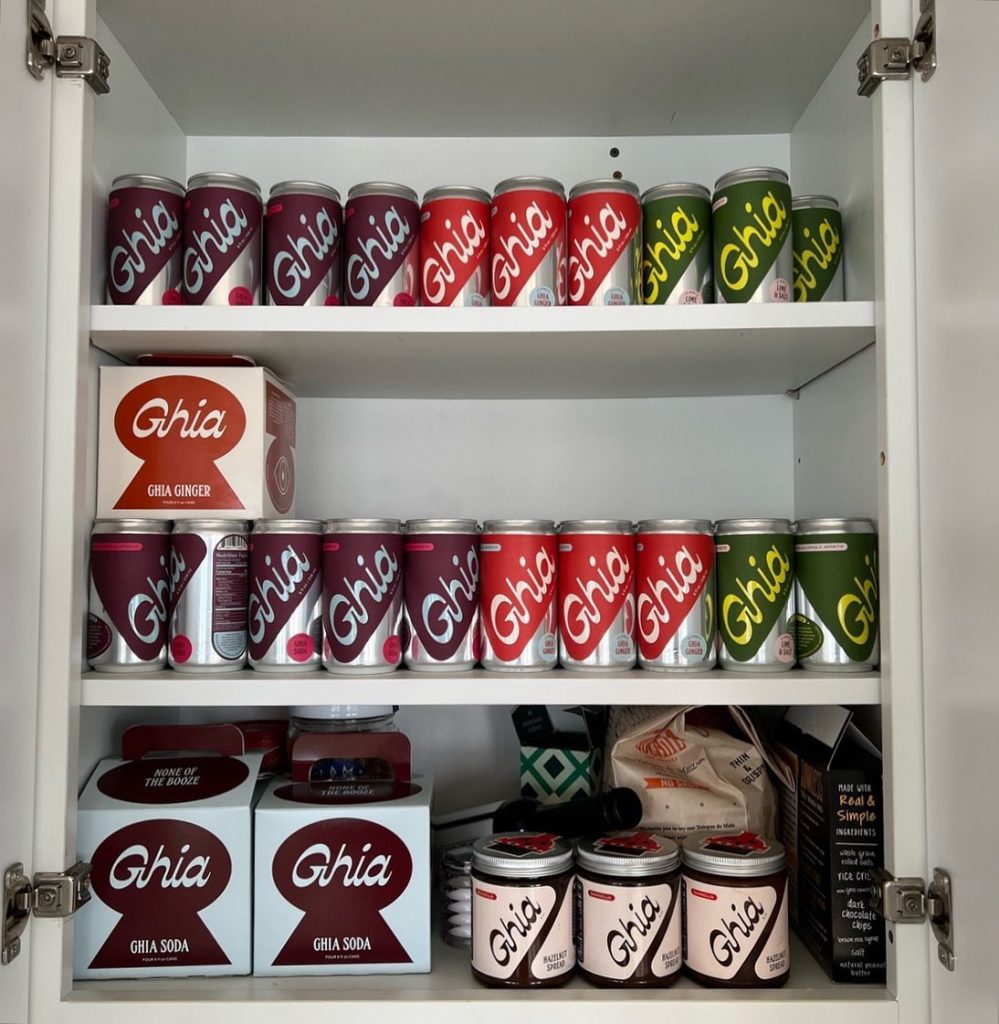 What Is Ghia?
Ghia is a spirits-free, non-toxic aperitif drink that is prepared using all-natural ingredients. One of the ingredients that it uses to make its drink is herbal nervines. It is a medicinal plant, it will be used for centuries to slow stress and bring on energy.
It tastes great even if the drink is not alcoholic. All of their drink products are vegan, kosher-certified, and gluten-free, and contain no sugar, artificial flavors, and caffeine.
It sells different types of drinks such as Apéritif, Le Spritz, First Sip Kit, and Ghianduja besides selling puzzle sets. Apart from all this, this recipe tells how to make an Aperitif drink like A NIGHT AT THE SPRITZ, Agrodolce, Dusk in the Garden, and many more.
The special thing about this drink is that after opening its bottle, it can be consumed for 3 to 4 weeks and it does not require refrigeration.
This product can be purchased from Amazon as well as its website and is priced from $32 – $75.
Company Name
Ghia Drink
Founder
Melanie Masarin
Founded
2019
Product
Non Alcoholic Drinks
Asked For
$250K for a 5% Equity
Final Deal
No Deals
Shark
No Sharks
Episode (Shark Tank USA)
S14 E4
Air Date
Oct 14, 2022
Business Status
In Business
Website
Visit Website
Headquarters
Los Angeles, California, US
Lifetime Worth (Sales)
$12.5M *estimated
Buy and Watch
Buy Now
Amazon Prime
Another Shark Tank Pitch
Who Is The Founder Of Ghia?
Melanie Masarin is the founder and CEO of the company as well as did this marketing work in a different company earlier.
She worked as a Financial Analyst, Investment Banking at Goldman Sachs after studying Economics with a Bachelor of Arts from Brown University.
For many years she worked in different companies including American Eagle Outfitters, Dig Inn, and Glossier.
Ghia Before Shark Tank
When Melanie was spending time with her family and friends near the Mediterranean Sea, when she went to the launch with her friends, she found a shortage of alcohol-free drinks there.
She started doing research about this, due to which she came to know that there is a huge shortage of alcohol-free drinks. To fill this gap in the market, she started Ghia Alcohol-Free Drink Company.
At the beginning of her business, she had to face a lot of people and people, in this her family and friends also helped.
At the time of the product launch, she had invited many people to test the drink. She sent the product to 1200 customers with a handwritten note.
She has her products are available nationwide across 750+ bars, hotels, liquor stores, and mom-and-pop grocers.
It ships products to 50 states in the United States, with which Ghia has partnered with Mayple and is in 50 countries.
Her marketing material is made of 100% paper and biodegradable sinks so that it can do "one-packaging". She also has a subscription model, through which the user gets a very good discount.
Melanie needs a mentor along with investment to grow her business, so she decided to come to Shark Tank.
How Was The Shark Tank Pitch Of Ghia?
Melanie Masarin entered Shark Tank with her company Ghia and asked Shark $250,000 for a 5% equity at a $5 Million Valuation. The entrepreneur explained her alcohol-free drink well to the shark and it was very much liked by the shark.
This drink has about 50 calories in can size. Recently she has increased the price of her drink. The retail price for a bottle of these is $38, it can be 10 to 12 servings and its making cost is $6. Her spritz costs $1.25 and its retail price is $5.
In the last year 2021, her sale was 75% online and she made $2.5 million in it. These sales have come from social media marketing to them. In the last year 2021, it lost $1 million.
She has raised $3.5 million and currently, she has raised $6.5 million at a $35 Million Pre-Money Valuation. Melanie has 57% equity in the company after raising $6.5 million. Her sales are $4.5 million by October 2022 and will double by 2023 next year.
Daymond John said that if he does not like this kind of drink, then he is out. Lori Greiner said that she also does not like this type of drink, so because of this, she is out.
Mark Cuban said that the category that chooses the founder, is very hard because it is expensive to make, store and sell. So because of this, he is out.
Robert Herjavec offered this business $250k for a 5% equity.
Meanwhile, Kevin O'Leary said Wait. Robert said Melanie if you Negotiate with Kevin, then I am out, In this, Melanie says that if she does not listen to everyone, then it will not be fair, then in the meantime, Robert is out. Kevin's offer was $250k for a 10% equity but Melanie declined Kevin's offer.
Finalize: Alcohol-Free Drink Company Ghia did not get the deal in Shark Tank.
What Happened To Ghia After Shark Tank?
The shark conversation with Melanie went well, especially with Kevin & Robert. Robert had offered Melanie the Exact according to his demand, but when Melanie was listening to Kevin's offer, Robert got out of it. The offer that Kevin made to Melanie was no better than Robert's offer.
This is an expansive category so it requires a lot of investment to run this business. Ghia Drink company has raised $10 million by October 2022.
At the present time, the founders hold only 57% of the stakes of their company, although she has sold quite well this year.
Shark Tank Viewer has a different opinion about this business, so here are some tweets of Shark Tank Viewer.
This business did not get a deal in Shark Tank but it is expected that an investor can invest in it considering its revenue in the Shark Tank show.
This company's new product Totem Glasses has been Designed in collaboration with Sophie Lou Jacobson. Totem Glasses is inspired by a mutual love for colorful objects.
What's new on Drink Ghia
Last Update: August 8, 2023
Melanie Masarin became a success after this episode of Shark Tank aired, due to which her products were available in 1500 stores in the United States and Canada.
Recently the drinks of this brand have become available at the popular American restaurant chain Sweetgreen. This drink is currently being served in 300+ restaurants. The company's revenue is on track for $7 million by August 2023.
Ghia Shark Tank Update
Melanie entered Shark Tank with her alcohol-free drink company and gave a great presentation. Before joining Shark Tank, Melanie was hoping that she would definitely get an investment as she had complete confidence in her product.
Melanie was very confident about her product though she did not get an investment in Shark Tank. However, this company's revenue is quite good and the founder said that in 2023, she can make about $10 million in revenue.
We're following Melanie Masarin along with their company for further updates.
What Is Ghia Net Worth?
The alcohol-free drinks market size is $800 billion and it continues to grow every year and could grow to $1.6 trillion by 2025. Accordingly, the competition is also increasing very much. So at present, Ghia's net worth is $1.5 million.
Note: This report is based on our research and data so far. In this, we are only estimating the annual revenue.
| | |
| --- | --- |
| Years | Annual Revenue |
| 2023 | $7M *estimated |
| 2022 | $3M *estimated |
| 2021 | $2.5 *estimated |
| | | |
| --- | --- | --- |
| Years | Funding Amount | Investor |
| N/A | N/A | N/A |
Is Ghia Still In Business?
The demand for alcohol-free drinks is increasing very fast, so this good drink company can also grow if it can achieve marketing and testing. There are many companies that are focusing on making alcohol-free drinks at the present time.
Melanie already understands beverages and marketing and has done marketing very well. There are many hotels and bars in the United States where this alcohol-free drink has been made available.
In October 2022, this drink is available in restaurants, hotels, bars, markets, and venues in the United States and Canada. It grows every month in 800 places in the United States and only 4 places in Canada.
The New York Times and Vogue featured this product. In 2022 this company was included in the "Top 10 Most Innovative Consumer Goods Companies".
Food and Beverages Services Drink Ghia Company is headquartered in Los Angeles, California, and has 2-10 employees working it.
Yes, Drink Ghia is still in business as of August 2023.