Metric Maat is a virtualized personal fitness assistance. The device motivates the user to achieve their daily workout goal through voice assistance. This smart device converts normal gym equipment into smart equipment and stays connected with the user like a personal trainer.
M-T Strckland, Braxton K. Davis and Ecleamus Ricks, Jr. Started this Metric Maat company in 2017. These three friends had completed their engineering studies at Morehouse College.
It is a new innovative wellness and fitness services startup that through its data analysis helps users to achieve their fitness workout goals.
Strickland, Davis, and Ecleamus these three friends appeared in Shark Tank Season 14 Episode 11 and asked the sharks for $100,000 for 5% equity at $2 Million Valuation.
What Is Metric Mate?
Metric Mate is an Intelligent Training Accountability Partner and it uses "TAP Technology" to transform training equipment into smart equipment.
The "T.A.P sensor" attaches to the equipment, monitors real-time performance, and receives pre-workout. The sensor transfers this data to the Metric Mat app via Bluetooth.
Metric Mat App collects and stores the data and after analyzing it, Metric Mat App does a virtual assistant to the user to reach their goal.
In the application, the user gets their strength training workout details and can share them on their social media. The "T.A.P. Sensor" is available for "pre-order" on the company website and costs $199. The Metric Mat app is available on Appstore.
| | |
| --- | --- |
| Company Name | Metric Mate, Inc |
| Founder | M-T Strckland, Braxton K. Davis, and Ecleamus Ricks, Jr. |
| Founded | 2017 |
| Product | Virtual Workout Personal trainer |
| Asked For | $100K for 5% equity |
| Final Deal | No Deals |
| Shark | No Sharks |
| Episode (Shark Tank USA) | S14 E11 |
| Air Date | Jan 13, 2023 |
| Business Status | In Business |
| Website | Visit Website |
| Headquarters | Atlanta, Georgia, United States |
| Lifetime Worth (Sales) | $100K *estimated |
| Go To Amazon | Buy Now |
| Watch On | Amazon Prime |
Another Shark Tank Pitch
Who Is The Founder Of Metric Mate?
The founder of Metric Maat Company is three friends M-T Strckland, Braxton K. Davis and Ecleamus Ricks, Jr. These three friends started the Wellness and Fitness Services Company in 2017.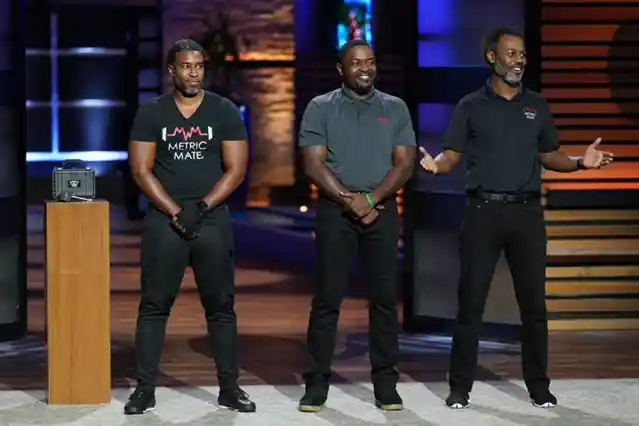 M-T Strckland
Strckland is the co-founder and CEO of the company. He worked in a Top Product Supply Chains Company after studying electrical engineering at Missouri University of Science and Technology.
In 2015, he started Strictly Unlimited Company. He is a UBS Fellow on The Fourth Floor.
Braxton K. Davis
Braxton is the co-founder & Chief Strategy Officer of this company and he is working part-time in it. He is the full-time Associate General Counsel of Facebook.
He is a graduate of Georgia State University College of Law. He is the founder of the Patent Institute of Training. For 5 years he is the executive director of NCPP.
Ecleamus Ricks, Jr.
Ecleamus is the Chief Technology Officer of the company. He has studied software engineering at The University of Texas at Austin.
Worked at various positions in National Instruments for 7 years.
Metric Mate Before Shark Tank
Metric Mate Products was started in 2017 by three friends and these friends come from different backgrounds. The founder says that this company has been established to give people a healthier life.
This company was included in the list of 2021 Georgia's Top 40 Innovate Companies. Their "TAP Technology" has got Arrow certified.
9 Atlanta Companies Win $5,000 Export Challenge Grants in 2022 Atlanta Metro Export Challenge One of them is Metric Mate. On July 18, 2022, Techstars invested $0.12M in this fitness company in a seed round.
How Was The Shark Tank Pitch Of Metric Mate?
Strckland, Davis, and Ricks enter the Shark Tank and ask the Sharks for $100k for 5% equity. They pitched their product to sharks. Mark Cuban used this smart equipment and it is a really cool product. All three have 8 degrees.
They have limited funding so they are currently focusing on personal trainers. The product has a manufacturing cost of $99 for 1,000 units and a retail cost of $199. To sell this product directly to the consumer, 5 government certificates are required.
Mark Cuban said it's a great idea for a consumer product, but it's not a business for him, so he's out. Lori Greiner said the product needed to be simplified, she is out. Barbara Corcoran said it is early so she is out. Tony Xu said it is early for him so he is out.
Kevin O'Leary Says He's Invested in "PRX Performance" on Shark Tank Season 7, Taking advantage of PRx, he will manufacture Metric, the offer is $100k for 25% equity. They said 25% equity is more for them.
They countered a $100k + $150k line of credit for 12.5% ​​equity. Kevin said he can't do this deal. They countered $200k for 20% equity + advantage of PRx Performance. Kevin said $100k for 25% equity.
Finalize: Metric Mate didn't get the deal in Shark Tank.
What Happened To Metric Mate After Shark Tank?
Metric Mate didn't get the deal in Shark Tank. Kevin offered 25% equity for this company but the founder refused. 25% equity is too much for all three partners.
Many people shared positive and negative opinions about this product on social media platforms, most of the people said that it is a cool product.
Currently this "T.A.P Sensor" is on pre-order, you can book from the company website. After this episode aired, 50k+ visitors visited the product site in the month of December 2022.
Metric Mate Shark Tank Update
The three founders of this company pitched very well to the shark. Shark talked about the sales report and cost of this product and many things were discussed.
This episode was aired on 13th January 2022, there are many people who must have ordered the product after this episode.
We're following M-T Strckland, Braxton K. Davis, and Ecleamus Ricks, Jr. along with their company for further updates.
What Is the Net Worth of Metric Mate?
This company raised investment in 2022 and the current Metric Mate is estimated to be worth $2 million. This is a new technology in the wellness and fitness category and there are many people who need this type of product.
Currently time there are many applications that work as personal trainers in workouts and they guide the user. But most applications do not provide accurate reports of workouts, they give approximate reports. For example, a smartwatch. The watch has a sensor that tries to estimate your footsteps in activity mode.
Is Metric Mate Still In Business?
This fitness technology company has partnered with Techstars and Cox Enterprises. To grow such a company, good marketing and investment will be required.
This Atlanta-based fitness tech startup has been featured in numerous media publications including Business Wire, Benzinga, News Center, and many more
This company's headquarters is in Atlanta, Georgia, United States and 3 to 10 people are working in it.
Yes, Metric Mate is still in business as of June 2023.
Metric Mate: Latest Deals, Promo Code & News
frequently asked questions
Who founded the Metric Mate?
Metric Mate was founded in 2017 by three friends M-T Strckland, braxton K. Davis and Ecleamus Ricks, Jr.
Where is Metric Mate From?
Metric Mate's Headquarter is in Atlanta, Georgia, United States.