The HummViewer is a wearable hummingbird feeder mask that creates the visual experience of watching hummingbirds feed. The Hummweaver is a strong plastic shield that protects the face and head from the beak of hummingbirds.
Hummingbirds are native birds of America. Most hummingbirds are found in Ecuador, which is a country in South America.
These birds fly about 30 to 40 km daily and they fly for about 2,000 km during breeding season. Hummingbirds belong to the family Trochilidae. This bird's family is very big, it includes about 325 species.
There are many people who like to see hummingbirds from close quarters but these birds are fickle and it is difficult to catch them.
But many people believe that if you want to catch a hummingbird or see it closely, then you have to feed it by mixing 1/4 cup white sugar in 1 cup boiling water.
If you want to see these beautiful hummingbirds in front of you, then this HummViewer company of Shark Tank presents its product.
John Creed and Joan Creed along with their company appeared on Shark Tank Season 14 Episode 8 and demanded $75,000 for a 10% equity at a $750K Valuation from the shark.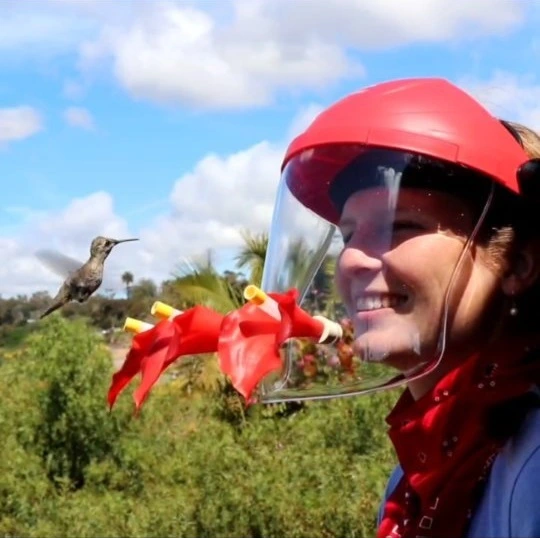 What Is HummViewer?
The HummViewer is a hummingbird feeder mask, through which hummingbirds can be seen up close, sucking nectar from flowers.
This mask is a plastic shield that completely covers the face & head. Fake flowers and rubber tubes are attached to the front of this mask and hummingbird food is inside the tubes(Sugar and Hot Water).
When hummingbirds come in search of nectar, they find fake flowers and rubber tubes like real flowers. Because of this, Birds come in front of the mask for nectar.
The price of this bird mask is $69.95 and you can buy it from the official website.
Company Name
HummViewer
Founder
John Creed and Joan Creed
Founded
2017
Product
hummingbird feeder mask
Asked For
$75k for a 10% equity
Final Deal
$75k for a 35% equity
Shark
Daniel Lubetzky
Episode (Shark Tank USA)
S14 E8
Air Date
Dec 2, 2022
Business Status
Out of Business
Website
Visit Website
Headquarters
Loveland, Colorado, US
Lifetime Worth (Sales)
$1M *estimated
Buy and Watch
Buy Now
Amazon Prime
Another Shark Tank Pitch
Who Is The Founder Of HummViewer?
John Creed and Joan Creed are the owners of HummViewer, they started it in 2017.
HummViewer Before Shark Tank
John is very fond of hummingbirds. He and his family frequently visit Pine Cone Lane in Westcliff, Colorado on summer vacations.
There John does a lot of activities with his childhood friends and hangs out for some time. John wanted to feed the hummingbirds and see them up close.
To find a solution to this problem, John spent a long time planning, measuring, drilling, and painting and finally found a solution.
After John completed the Hummingbird Feeder Mask, he took it to the cabin and saw that it worked. John's wife made a video and shared it on Twitter with the Banakar Enver's NBC affiliate news.
9News called John's hummingbird story "9 Most Inspiring Stories of 2017". According to 9News, a similar product like Hummingbird mask was made by Heatstick in 2008.
John Creed and Joan Creed made up their mind to appear in Shark Tank for the growth of their business and also applied.
How Was The Shark Tank Pitch Of HummViewer?
Joan and John both entered Shark Tank with their company Humm Viewer and asked the sharks for $75k for a 10% equity. John told Shark that it is not possible to see hummingbirds because they are fast and do not come near humans. For this, he made HummViewer.
Sugar and water are added to the tubes in this feeder mask and it has to be worn until the hummingbirds come to eat. This mask is sold for $59.95 and its making cost is $10. This mask is sold for $59.95 and its making cost is $10. He has sold 500 units so far.
They had reached Hummingbirds Influencer on TikTok, their video got 5.4 million views. Kevin O'Leary said that in mythology Hummingbirds were considered a messenger and used to deliver messages to humans, are also giving messages to Kevin so he is out.
Daymond John said that he would use this product but now he is out. Mark Cuban says that it is not investable for him then he is out of it.
Lori Greiner said this is a super novel and super cute idea, This is a kind of hobby and millions of dollars cannot be made from it, it is not investible for Lori, so she is out of it.
There is no debt in the company, but they took a home equity loan for payment to product patents and a minimum amount of inventory. They have invested around $40,000 in this business.
Daniel Lubetzky asked why do you need sharks. John said that he has been in the electrical business all his life and he has no knowledge of the retail and marketing industry, So he needs someone to set up this business.
Now they have 1500 units left and initially, they had bought 2000 units, 500 have been sold. This business has lifetime sales of $29.9k. Daniel said that he wants to take 50% equity in this company but because of Lori's kindness, he will take 35% equity.
Daniel's offer is $75K for a 35% equity. John & John accepted the offer.
Finalize: Daniel Lubetzky Invest $75K in 'HummViewer' for 35% equity.
What Happened To HummViewer After Shark Tank?
When the entrepreneur pitched their product to the sharks, all the sharks started laughing because it was a unique idea. So Shark Daniels invested in this unique business
This type of product is good for bird lovers, especially hummingbird lovers. It will be a unique experience to see hummingbirds while eating through this mask.
One problem with this mask is that it has to be worn in the same position for a long time. You have to wear this mask until the hummingbirds come to eat sugar in the tubes on the front.
This can be a difficult task for bird lovers as it may take 1 hour, 2 hours, or even 10 hours. This is a good mask for those people who have the patience to watch hummingbirds eat.
From December 2022 to February 1, 2023, there has been no activity on the hummviewer social media accounts.
What's new on HummViewer
Last Update: September, 2023
After Daniels' investment, his team redesigned the HummViewer official website, although the deal is currently closed. As of September 2023, the company has lifetime sales of $1 million.
HummViewer Shark Tank Update
The founder very nicely informed the shark about their Hummingbird Feeder Mask and the shark liked it very much. The founder gave the annual sales report of their mask and tried to convince the sharks to invest. By December 2022, the company's lifetime sales are only $29k. Daniels is the investor of this company and he will help it in retail and marketing.
In December 2022, after this episode aired, the website (hummviewer.com) had 35k+ visitor visits. The press release of December 5, 2022, revealed that this deal has been closed. This episode was re-aired on February 2023.
We're following John Creed and Joan Creed along with their company for further updates.
What Is HummViewer Net Worth?
This is a unique mask through which we can see hummingbirds eating closely. Many people like to watch birds, this can be a good product for them. Analyzing the company's sales report, we think HummViewer to be worth $300k. The valuation of this company went up to $214k in Shark Tank.
Note: This report is based on our research and data so far. In this, we are only estimating the annual revenue.
| | |
| --- | --- |
| Years | Annual Revenue |
| 2017-23 | $1M *estimated |
| | | |
| --- | --- | --- |
| Years | Funding Amount | Investor |
| 2022 | $75k | Daniel Lubetzky |
Is HummViewer Still In Business?
Hummingbird Feeder Mask is a family business owned by the John family. It has been many years running this business.
If you want to buy this product, then you can buy it from its official website. This product is currently unavailable on Amazon.
Yes, HummViewer is still in business as of September 2023.
frequently asked questions
Who founded HummViewer?
HummViewer was founded in 2017 by John Creed and Joan Creed.
Did HummViewer get a deal on Shark Tank?
Yes, the HummViewer got a deal in Shark Tank.