The Fire Fighter1 is a fire hose that connects to a swimming pool pump and serves to put out a fire by quickly throwing water forward. This fire hose is made of nylon and is very easy to use for males and females.
Fire cases keep happening in the United States every day whether it is a wildfire or a property fire. Every year there are many people in the United States who lose their lives due to fire.
According to InjuryFacts, 1,353,500 fire cases were found in 2021 and there were 3,800 civilian deaths and 14,700 injuries.
Firefighters are actively working to stop the fire case, but still, people should make arrangements for their safety to fight the fire.
People should keep a pump in their house through which a fire hose can be attached and thrown on the fire. But it is necessary to have a good and better quality fire hose like Fire Fighter1.
Fire Fighter One business owner Bianca Wittenberg appeared on Shark Tank Season 14 Episode 8 and demanded $150K for a 15% equity at a $1 Million Valuation from a shark.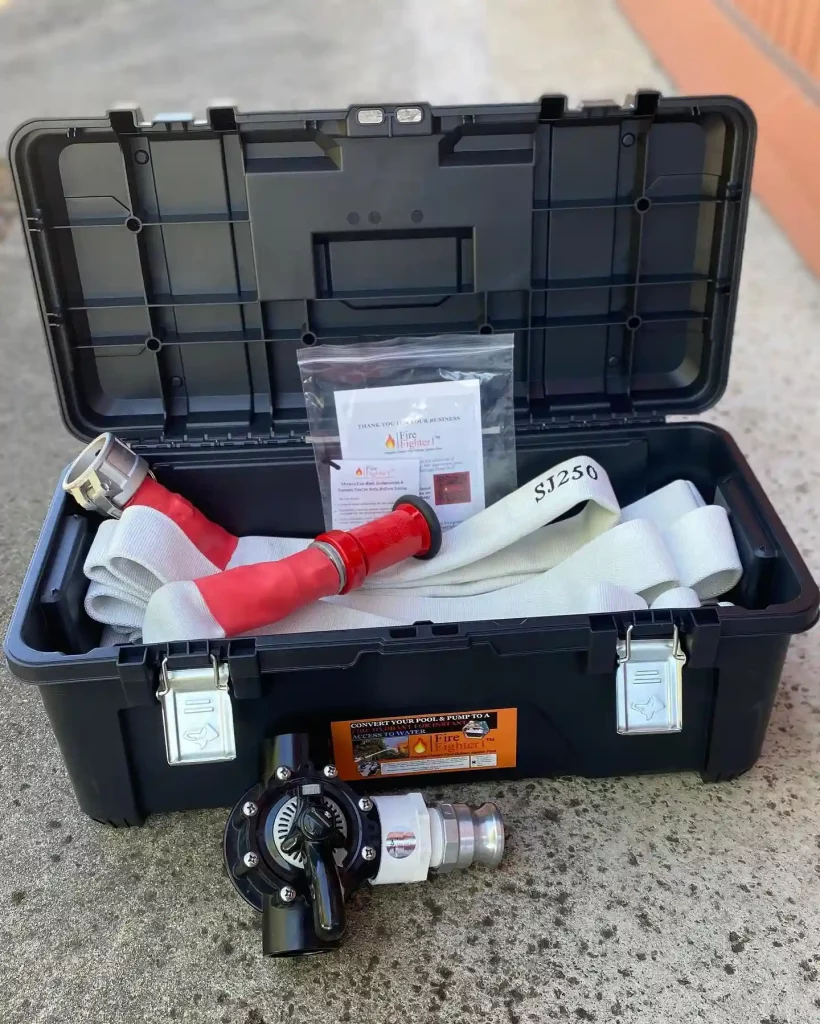 What Is Fire Fighter1?
The Fire Fighter1 is a fire hose that attaches to a pool pump to shoot water. If there is a fire in the house or tree and it has to be cleaned, then it can be extinguished by throwing water from the fire hose.
This fire hose is made from nylon and comes in two sizes 50 feet and 100 feet. 50 foot hose covers approximately 1/4 acre of properties (8″x14″x17″ – 13.5 lbs.). 100 foot hose covers approximately 1/2 acre (16″x16″x8″ – 28 lbs.).
It also comes with a separate 3-way diverter and installation kit with a fire hose, each costing $95.
The price of a 50-foot fire hose is $369 and the cost of a 100-foot fire hose is $449. This fire hose has an adjustable nozzle through which the water pressure can be increased or decreased.
Company Name
FireFighter1
Founder
Bianca Wittenberg
Founded
2015
Product
Fire Hose Quickly Connects to your Pool Pump
Asked For
$150K for a 15% equity
Final Deal
$150K for a 25% equity
Shark
Mark Cuban
Lori Greiner
Episode (Shark Tank USA)
S14 E8
Air Date
Dec 2, 2022
Business Status
Out of Business
Website
Visit Website
Headquarters
Sacramento, California, US
Lifetime Worth (Sales)
$1.2M *estimated
Buy and Watch
Buy Now
Amazon Prime
Another Shark Tank Pitch
Who Is The Founder Of FireFighter1?
Bianca Wittenberg is the Chief Executive Officer of Firefighter1. In 2015, she was the lead product developer of this company.
Wittenberg earned a Master of Business Administration degree from Sacramento State College of Business Administration after completing her business management studies at Northern Arizona University.
In 2012, she joined Morris Williams Realty as a Broker Associate. She was an air traffic control specialist for 11 months in the United States Department of Defense.
While pursuing her Master's, she joined IBMC Lending as an Operations Manager and broker. In January 2017, she started her own company named Own It Real Estate.
Fire Fighter1 Before Shark Tank
The Firefighter1 business was founded in 2015 and Wittenberg is its "lead product developer," according to LinkedIn.
The unique thing about this fire hose is that it makes 25,000 gallons of water immediately from the swimming pool.
This fire hose business has also been certified by WBENC. In April 2022, this product participated in the Napa Home & Garden Event Show.
This company's CEO Bianca Wittenberg has decided to appear in the Shark Tank so that their product gets a boost to grow sales.
How Was The Shark Tank Pitch Of Fire Fighter 1?
Bianca Wittenberg entered Shark Tank with her company Fire Fighter One and asked the sharks for $150k for a 15% equity. Wittenberg fully explained his product to Shark so that Shark could understand it properly.
The selling cost of the 50-foot unit is $449 and the making cost is $124. At a time 25 to 30 units are being built. The price for 100 feet is $399 and it is made for $200.
This product went on sale in February 2022 and has lifetime sales of $20,200. A total of 49 units have been sold so far. The founder has partnered with a pool company and pays them a 20% commission for every sale. She provides 25% to 30% discount in wholesale.
Daniel Lubetzky says that he cannot add value to it, then he is out of it. Kevin O'Leary says that not every business is investable, this business is in its early stage so he is out of it.
Daymond John says that you are on the right path but he does not think that he can add any value to it, so he is out of it.
Lori Greiner says this type of product should have Mouthpieces behind it, Lori asks Mark can he come with her on the deal. Lori and Mark together offered $150k for a 25% equity.
Wittenberg countered with 20% equity, but Lori said no. Wittenberg accepted Lori & Mark's old offer.
Finalize: Mark Cuban and Lori Greiner Invest $150K in 'Fire Fighter1' for 25% equity.
What Happened To Fire Fighter1 After Shark Tank?
Mark Cuban and Lori Greiner have invested $150k in this firefighter company and they said that this business requires a lot of patience. Word of mouth is needed to boost the sale of this product as it can solve a big issue like wildfire.
All the sharks gave their advice for this business, Wittenberg will change his business strategy by taking this advice from the shark.
Daniel shared his opinion on this business on Twitter, he said,
Fire safety is super important and something we don't talk about enough. My family and I recently did a fire prevention course at our home. It's always best to be prepared.

Daniel Lubetzky
What's new on FireFighter1
Last Update: September, 2023
This company has launched the new product Barricade Fire Gel Upgrade. As of September 2023, the Company's Lifetime Sales is $1.2 Million.
Fire Fighter1 Shark Tank Update
Wittenberg explained her business idea to Shark well so that she could take investment for her business. In Shark Tank, there was a lot of discussion between the shark and the entrepreneur, it also talked about the industry and the company's sales report. Lori and Mark have invested in the company and will mentor Wittenberg to grow the business.
This episode is going to be re-aired on February 2023. At the present time, no correct information about this company has been revealed.
We're following Bianca Wittenberg along with her company for further updates.
What Is the Net Worth of Fire Fighter1?
According to the LinkedIn profile, it has been 6 years since the business started till 2022 and till now it has not made much sales.
The global market size of fire safety equipment is expected to be $49.81 billion in 2022 and the industry is growing every year.
Competition in this industry is also at a very high level. There are many fire safety equipment manufacturing companies in the United States whose valuation is in the millions at the present time. This includes Koetter Fire Protection, Amerex Corp., Telgian, USA Fire Protection Inc., and many more.
Due to some analysis of the company, we think the net worth of Fire Fighter1 is $500K. This company got an investment in Shark Tank at a valuation of $600k.
Note: This report is based on our research and data so far. In this, we are only estimating the annual revenue.
| | |
| --- | --- |
| Years | Annual Revenue |
| 2015-23 | $1.2M *estimated |
Years
Funding Amount
Investor
2022
$150k
Mark Cuban
Lori Greiner
Is FireFighter1 Still In Business?
This company exclusively manufactures fire hoses and related equipment. If you want to buy it then you can visit its official website.
The official headquarters of Public Safety Company is in Sacramento, California and a total of 2-10 employees are working in it.
In November 2022, this company's fire hose and other products are not available on Amazon. You can buy it by visiting its website.
Yes, FireFighter1 is still in business as of September 2023.
frequently asked questions
Who founded FireFighter1?
Firefighter1 was founded in 2015 by Bianca Wittenberg.
Did firefighter1 get a deal on Shark Tank?
Yes, firefighter1 got a deal on Shark Tank. Both Mark Cuban and Lori Greiner invested in this company.