ShredSkinz is a recyclable Sauna Suit and sweating increases when you work out wearing it. Most Sauna Suits are made specifically from neoprene and resemble tracksuits or rain gear. Many gymgoers believe that working out wearing this suit leads to weight loss and muscle gain.
Shred Skinz is one such brand that claims that the World's 1st single-use Sauna Suit is Recyclable. Their suit brings fast sweating and is sensitive skin friendly.
The founder of this company "Kalaii K. Griffin" was overweight and wanted to reduce his calories. So that's why he tried to do a workout wearing a sauna suits but it got torn. So ShredSkinz was born out of this one moment.
Griffin claims that the suit he made can increase metabolism by 20% and cause weight loss by 47%. He also says that this suit is made from eco-friendly materials and can make every person fit by losing weight.
In 2021, the #saunasuit tag became viral on TikTok, and about 200 million views came in it. Social media influencer and Tiktok star Meimei uploaded a workout training video on her TikTok account @meimonstaa on Jun 18, 2021, wearing a sauna suits.
This ShredSkinz brand uploaded the video of Sauna Suites workout on its Tiktok account @shredskinz, that video got +6.2M views.
Many doctors say that excessive sweating increases blood plasma volume and also leads to weight loss.
Founder "Kalaii K. Griffin" appeared on Shark Tank with his company ShredSkinz and asked the shark for $60,000 for a 20% equity at a $300K Valuation.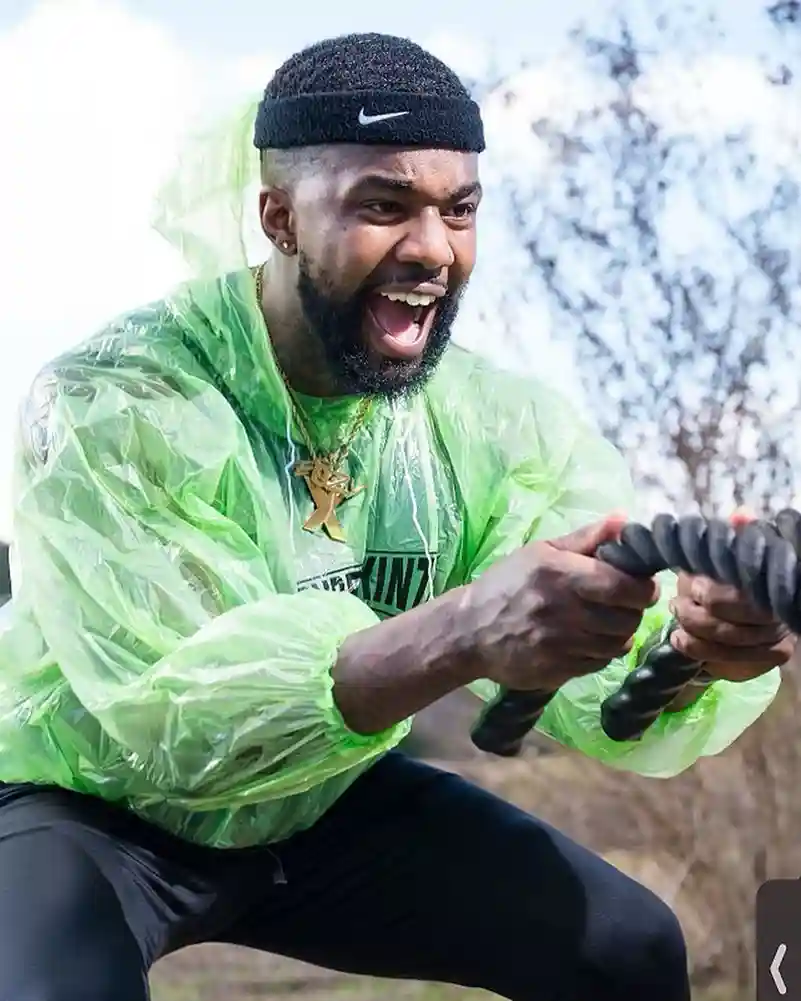 What Is ShredSkinz?
ShredSkinz is the world's 1st single-use recyclable Sauna Suit. This suit is made from eco-friendly material. This suit is sensitive skin friendly and it comes in multiple colors including Black, Green, and Pink.
As it is a single-use sauna suite, you can throw it away once you are done with your workout. Sauna suites have many health benefits, but this suit is not made for every person.
This suit can be risky for people above 65 years of age, children, and those with high blood pressure. After wearing the suit, one has to drink maximum water as excessive sweating can lead to dehydration, heat stroke, and heat exhaustion.
You can buy this suite as a subscription model and a one-time purchase. In the subscription model, you will get a 20% discount and three options are available in it, Every Week, Every 2 Weeks, and Every Month, The price is $19.
A pack of 5 ShredSkinz suits will cost you $24.99 if you buy them at once. If you want to cancel/modify the subscription, you can do so by contacting the team.
Company Name
Shredskinz LLC
Founder
Kalaii Griffin II
Founded
Oct 2020
Product
World's 1st single-use recyclable Sauna Suit
Asked For
$60K for a 20% equity
Final Deal
$60K for a 20% equity
Shark
Mark Cuban
Episode (Shark Tank USA)
S14 E8
Air Date
Dec 2, 2022
Business Status
Out of Business
Website
Visit Website
Headquarters
Austin, Texas, US
Lifetime Worth (Sales)
$1.8M *estimated
Buy and Watch
Buy Now
Amazon Prime
Another Shark Tank Pitch
Who Is The Founder Of ShredSkinz?
The founder and CEO of Shredskinz LLC Company are "Kalaii Griffin II". It started the company in Dallas in October 2020.
Griffin completed his Bachelor's degree in Communications, General, from The University of Texas at El Paso. Before studying, working as a sales representative at Berlin City Nissan of Portland for 1 year.
Griffin joined Rapid7 in April 2022 as a business development representative.
Shred Skinz Before Shark Tank
Griffin started this business in 2020 to reduce his weight loss and calories. When a workout is done in the gym wearing this Sauna Suit, there is profuse sweating.
Griffin mainly comes from Springfield, Massachusetts, and loves football. He wanted to become a professional football player.
But he sacrificed his dreams for his family and was bound by his responsibility. That's why you should focus on your business so that you can make money.
When this Sauna suit was ready, then the founder marketed this suit and all his products were sold in just 6 days. All his products were sold only through social media marketing.
Griffin had to grow his business, so he came to Shark Tank to ask for investment. Hope the sharks will help grow this business.
How Was The Shark Tank Pitch Of ShredSkinz?
Kalaii entered Shark Tank with his company ShredSkinz and asked the sharks for $60,000 for a 20% equity. Kalaii told Shark how to get instant satisfaction through workouts. In a simple pitch, it explained to the sharks about its eco-friendly sauna suit and how it adds sweetness to the workout.
The target audience of this product is athletics and fighters as they want to keep their health fit. Kalaii says they do not promote this Get Skinny Fit Fast product, But those who believe in reducing their weight can use it.
One of his videos on Tiktok has 16-17 million views and his average views every week are in million. He started in October 2020 and in 2 months he made $15,000 in sales, After that he was ready to appear in Shark Tank.
He did $190,000 in sales in 2021, so far in 2022 his sales have reached $100k and he are projecting to do $250,000 in sales by the end of 2022.
Last month his revenue was $23,000 and he made $5,000 in it. Mark said that it is not even that bad. Kalaii tells Shark that he is a college football player and that he played linebacker.
Kalaii does not live in a separate house as he is in debt. This debt is from his partner. The partner provided $25,000 for inventory in exchange for 25% equity in the company, along with a $100k loan.
Kalaii told that when he was 13 and 14, he lost both his parents. He got scholarship through football and he has a little brother that I had to help take care of.
He currently has $35,000 worth of inventory and pays $8,000 for it. The cost of a 5 pack suit is $4.17 and it is sold for $19.99. This minimum of $10,000 worth of product can be ordered from the maker.
Kevin O'Leary said that he does not see any room to invest, so he is out. This product is sold directly to the consumer. Lori Greiner said that she does not think this product is suitable for her, so she is out.
Daniel Lubetzky said I love you because you're honest, so Daniel offered $60k for a 20% equity. Kalaii gets an offer from Daniel as much as he asked for in Shark Tank, but meanwhile Mark Cuban says wait.
Mark Cuban offered $60,000 for a 20% equity. The entrepreneur needs this money for manufacturing and inventory. Kalaii finalized the deal with Mark.
Finalize: Mark Cuban Invest $60K in 'Shred Skinz' for 20% equity.
What Happened To ShredSkinz After Shark Tank?
The story of Kalaii has been full of struggle and he has a lot of debt, which he is still paying. Whatever he is earning from his business, he is using it to repay the loan.
Kalaii has also married and has a son, he wants that his son also did not have to struggle so much in his life. Mark has made this deal with Shred Skinz Company and he will try to grow this business through his experience and contacts.
Regarding this business, Lori made a tweet on Twitter, she said,
Entrepreneurs can take a nugget of the simplest idea & turn it into something great!

Lori
Daniel Lubetzky liked this business idea and the honesty of the founder very much and he also tweeted about it on Twitter.
How could you NOT want to partner with Kalei and @ShredSkinz ? This guy is so honest and has tons of grit, which are some of the foremost qualities I look for in an entrepreneur.

Daniel
People have shared their opinion about this product on Twitter, some people say it is a cool product. WWE superstar, dancer Maxxine(Sydney Zmrzel) posted the Kalaii pitch on her story after the episode aired on Shark Tank.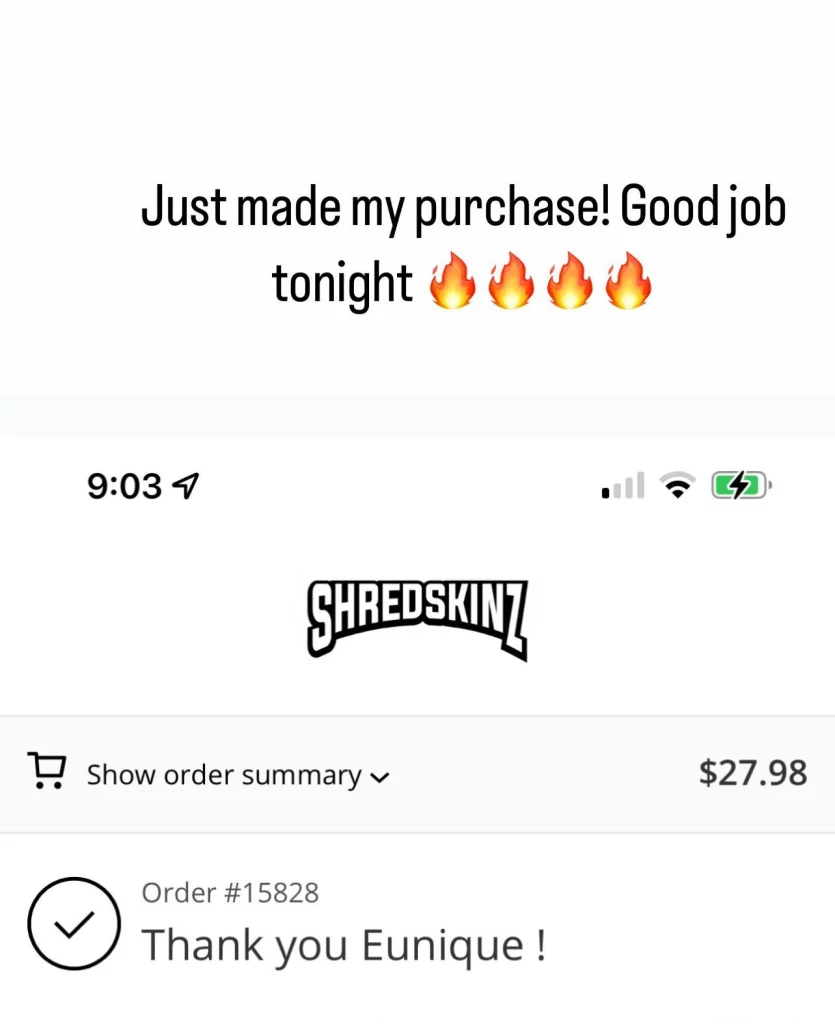 Many people have ordered this suit after this show, designer Eunique nichole posted on her Instagram ordering a Shred Skinz suit.
It was announced on the ShredSkinz official Instagram account that the product is sold out till January 10, 2023. As of February 2023, Griffin is still working at Rapid7 as a Senior Business Development Representative.
What's new on ShredSkinz
Last Update: September, 2023
This company has launched a new product, SlimSkinz Thermal Body Wrap. As of September 2023, Kalaii has left his job as a sales development representative at Rapid7 and is now working full-time on his business. Currently, the Company's Lifetime Sales is $1.8 Million.
ShredSkinz Shark Tank Update
Kalaii Griffin II pitched his product very well in the shark tank and the sharks liked it too. Further, it was talked about the sales and marketing of the company and the complete Annual Sales Report was told by the founder.
Mark Cuban has finalized a deal with a company selling this single-use recyclable gold suit product. This episode was re-aired on February 2023.
We're following Kalaii Griffin II along with his company for further updates.
What Is ShredSkinz Net Worth?
Many people have agreed that a Sauna Suit is a good option to reduce your weight and maintain a fit body. It has been 2 years in 2022 running this business and this business has generated very good sales. We think ShredSkinz's worth is in the range of $500K as of now. The valuation of this company went up to $300k in Shark Tank.
Note: This report is based on our research and data so far. In this, we are only estimating the annual revenue.
| | |
| --- | --- |
| Years | Annual Revenue |
| 2020-23 | $1.8M *estimated |
| | | |
| --- | --- | --- |
| Years | Funding Amount | Investor |
| 2022 | $60k | Mark Cuban |
Is ShredSkinz Still In Business?
In today's time, there are many small businesses that are making Sauna suits. You will find many options for this suit on Amazon.
But the option of a Single-use Sauna Suit is still very low, so this business can grow. Griffin is trying to market his business in a good way.
The business is currently based in Austin, Texas, United States, and is operated by Griffin alone.
Yes, Shred Skinz is still in business as of September 2023.
frequently asked questions
Who founded ShredSkinz?
ShredSkinz was founded in 2020 by "Kalaii Griffin II".
Did ShredSkinz get a deal on Shark Tank?
Yes, ShredSkinz got the deal on Shark Tank from Mark Cuban.