Love and Pebble is a natural beauty company that makes skin care products using different fruit ingredients. Beauty Pops, a product of this company, is a face mask, it is made using Papaya, Banana, Turmeric, and Aloe Vera.
All the beauty products are made from natural process so that the skin does not have any side effects and the skin can heal itself naturally.
Before starting this company, Lynda Truong struggled with acne and made skincare recipes using natural ingredients in her kitchen. When she used the homemade recipes on her acne, the results were miraculous.
Linda thought of sharing her recipe with others and so she discussed it with her husband, Paul Truong. After 2 years of research, this husband and wife launched Love and Pebble Company in 2021 with a new product Beauty Pops.
The same year after the product launch, Lynda and Paul appeared on Shark Tank Season 13 Episode 7 with Love and Pebble and asked the shark for $150,000 for a 10% equity at a $1.5 Million Valuation.
What Is Love and Pebble?
Love & Pebble is a natural beauty company and its first product is Beauty Pops. The name of the company has been chosen keeping in mind the first letters of the founders Lynda and Paul. ( L in Love) and ( P in Pebble)
Beauty Pops is a natural mask and is made using Musa spp (banana) powder fruit extract, Maltodextrin, Carica Papaya (papaya) powder fruit extract, Curcuma Longa (turmeric) powder, Aloe Barbadenesis organic (aloe vera) powder.
To make Beauty Pops mask, add the powder in the Beauty Pops tray, add water to it, mix and add the stick and leave it in the freeze for 4 hours.
Come out after 4 hours and start applying the stick on the face. One Beauty Pops Kit includes Powder, Pops Tray, Mixing Spatula and Spoon. The Beauty Pops Ice Mask Kit costs $46.
Each jar makes 12-14 Beauty Pops and this Beauty Pops tray is reusable. You can buy these beauty products from Amazon and company website.
| | |
| --- | --- |
| Company Name | Love and Pebble |
| Founder | Lynda Truong and Paul Truong |
| Founded | November 2018 |
| Product | Natural beauty product lines |
| Asked For | $150k for a 10% equity |
| Final Deal | No Deals |
| Shark | No Sharks |
| Episode (Shark Tank USA) | S13 E7 |
| Air Date | Nov 19, 2021 |
| Business Status | In Business |
| Website | Visit Website |
| Headquarters | Atlanta, Georgia, United States |
| Lifetime Worth (Sales) | $1.2M *estimated |
| Go To Amazon | Buy Now |
| Watch On | Amazon Prime |
Another Shark Tank Pitch
Who Is The Founder Of Love and Pebble?
Love and Pebble Company is owned by Lynda Truong and Paul Truong. Both of them started this company on November 2018.
Lynda Truong
Lynda is the co-founder of this company and she came up with this business idea in 2018.
Paul Truong
Paul Truong is the Honorable Co-Founder and marketing expert of this company. Paul comes from a pharmaceutical background and did his Doctorate of Pharmacy from Mercer University. After studies, he worked as a pharmacist in Delta Air Lines for 12 years.
Love and Pebble Before Shark Tank
Love and Pebble Company was launched in November 2018 but after 2 years of research, this company launched its first product Beauty Pops in 2021.
Lynda had an acne problem and could not afford skin care products, so she made a homemade recipe using natural fruits. She applied this natural recipe on the skin and her acne problem got resolved and the skin started glowing.
After this Lynda discussed about it with her husband Paul and this is where the Love and Pebble Company was born.
Lynda started her entrepreneurial journey at the age of 21 from a clothing boutique. Paul said that the company's behind story is inspired by penguins.
How Was The Shark Tank Pitch Of Love and Pebble?
Lynda Truong and Paul Truong both entered Shark Tank and asked the sharks for $150k for a 10% equity. Both of them told about their business story how they started this company.
Love & Pebble launches Beauty Pops product on Mark 2021 and has lifetime sales of $890,000. Nearly $100,000 was sold in just 4 days in May. This sale happened because of the video going viral on Tiktok. Lynda's mother's face transformation video was uploaded on Tiktok and that video got 4 million views.
The product's landed cost is $9.20 and it is sold for $46. So it has a margin of 80%. This company is self-funded, Lynda sold her house for this company for $100,000.
Kevin O'Leary says that viral things do not happen all the time, so have any sales been done by spending marketing. They did paid marketing and in this their customer acquisition cost is $7.
They need sharks to take this product into the retail space. Mark Cuban said it's not a fit for him so he's out. Kevin O'Leary said that this is not a product for him, so he is out of it. Daniel Lubetzky said that he does not have expertise in this space, so he is out of it.
Lori Greiner said this product is not right for her so she is out. Barbara Corcoran said this business is not for the investor, so she is out.
Finalize: Love and Pebble didn't get a deal on Shark Tank.
What Happened To Love and Pebble After Shark Tank?
Love and Pebble was not successful in getting investment from Shark Tank but many users on social media called this business pitch as a great product. Most of the users liked the story of the entrepreneur.
This company's product went viral on Tiktok. In December 2022, this company has 110.4k followers and 2.7 million likes on its Tiktok account.
Barbara shared her opinion about this business on her Twitter account.
Barbara Corcoran @BarbaraCorcoran · Nov 20, 2021 If you're not already blasting your business on social media, this is your sign! #LoveAndPebble sold over $100K in just 4 days from a viral TikTok!

@BarbaraCorcoran
On November 21, 2021, the founder shared a lot of information about their experience in Shark Tank on their company Instagram handle.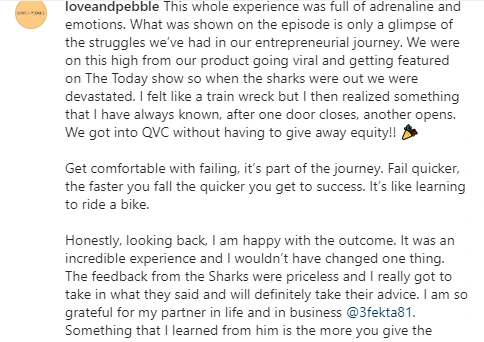 After Shark Tank many female had bought this product and most female's response was positive. On June 15, 2022, this company's product was aired on HSN.
In June 2022, Paul attended the Fundermade Discovery Show as a speaker and shared a lot of information about his business.
The company has partnered with Project Beauty Share on April 2022 to manufacture personal hygiene, cosmetic and beauty products for women.
Love and Pebble Shark Tank Update
The shark tank journey of Love and Pebble Company has been good, although this company did not get the investment. The entrepreneur got to learn many things from the shark to grow the business.
After Shark Tank many people had bought this beauty product and all the people who had bought this product got positive response.
The company has been featured in several media publications, including Cosmopolitan, Beauty Independent, Today, Beauty Insider, LifeStyle and many more.
We're following Lynda Truong and Paul Truong along with their company for further updates.
What Is Love and Pebble Net Worth?
The founder revealed the sales report of their company in Shark Tank which was impressive. This company had generated sales of around $1 million in only 9 months. This company had achieved success very fast and people liked its product very much. We think Love and Pebble is worth $1.5 million.
Is Love and Pebble Still In Business?
Linda and Paul got guidance about the business from Shark and within a few months they were able to get listed on HSN.
This company's Beauty Pops product is not selling well on Amazon. This product is rated by 85 users on Amazon in December 2022.
Entrepreneur has launched two new products Dermaroller Kit and Cryo Gua Sha facial Tool, its price is $16.99 and $22.
This company's headquarters is in Atlanta, Georgia, United States and 5 to 10 employees are working in it.
Yes, Love and Pebble is still in business as of December 2022.
How is Love and Pebble doing?
Love and Pebble is doing very well after Shark Tank it was successful in appearing on HSN. By the end of 2022, this company is projecting to do million of dollar sales.
What is love and pebbles?
Love & Pebbles is a natural beauty brand that makes skin care products using various superfoods ingredients.