Pink Picasso is a painting business and its products teach users step-by-step how to paint a professional piece of art. It provides painting kits of different types of arts and each kit has a template, canvas, color and instruction.
Each color is number marked and instructions show how and where to start painting in the template. If there is a beginner who wants to create a masterpieces painting he can do it through Pink Picasso Number Painting Kits.
Pink Picasso This is the new identity of the modern Monet Keats business. The owners of this business are two women Ashley Silfies and Brittany Silfies who come from the Alabama area.
Pink Picasso Business is also known as Paint by Numbers Kites. All the painting images of this company are original and it was Oprah's Favorite Things winner in 2019 & 2020.
Both Ashley and Brittany come from different backgrounds, both of them started this painting business in 2019. Many new businesses started during the 2020 Pandemic, one of them was Paint by Numbers.
Ashley and Brittany both appeared on Shark Tank Season 13 Episode 7 and asked the sharks for $400,000 for a 5% equity at a $8 Million Valuation.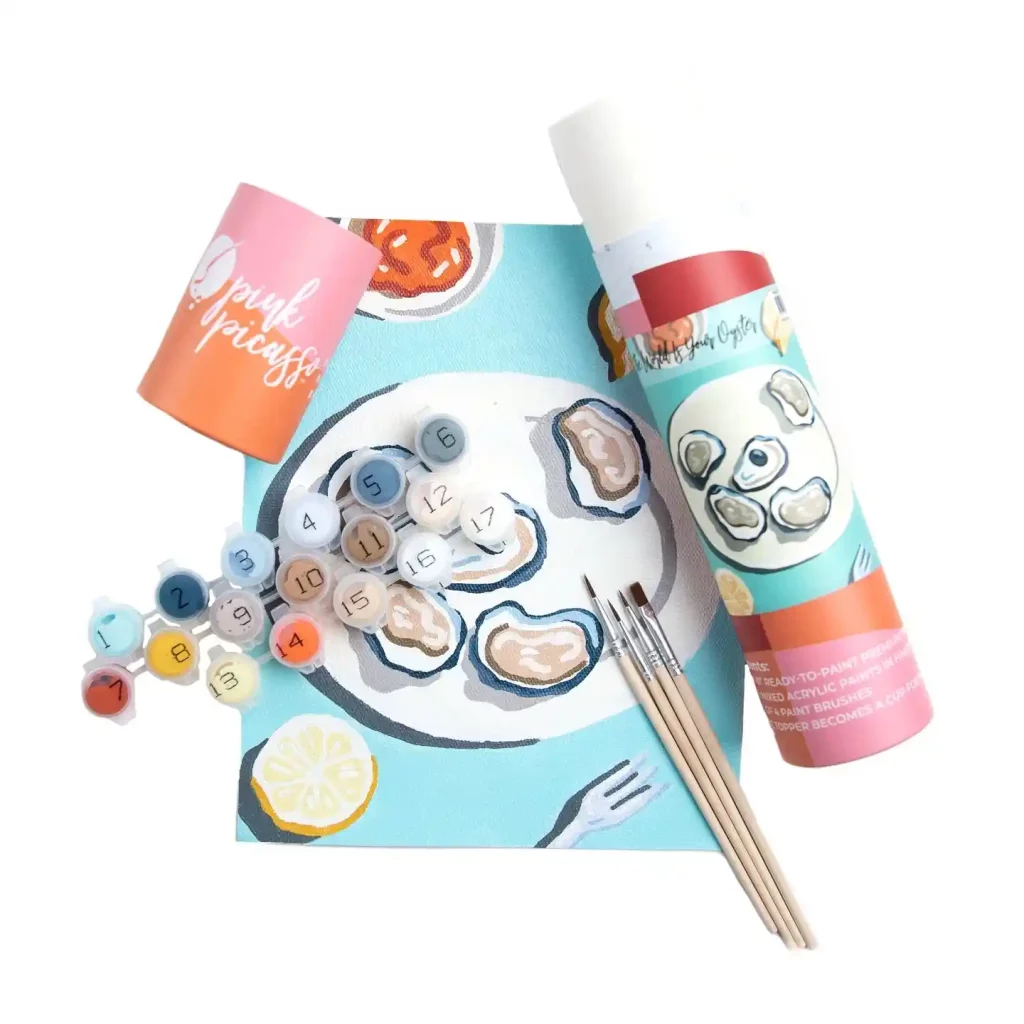 What is Pink Picasso? (Paint by Numbers Kits)
Pink Picasso is a paint business that sells paint by numbers kits. Earlier this business was running under the name of Modern Monet kits but now the name has been changed.
This company's painting product comes in a tube. Inside each tube comes a painting instruction with colors, canvas and template. There is an image and the reflection of that image has to be entered in the template through colors. So here each color is marked with a number.
In this you have to paint by numbers. It is easy to paint using kits. Choose any kits, go to a quiet place and start painting. If the painting remains incomplete then after drying fold the template and next day you can start painting from there.
Adults, Kids and custom kits are available. In custom kits, you can upload any image and order its painting kits. Custom kits cost $94, adults $42 and kids $28. All the products of this company are available on its website and Amazon.
| | |
| --- | --- |
| Company Name | Pink Picasso Kits |
| Founder | Ashley Silfies and Brittany Silfies |
| Founded | Jan 2019 |
| Product | Modern art paint by numbers kits |
| Asked For | $400k for a 5% equity |
| Final Deal | $400k for a 15% equity |
| Shark | Daniel Lubetzky and Lori Greiner |
| Episode (Shark Tank USA) | S13 E7 |
| Air Date | Nov 19, 2021 |
| Business Status | In Business |
| Website | Visit Website |
| Headquarters | Birmingham, Alabama, United States |
| Lifetime Worth (Sales) | $12M *estimated |
| Go To Amazon | Buy Now |
| Watch On | Amazon Prime |
Another Shark Tank Pitch
Who Is The Founder Of Pink Picasso Kits?
Pink Picasso Kits is founded by two women Ashley Silfies and Brittany Silfies. Both of them come from different backgrounds.
Ashley joined Tech Candy Cases as a Procurement Manager after completing her Bachelor of Science from Auburn University. On August 2021, she has started Wear Your Sole Business, this business sells designer shoecases and shoe tattoos.
Brittany started this business (Silfies Holdings, LLC) with Ashley after completing her Bachelor of Science from the University of Alabama at Birmingham.
Pink Picasso Before Shark Tank
Pink Picasso Kits Business was started in January 2019 by two women Ashley and Brittney. Both of them are moms and before this business they had a lot of problems and they wanted to give a good life to their children.
Ashley ​​was very sad because she was worried about her children and she wanted to do something good for her children.
Ashley sat in her apartment looking at her wall and asked "What skills do I have?". Ashley's background was photography and manufacturing, so this is where this business started.
Both these women decided to come in Shark Tank so that they can get investment and grow this business nationwide.
How Was The Shark Tank Pitch Of Pink Picasso?
Ashley and Brittany enter Shark Tank with their company Pink Picasso and ask the sharks for $400k for a 5% equity. Both these women told Shark about their business journey and gave a demo session about their product.
Kevin O'Leary's said founder you are asking $400k for 5% equity at $8 million valuation, you must have a ton of sales. This business started in 2019 with a $1,500 value product and quickly sold out.
In 2019, it became a winner in Oprah's Favorite Things. $1.3 million in sales the first year. In 2020, their sales reached $3.5 million. Their 16×20 Adults cost $3.77 and landed $4, wholesale $19, and retail $42.
So far in 2021, it has made $1.4 million, Ashlee says she thinks it will be $5 million by the end of the year. Their profit margin in 2020 was $900,000. Lori said why do you need a shark despite the business profit.
These women said that they need a mentor to take their business to the next level. They want to do licensing with Disney World and Disneyland.
Kevin O'Leary said he would make an offer. His offer was $400k for a 33.3% equity. Daniel Lubetzky and Lori Greiner both teamed up and made an offer of $400k for a 20% equity.
Barbara Corcoran said that she doesn't think there is a need for sharks in this business, so she is out of it. Mark Cuban says "Don't sell yourselves short" He will not make the offer because he is not fit for the business.
Barbara Corcoran came back and made an offer of $400k loan at 8% intrest rate a for a 5% equity, she would help structure the company. Kevin O'Leary modified his offer. His offer is now $400k for a 3% equity + a royalty of $6 per kit sold.
They countered Daniels & Lori for $400k for a 15% equity. Daniel agreed to this offer.
Finalize: Daniel Lubetzky and Lori Greiner invest $400k in "Pink Picasso" for 15% equity.
What Happened To Pink Picasso After Shark Tank?
Pink Picasso got a deal on Shark Tank. Both Daniels and Lori invested $400k in the company at a $2.6 million valuation. Before Shark Tank, this business was profitable, but if the company's structure was not correct, then sharks would help in this.
Daniel said on twitter
. @LoriGreiner is spot on. We are in an age when people are looking for activities to help them escape – Pink Picasso is a wonderful solution to disconnect and flex your creative muscles #SharkTank

DanielLubetzky
The profit margin of this business is very good, due to which this business is still running. After this Shark Tank episode aired, many people shared their opinion on Twitter.
Lori did a voting pool on Twitter in which she said: Would you guys buy this?? #PinkPicasso 57.9% people said "no" and 42.1% people said "yes".
This product was featured on the Today Show in April 2022. Pink Picasso Kids kits has won Oprah's Favorite Things of 2022.
Pink Picasso Shark Tank Update
After this episode of Shark Tank aired, it was increasing in the company's sales. Many people bought painting tubes from Amazon and company website.
No Evidence found in December 2022 Lori & Daniel have closed the deal. This business is running on $5 million annual revenue in December 2022.
We're following Ashley Silfies and Brittany Silfies along with their company for further updates.
What Is Pink Picasso Net Worth?
The company's valuation in Shark Tank was $8 million, however, after the negotiation between the shark and the founder, Pink Picasso's worth came up to $2.6 million.
This company is shipping its product nationwide and its product is available for global users on Amazon. It is slowly working on increasing its number of product lines. So far it has launched more than 25 products.
Is Pink Picasso Still In Business?
Recently this business has launched some new products which include Violet Van Gogh. In the coming time, this business can work on launching even more new categories.
This company's retail 500+ store is available in Canada, United States, Italy and Mexico City. Most income in this company comes from retail store.
This product is not getting good sales on Amazon but this product has got 4.3 rating out of 5 in Amazon.
This company has been featured in many media publications including Today, Good Morning America, The Kelly Ryan and many more.
Yes, Pink Picasso is still in business as of December 2022.
How much is pink Picasso worth?
The current worth of Pink Picasso is $2.6 million and it can expand further in the years to come.
Are the owners of Pink Picasso a couple?
Ashley Silfies and Brittany Silfies both are the wife-wife team of this company.
When was Pink Picasso on Shark Tank?
Pink Picasso appeared on Shark Tank Season 13 Episode 7 on Nov 19, 2021.
Did Pink Picasso get a Shark Tank deal?
Pink Picasso got a deal on Shark Tank. Daniel Lubetzky and Lori Greiner invested $400k in the company in exchange for 15% equity.