SoaPen is a hand washing soap in the form of a pen made for washing the hands of kids. With this hand soap pen, children can wash their hands by making different designs in their hands. It acts like a soap and most kids like this type of stuff.
Most of the kids do not like to wash their hands regularly, so parents wash their children's hands every day before eating or after coming from outside.
It was found in a survey that there are about 43% children who do not wash their hands properly. Generally this is a normal thing because there are many children who do not like to wash their hands. Because they are so much busy in the activity, they do not remember.
To solve this handwash problem of children, two India born women Amanat Anand and Shubham Issar have introduced SoaPen product. This product looks like a pen and helps children to wash their hands properly.
The CO-Founder appeared on Shark Tank Season 13 Episode 4 with their company SoaPen and asked the sharks for $100,000 for a 10% equity at a $1 Million Valuation.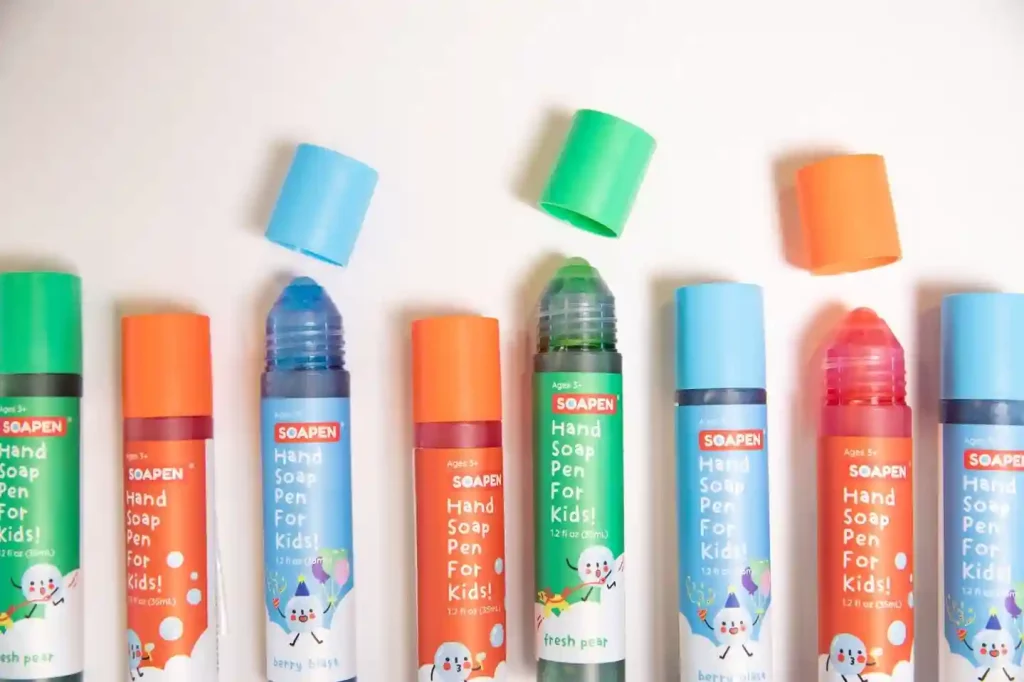 What Is SoaPen?
SoaPen is a handwash soap made for kids with pen design. This soap is available in three colors Tangy Tangerine(Red), Berry Blast(Blue) and Fresh Pear(Green).
Each pen contains 33 ml of soap. Children's hands are very soft, that's why SLS, parabens, phathalates and EDTA have not been used in Soap.
Many things have been used in making this soap, it includes Water, Propanediol, Cocamidopropyl Betaine, Myristamidopropyl PG-Dimonium Chloride Phosphate and many more.
Kids can use this soap very easily. All they have to do is draw it on their hand and rub it with some water in their hand. After this, the hand has to be cleaned with water, this process is done in 20 to 40 seconds.
You can buy this soap as a subscription model and one-time purchase. Its price will be $17.99 in One Time Purchase and $16.19 in the subscription model. This soap is available on both the platforms of Amazon and Company's website.
| | |
| --- | --- |
| Company Name | SoaPen Inc. |
| Founder | Amanat Anand and Shubham Issar |
| Founded | 2015 |
| Product | make hand washing fun for kids |
| Asked For | $100k for a 10% equity |
| Final Deal | $100K for a 10% equity + a $1 royalty for every unit sold until $200K is paid |
| Shark | Nirav Tolia and his Wife |
| Episode (Shark Tank USA) | S13 E4 |
| Air Date | Oct 29, 2021 |
| Business Status | In Business |
| Website | Visit Website |
| Headquarters | New York, NY, United States |
| Go To Amazon | Buy Now |
Another Shark Tank Pitch
Who Is The Founder Of SoaPen?
Two India-born women Amanat Anand and Shubham Issar are the co-founders of the New York base "SoaPen Inc" company. Both of them come from the same educational background as a Bachelor of Fine Arts (BFA). Both these co-founders were featured in the 2017 Forbes 30 Under 30.
Amanat Anand
After completing her Bachelor of Fine Arts (B.F.A) degree from Parsons School of Design, Anand worked for 9 months in production and logistics at ASH NYC. In 2015, she was running the company SoaPen Inc along with her friend Shubham.
Shubham Issar
Shubham worked as a fabricator at Stand & Build for 10 months after completing her BFA from Parsons School of Design.
SoaPen Before Shark Tank
Amanat Anand and Shubham Issar started this company in 2015 after completing their college degree. In the beginning of this business, both these co-founders had to face a lot of difficulties but their advisors guided them related to the business.
The co-founder was featured along with their company at the "2019 Women In The World Summit". This business idea came to Anand and Issar when they came across the UNICEF Wearables for Good Challenge.
They came to know about many diseases and they also came to know that all these diseases can be avoided through handwash. So from here SoaPen was born.
To win this challenge, they went ahead and started spending their prize money on research and development. They found in their research that there are about 1.5 million children who are less than 5 years old and they are dying due to infectious diseases.
They launched a 30-day campaign on Kickstarter on Sep 27, 2017, with a goal of $25,000. On Oct 27, 2017, this campaign raised $28,460 from 227 backers.
For the growth and mentor of the business, Anand and Issar decided to come to Shark Tank so that investment could also be found.
How Was The Shark Tank Pitch Of SoaPen?
Anand and Issar both entered Shark Tank with their company SoaPen and asked the sharks for $100K for a 10% equity. They gave a very good presentation about their product and Issar had come to USA at the age of 17 to study as a designer.
Its lifetime sales are $85,000 and the beta version of this business was launched in 2019. So far this company has not raised any funding and they have not invested money in marketing.
They had an article out on "Real Simple Magazine" in October 2019, so all their 5,000 unit products were sold out in a three week.
They raised funds for their first beta version, raised $225,0000 in $1 million valuation. This three product pack has a selling cost of $14.99 and is manufactured for $4.30, giving them a profit margin of 40%.
They has been selling products by running ads on Amazon since last two months. Kevin O'Leary said that this company is at an early stage for him, so he is out of it.
Mark Cuban used to say that you are not early but you should know how to sell. This product should be promoted through social media and people should be told about it. But this is not an investment for Mark, then he is out.
Robert Herjavec says "he Couldn't admire or respect you more", but he's out of it for now. Lori Greiner said this business is still early for her so she is out of it.
Nirav Tolia liked this business idea very much and he said that when he pitched to Mark Cuban for his company Nextdoor, he was treated like any other startup by Mark. Nirav feels that this business is still at an early stage and his advice is to fund a mentor, so he is out.
After this Nirav said that he had made a mistake and he offered $100K for a 10% equity + a $1 royalty for every unit sold until $200K is paid to Anand and Issar in which his wife would help in this business. Anand and Issar agreed to Nirav's offer.
Finalize: Nirav Tolia Invest $100K in 'SoaPen' for 10% equity + a $1 royalty for every unit sold until $200K is paid.
What Happened To SoaPen After Shark Tank?
Aanand & Issar did not get investment for their company in Shark Tank show stage, But when they was giving an interview outside the stage, Nirav offered him. Both of them agreed to the offer.
After this episode of Shark Tank aired, all the soaps got sold out. Many people on social media have considered this handwash soap as a good product.
After increasing the sale of the product, this company has increased its production capacity. This product is available on Amazon and is getting very good sales.
This company has launched a new product, its name is "SoaPen x Potty Training Book Bundle" Its price is $25.
According to the report of CrunchBase, on February 8, 2022, in the seed round, investor MassChallenge had invested $150k in this company.
SoaPen Shark Tank Update
SoaPen got investment in Shark Tank and all the sharks liked this product very much and got their guidance. Nirav became 10% partner of this company. After Shark Tank, this company also did very good sales.
So far we have not found any such evidence that Nirav has closed the deal with this company.
We're following Amanat Anand and Shubham Issar along with their company for further updates.
What Is SoaPen Net Worth?
This company had revealed its sales report in Shark Tank and it is not such a good report after running the business for so long. Going by the sales reports of Shark Tank, we think SoaPen Worth to be in the range of $0.1 million to $0.3 million.
Is SoaPen Still In Business?
This handwash soap product has got a rating of 4.2 out of 5 on amazon which is a very good rating. Many people are liking the smell of this product.
This product is available all over the United States and it is also available on Amazon Global platform. If someone buys this product from Amazon, then they can also get a discount.
Currently, this Private Manufacturers Handmade Soap Company is headquartered in Brooklyn, New York, United States.
Yes, SoaPen is still in business as of December 2022.