The Matte is an organizer and space saver makeup counter. It also provides space for the temporary storage of lots of messy makeup items. This matte is specially made for women, through which women do makeup every day, no matter where they are.
The Matte founder Melissa Clayton launched this product in 2014. Because she too was looking for a solution to keep her makeup items and use them.
Makeup accessories are very important for a woman, most women definitely do makeup after taking a shower, whether she is going out or not.
The products of makeup are very expensive, some are priced at thousands of dollars, such that no one would like to waste makeup.
However, it has been seen quite often when women use the bathroom sink or the toilet seat as a makeup counter. She uses all his make-up keeping it temporary.
Sometimes it happens when some makeup items fall inside the bathroom sink and toilet and they are not even capable of being used. If that makeup is expensive, then thousands of dollars may have to be lost.
For a temporary solution to all these problems, Melissa Clayton introduced The Matte product. Melissa went to Shark Tank Season 12 Episode 20 to grow her company and demanded $100,000 for 20% equity from the Sharks.
What Is The Matte?
The Matte is a temporary sink countertop makeup organizer and space saver. It can be used anywhere and at any place without any problem.
Makeup Accessories are very important for a woman, she goes everywhere with her makeup items. Matte product provides a space in which women can use all their makeup products by keeping.
This is a perfect product for women who use makeup on the bathroom sink so that they do not risk falling on makeup tools bathroom sink.
The Matte is light, compact & easy to store perfect for a home & travel person. This product when folded becomes like an iPad case and measures 6.5″w x 9.5″.
If unfolded, this product measures 17.25″w x 19.5″l and 1/8″ tall. It can hold beauty essentials up to 2 pounds.
The Matte two comes in two colors Black & Pink and is priced at $34.99. If you want the Matte travel bag then you have to pay $9.99. This product is also available on the global platform Amazon.
| | |
| --- | --- |
| Company Name | The Matte |
| Founder | Melissa Clayton |
| Founded | 2014 |
| Product | Temporary Sink countertop makeup organizer and space saver |
| Asked For | $100,000 for 20% equity |
| Final Deal | $100,000 for 33.3% equity |
| Shark | Lori Greiner |
| Episode (Shark Tank USA) | Season 12 Episode 20 |
| Air Date | April 9, 2021 |
| Business Status | In Business |
| Net Worth | $0.5 Million *estimated |
| Website | Visit Website |
| Headquarters | Acton, Massachusetts, US |
| Go To Amazon | Buy Now |
Another Shark Tank Pitch
Who Is The Founder Of The Matte?
The Matte Co-Founder & CEO is Melissa Clayton who runs Tiny Tags Company, an online personalized jewelry brand.
In 2006, she started the Tiny Tags company, when she gave birth to a son. She started the Tiny Tags company because she was not getting the perfect personalized necklace anywhere.
Melissa is a Marketing Specialist She has studied Master of Business Administration from D'Amore-McKim School of Business at Northeastern University.
In 1997, she joined PwC as a Certified Public Accountant, Tax & Audit, and worked in it for 4 years. She was also a Senior License Consultant at Oracle for 3 years.
Leaving her job, she started Tiny Tags in 2012 and launched The Matte in 2014.
In June 2022, she became a member of the Women in Retail Leadership Circle.
The Matte Before Shark Tank
The Matte was created by Melissa Clayton because she is using the bathroom sink and toilet seat as a makeup counter and she had no alternative.
Melissa got the idea that if she covered the sink, she would have enough space to store makeup.
They started searching for industrial designers for the design of this product, it was a big challenge for them. Melissa said, "No one wanted to work with me because I was on a limited budget".
However, after a lot of searching, she found a freelance industrial designer who could design this product.
After rejecting a lot of product designs, Melissa selected a final The Matte design and got it manufactured.
This mat was big enough that it could easily cover an ordinary sink. She had received 500 orders at the beginning of this product manufacturing Melissa started shipping this order immediately.
During the launch of the product, Melissa used to make a lot of photos or videos on Instagram and also used to do paid marketing.
This product was promoted in 2015 through the Instagram Verify account Ricky's NYC.
Melissa Clayton participated in TodaysnextBigThing in 2016 and got a lot of customers for The Matte. In 2017, this product was listed on Amazon and they got thousands of dollars in sales.
This unique product was also featured by InStyle Germany.
Melissa Clayton participated in Shark Tank to grow her company so that she could get funding.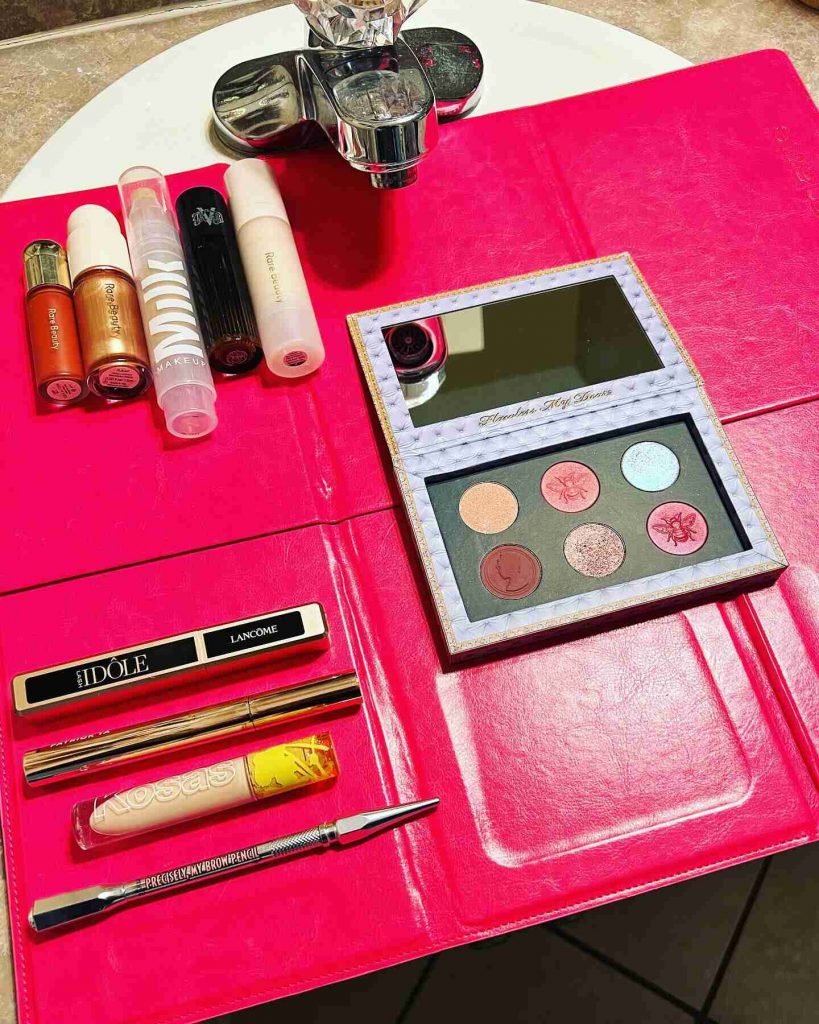 How Was The Shark Tank Pitch Of The Matte?
Melissa Clayton entered Shark Tank on April 9, 2021, and asked the Sharks for $100K for 10% equity. She explained to Shark the concept of her product and journey as well.
Kevin jokingly said "No", after seeing Kevin's expression, he would laugh a lot.
Melissa told that she had sales of $20,000 in 30 days and her lifetime sales were $200,000 (mid-2021). Their lifetime sales were done in 3 years.
Their sales came from Amazon, their website, and third-party retailers. Last year she made a revenue of $85,000. This product used to be on sale for $24.99 and its landing cost was $7.
Seeing this product, Kevin said to Melissa "I haven't bought this product, but I want the money back".
Kevin says this product & this opportunity All I see is a barn. so I'm Out.
This business doesn't fit Mark Cuban, which he is out of because of this.
All these sales have come without any advertisement. This sale happened Because she used to work with different influencers and word of mouth.
Kendra Scott, Barbara Both of them got out of this business offer. But Lori is still having conversations with Melissa.
Lori made an offer to Melissa of $100k for a 33.3% equity and Melissa agreed to the offer.
What Happened To The Matte After Shark Tank?
After The Matte Shark Tank episode aired, a lot of orders started pouring in for this product Melissa and everyone in her family started packaging up.
Due to the Covid 19 pandemic, they had to delay shipping the order. She had given the notification of the shipping delay to her customer.
Shared a letter to the official Instagram account @thematteofficial, through which complete information was given about the shipping delay.
We know you've heard it… the supply chain is crazy!
Changes in Covid protocol have impacted capacity at our factor and caused major delays in shipping.

We appreciate all of our valued customers, their patience and understanding!

For help, reach out to [email protected]

thematteofficial
Since this product is listed on Amazon, it is getting a very good response 65% of Buyers have given this product a 5-star rating on Amazon.
We can assume it was by August 2022 that Matte would be generating half a million in annual revenue.
The Matte Shark Tank Update
Lori became The Matte partner in Shark Tank and she also invested $100k in it. Right now we have not got much information about this company and entrepreneur.
But no evidence has been found of whether Lori has closed this deal or not. However, through a post on Instagram, it has been told that during the Amazon Prime Day sale, she got very good sales, for which her family is already doing product packaging.
What Is The Matte Net Worth?
The Matte company in Shark Tank was valued at $300k and has generated quite good sales so far. It is expected that The Matte net worth would be $0.5 million.
Is The Matte Still In Business?
The Matte is selling very well on Amazon. Many buyers have given positive reviews about this product. This company is growing slowly now. We do not know whether it is doing paid marketing or not.
Every month, up to 4,000 visitors come to the Thematte.com website, out of which people would probably buy 10%.
Along with being active on Instagram, videos of demos of this product are uploaded on Tiktok as well. Currently, most of the sales come from organic.
Yes, The Matte is still in business as of August 2022.