BeerMKR is an all-in-one countertop craft-brewing application that allows anyone to make beer at home. This BeerMKR appeared in Shark Tank Season 12 Episode 23 and asked the Sharks for $500k for a 2% equity at a $25 million valuation.
This beer has a 3-tier system used in BREWTUB, BREWBAG, WASTEBAG which is used in beer processing. Through this machine, beer can be made very easily at home without any hassle or time wasting. Refrigeration is also not required to make this craft beer.
Many people love beer and they consume beer every day. There are many people who want to make their own homes because of buying beer.
It is not so easy to make beer at home, it is a long process, and it may take a lot of time to take care of it. If someone wants to make beer, then they need to have knowledge of the whole process so that they can make this beer properly at home.
To solve this problem of beer lovers making beer at home, BeerMKR was created under this revolutionary craft beer-making process.
BeerMKR Founders Aaron Walls and Brett Vegas Asks Shark For $500k for a 2% equity at a $25 million valuation. This business deal was negotiated between the founder and the shark, however, the business could not get any deal.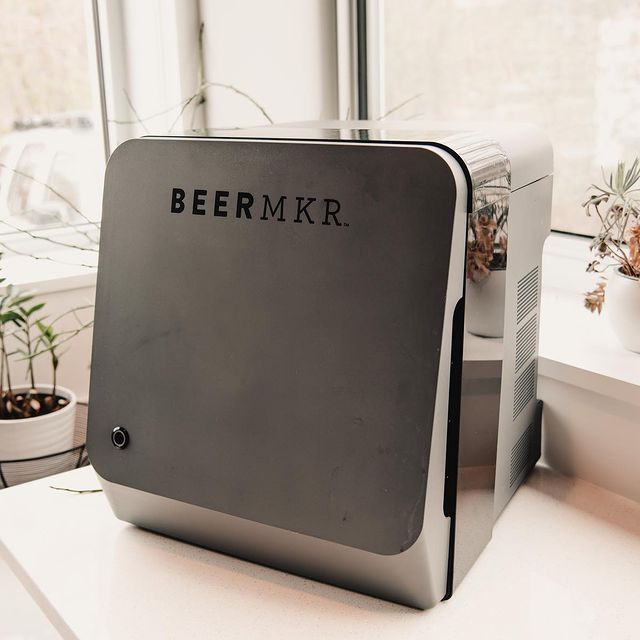 What Is BeerMKR?
BeerMKR is a home beer-making kit that performs the beer brewing process. This Colorado-based company was started in 2013 to automate beer processing and reduce time. This beer-making kit is very easy to use.
This is a 3 tier system (Brewtub, Brewbag & Wastebag) used inside the BeerMKR. It has a system of automatic heating and cooling which can be controlled through the mobile app.
The entire beer-making process is monitored through the BEERMKR app. The app also updates when yeast and dry hops will be added and send push notifications like every process.
This machine is built using a CO2 monitoring system and through the sensors engaged in it, notifications are provided through the cloud at all times through the mobile app.
It's got the temperature sensor, pressure sensor, Thermoelectric Heat Exchange Assembly & Wifi enabled process inside the machine.
It is quite easy to set up Brew. After opening the BeerMKR, add grains to the top container and also add tap water. After this, turn on the machine by closing the container and it will become in the grains liquid mode. Now open the machine and add hops and yeast to it and restart the machine for the next five and seven days. This BeerMKR will control the pressure and temperature inside it perfectly.
When the beer is made, the notification comes on the mobile app and A fresh craft beer can be drink by removing the beer bag inside the machine and connecting it to the beer tap.
The price of BeerMKR + Beertap is $899 and the price of a single beertap is $149. This product is also available on Amazon.
| | |
| --- | --- |
| Company Name | BeerMKR |
| Founder | Aaron Walls and Brett Vegas |
| Founded | 2013 |
| Product | at-home beer brewer |
| Asked For | $500k for 2% equity |
| Final Deal | No Deals |
| Shark | No Shark |
| Episode (Shark Tank USA) | S12 E23 |
| Air Date | May 7, 2021 |
| Business Status | In Business |
| Website | Visit Website |
| Headquarters | Boulder, Colorado, US |
| Lifetime Worth (Sales) | $2M *estimated |
| Go To Amazon | Buy Now |
| Watch On | Amazon Prime |
Another Shark Tank Pitch
Who Is The Founder Of BeerMKR?
Aaron Walls is the Co-Founder and CEO of the company BeerMKR. He did his Master of Business Administration from Cornell Johnson Graduate School of Management.
Along with his studies, he worked for 6 years in PKF Hospitality Research. For 1 year, he was the fund manager of BR Venture Fund.
Brett Vegas is the company's CMO, Co-Founder, and Board Member and he joined it in 2017. He also did his MBA in Marketing from Johnson and Cornell University.
After his studies, he worked in different companies such as Colgate Palmolive, and The WhiteWave Foods Company.
Since 2016, he is the Marketing Director at Colorado Base Sage V Foods Company.
BeerMKR Before Shark Tank
This business was started in 2013 and its name was then BrewJacket but in 2021 the name was changed to BEERMKR, Inc. This company was mainly selling traditional, yet innovative, home brewing supplies.
In September 2018, the company ran a successful Kickstarter campaign with a goal of $100,000 but was able to raise $398,276 from 1,000 backers.
When it came to shipping, this company had to face the shipping and production issue, so shipping had to be delayed.
However, there are many businesses that were not able to ship it due to covid-19, due to which they had to bear a lot of loss.
Through this BeerMKR, people can make fresh homemade beer using their own ingredients but it provides pre-made recipes (MKRKITs).
In 2018, an article was published on the network, about which a lot of information has been told about BeerMKR.
How Was The Shark Tank Pitch Of BeerMKR?
With regard to BeerMKR, both Aaron Walls and Brett Vegas joined Shark Tank and asked the Sharks for $500k in exchange for 2% equity. Explained to the shark how this beer machine works. The sharks did not like the company's $25 million valuation.
This beer maker makes 12 packs of beer. Shark really liked the taste of this beer. This machine is made for $375 and its retail price is $499. In 2018, they launched Kickstarter and they delivered 1,200 units in the next two weeks.
So far, BeerMKR has shipped a total of 24 units. So far this company has raised $3 million in funding, with $5 to $10 million in valuation.
Barbara is out of the pitch because the company has already raised $3 million and is not a proof of concept. After this Mark, Alex & Lori also got out of it.
Kevin is still interested in this business and what did he offer a $500k loan at 9% interest for 4% Equity. Entrepreneur counters 2% equity but Kevin counters 3% equity. The entrepreneur is not comfortable with this deal and in the meantime, Kevin also got out.
Finalize: BeerMKR did not get the deal in Shark Tank.
What Happened To BeerMKR After Shark Tank?
BeerMKR had raised $3 million in funding before Shark Tank without any sales, which sharks don't like, causing the sharks to drop out of it.
On August 2021, this company shared a post in which it has been told that this company has reached 100K beers brewed.
The company raised its last funding of $466K. Not much information is available about it yet.
This product has been made available on Amazon but is not getting much good response on Amazon.
BeerMKR Shark Tank Update
After this episode of Shark Tank aired, people came to know about this product and it was marketed for free. But it was not successful in getting funding from sharks.
It still needs funding to grow its business, so it has raised $130,810 on the crowdfunding platform StartEngine as of September 8, 2022. This crowdfunding is still going on, the price of each share is $5.98.
Apart from this, the company has raised $457,661 from another platform. Currently, this company's annual revenue is $3 million.
What Is BeerMKR Net Worth?
The company has so far generated $3 million in annual revenue and BeerMKR is worth $1.9 million, says the founder.
Is BeerMKR Still In Business?
More information about this Colorado Bass Beer Making Machine is not yet available. The sales report of this business has also not been released.
An entrepreneur is still engaged in growing this business even though it was margin less as per the price of the product in Shark Tank but now its price is $899
The social media profile of this business is currently active and this product list is also on Amazon.
Yes, BeerMKR is still in business as of November 2022.