SquareKeg is a company, its product SquareOne Mini Keg fits easily in any fridge and cooler and keeps beer and beverages fresh for a long time. It works like a small refrigerator although it is not a refrigerator.
SquareOne has the reputation of keeping a wide variety of beverage products fresh, this includes wine, kombucha, cold brew, cocktails and many more. You can put any beverage in this mini keg and drink it in the same test for a long time.
The SquareOne Mini Keg is a unique product that works to solve a major problem. There are many people who do parties and long trips, they carry different types of beverages and drinks with them in large quantities.
If beverages are not stored under proper pressure, they spoil in less time. The SquareOne Stainless Steel Mini Keg works to solve this type of problem.
The idea of ​​this unique product came to the founder 'Tim Louks' in the middle of the night when he was in deep thought.
The founder made this product and sold it on the market, after which it appeared in Shark Tank Season 14 Episode 6 with a SquareKeg (SquareOne Mini Keg) and asked for $300K for a 10% equity at a $3 Million Valuation from the shark.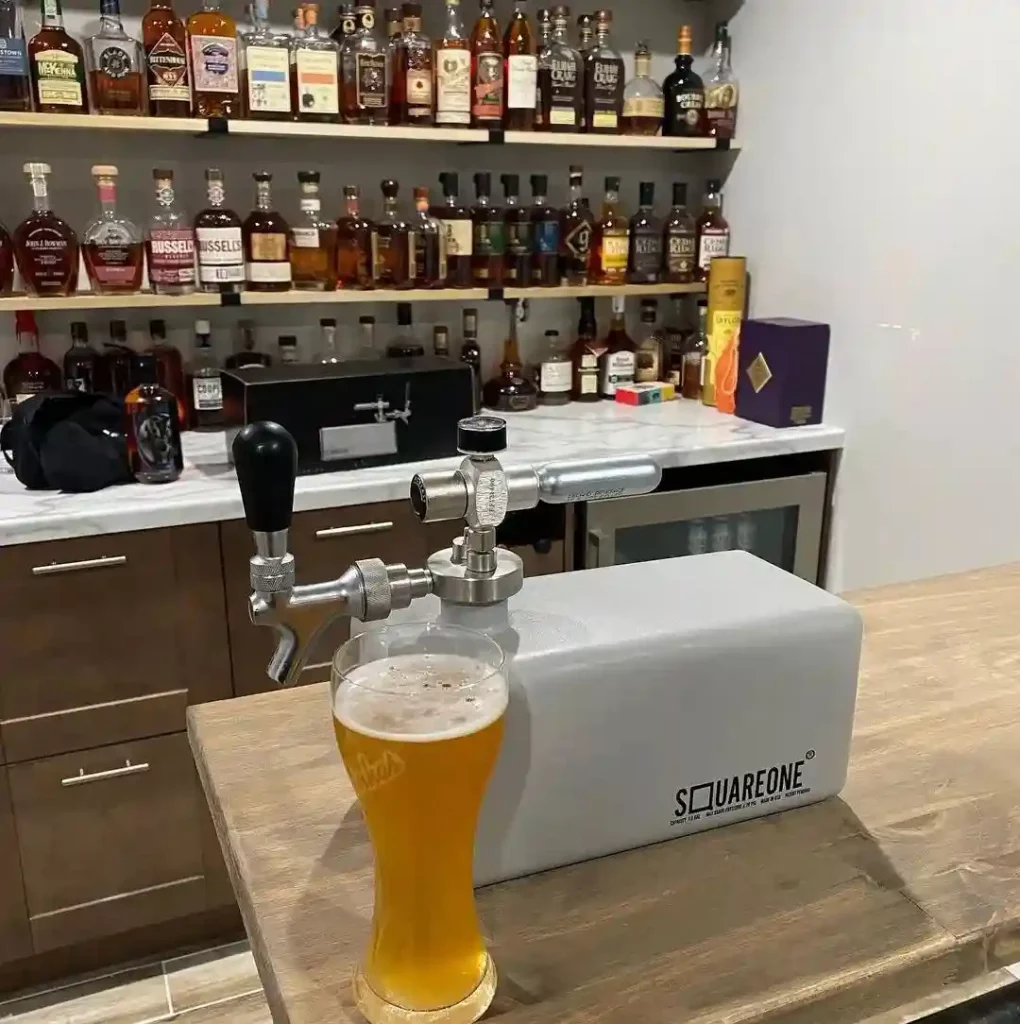 What Is SquareKeg (SquareOne Mini Keg)?
SquareKeg is a company that has developed Protable Stainless Steel SquareOne Mini Keg for long term storage of beverages.
This mini keg has a capacity of 128 oz and we can put any type of drink as in Craft Beer, Batched Cocktails, Kombucha, Mocktails, Red or White Wine and many more.
It uses 16 gram CO2 Cartridges and nitrogen to keep the drink fresh in any situation for a long time.
Due to this keg being portable, it can be taken with you anywhere like At a Party, Boating, Camping, Rv-ing, Tailgating, Golfing and many more.
The two editions of the SquareOne are Mini and Nitro. Its price is $249 and $399. This product is available on the company's website along with Amazon.
| | |
| --- | --- |
| Company Name | SquareKeg |
| Founder | Tim Louks |
| Founded | 2017 |
| Product | beverage containment solutions for craft beer |
| Asked For | $300K for a 10% equity |
| Final Deal | $300K for a 20% equity |
| Shark | Kevin O'Leary |
| Episode (Shark Tank USA) | S14 E6 |
| Air Date | Nov 11, 2022 |
| Business Status | In Business |
| Website | Visit Website |
| Headquarters | Spokane, Washington, United States |
| Go To Amazon | Buy Now |
Another Shark Tank Pitch
Who Is The Founder Of SquareKeg?
Tim Louck is the president of SquareKeg Company. Tim is a Sales & Accountant Person from Profession. After completing his BA, Business, Communications, Life Sciences from Eastern Washington University, he was an account manager for 1 year at Burkhart Dental.
He also worked as Enterprise Sales Director at Spok for 2 years. For 9 years, he worked as a sales representative in Stryker, a medical devices and equipment manufacturing company.
SquareKeg Before Shark Tank
The founder came up with this business idea in 2017 and did not know much about the manufacturing of Keg Container, which stores beverages.
But he worked in Medical Devices and Equipment Manufacturing Company for many years and had some knowledge about its manufacture.
After that the founder did a lot of research and became difficult in making the product. He was also successful in testing the product.
The founder launched a campaign for his product on Kickstarter on August 25, 2020, with a goal of $150,000. But this fundraiser campaign was unsuccessful and the founder raised a total of $60,454 from 205 backers on Sep 24, 2020.
The founder had to face many challenges as he had to run the business along with his job.
The founder decided to come to Shark Tank to get investment for his company. These were selected for Shark Tank Season 14.
How Was The Shark Tank Pitch Of SquareKeg (SquareOne)?
Tim Louks entered Shark Tank with its product SquareOne and asked Shark for $300k for a 10% equity. About this product, Louks explained the shark completely and what purpose this product is made for.
Peter Jones said that $3 million is a great valuation and he thinks the product will sell well. The SquareOne product has a retail price of $259 and a cost of $130.
In the last year 2021, he has started his own manufacturing facility so that he can reduce his product making cost.
Daymond John did not like this product so much so he is out. Lori Greiner, Peter Jones and Mark Cuban walked out of the deal citing their own personal reasons.
Kevin O'Leary made an offer of $300K for a 20% equity. The entrepreneur countered Kevin's offer of 15% equity but Kevin said no. The entrepreneur finally agreed to Kevin's 20% equity offer.
Finalize: Kevin O'Leary invested $300K in "SquareKeg" for for 20% equity.
What Happened To SquareKeg (SquareOne) After Shark Tank?
None of the sharks showed interest in the SquareOne product except Kevin. But Kevin demanded 20% equity from the entrepreneur, although the entrepreneur tried to negotiate but the deal was finalized in 20% equity.
SquareOne product was not well liked in shark tank and there are very few viewers who shared their opinion about this business on twitter.
After Shark Tank, there will be many people who will buy this product to use and this product will be easily available on Amazon too.
In November 2022, a "Shark Tank Exclusive $100 off" offer is running on its website for SquareOne products.
SquareKeg Shark Tank Update
Founder 'Tim Louks' gave a very good presentation in Shark Tank, this shark also liked it very much. Their products focus on solving a problem that keeps the beverage product fresh for a longer period of time.
Kevin O'Leary is a very good partner for this business as Kevin has very good knowledge of beverages industry and he has cash too.
We're following Tim Louks along with his company for further updates.
What Is SquareKeg Net Worth?
The SquareOne Mini Keg is an expansive container that serves to keep the beverages fresh but not everyone can afford it. Due to the product being expensive, its sales are also not getting very good. At present, SquareKeg net worth is approximately $0.9 million to $1.2 Million.
Is SquareKeg Still In Business?
This product is available on Amazon with a rating of 4.6 but very few people have reviewed this product on Amazon. A reviewer says this product is not working on all beverages.
At the same time, some people also say that the mini keg is a game changer. If you want to buy this then you have to first know the opinion of the people.
This mini Keg costs $259 on Amazon. In November 2022, the founder is not running this business full time, he is currently working in the Stryker company.
This company is headquartered in Spokane, Washington, United States and the founder is currently self-employed.
Yes, SquareKeg is still in business as of November 2022.