Float N Grill is a grill that floats in water and does not require much space. Float N Grill is the first such product in the United States Market. Food can be made through the grill in the water and a unique sea view can be enjoyed.
Float N Grill It appeared in Shark Tank Season 12 Episode 24 to get funding from sharks. The founders of this company, Mikey Bashawaty, and Jeremy Quillico together developed and marketed this unique product.
Most people go boating during the summer holidays and they spend the whole night in the boat and have fun. Sometimes due to the small boat, most things do not fit in it. It is very important to have food to enjoy, so people take the grill with them to make and eat food.
The problem comes when cooking is done by keeping the grill in a small boat. It is not possible to carry a standard backyard grille in an expansive boat.
To solve this problem, Mike invented the Float N Grill in 2017. Food grilling can be done by keeping this product in water, which will not cause any damage to the boat.
The entrepreneur asked Shark for $200,000 for 20% equity at a $2 Million Valuation in Shark Tank for the Float N Grill. After some negotiation, Daniel Lubetzky invested $100,000 + $100,000 loan for 22.5% equity + 50% of licensing deals in this business.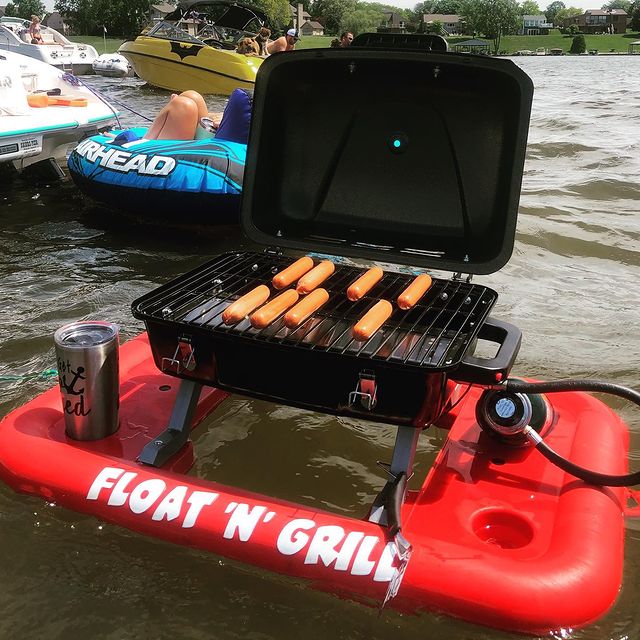 What Is Float N Grill?
Float N Grill is a portable grill that floats on water for sea parties. Through this, it is quite easy to grill food in the water. If you are going to the sea with a boat with this Protable grilling product, then there is no need to take too much of your cooking food.
This "portable grill that floats on water" allows you to catch fish from the sea, eat and enjoy. This grill can be taken with you anywhere.
We get to see 3 built-in cup holders, a removable grease trap, and 2 tow hooks in this portable grilling product. In the box of this product, we get 1x Floating base, 1x Propane grill and 2x Support brackets with hardware.
It weighs 9 pounds, 35.5 inches long, 26.5 wide, and 6.5 inches tall, and comes in two colors Blue and Red. This product is available on Amazon and its price is $229.
| | |
| --- | --- |
| Company Name | Float N Grill |
| Founder | Mikey Bashawaty and Jeremy Quillico |
| Founded | 2017 |
| Product | portable grill that floats on water for sea parties |
| Asked For | $200k for 20% equity |
| Final Deal | $100k + $100k loan for 22.5% equity + 7% plus 50% of licensing deals |
| Shark | Daniel Lubetzky |
| Episode (Shark Tank USA) | S12 E24 |
| Air Date | May 14, 2021 |
| Business Status | In Business |
| Website | Visit Website |
| Headquarters | Detroit, Michigan, US |
| Lifetime Worth (Sales) | $5.5M *estimated |
| Go To Amazon | Buy Now |
| Watch On | Amazon Prime |
Another Shark Tank Pitch
Who Is The Founder Of Float N Grill?
Float N Grill is the word first Floating Grill, its founder & CEO is Mike Bashawaty. Mike is the owner and operator of his diesel shop and has studied Diesel Technology and Mechanical Engineering. Mike loves fishing and chilling in the sea.
Jeremy Quillico is the co-founder of this company, he studied B.S. in Cyber Security and is Senior Systems Administrator for a manufacturing plant from Eastern Michigan University. After completing his studies, he was a Systems Administrator for THK Manufacturing of America for 3 years.
In 2019, he joined the Michigan Senate as a Systems Administrator. He is currently working part-time in Float'N'Grill LLC.
Float N Grill Before Shark Tank
Mike decided before the wedding that he would buy a boat. He bought a 16ft jet boat, it was not a special boat but it was a way to get to the local lake's sandbar.
Mike and his friend Realize after making several trips that they had to return for food to the local lake's sandbar. Because he did not have many food options, due to this he could not spend a good day on the boat inside the lake.
Because of this, Mike one day designed a crude, floating grill and all his friends were surprised to see it. This led Jeremy to search for this floating grill-like grill online and could not find it.
Initially, he made many prototypes out of PVC pipe and fiberglass. Finally, he discovered a plastic that can keep the grill afloat.
Jeremy & Mike have decided that they will take this product to more people. In 2018, he raised $130K in funding in two rounds on different dates. Raised $70K in the March 2018 seed round and $60K in the June 2018 seed round.
Mike and Jeremy began promoting this product at the boat and outdoor shows in Alaska and Hawaii. In 2019, he attended the Detroit Boat Show.
How Was The Shark Tank Pitch Of Float N Grill?
Mikey Bashawaty and Jeremy Quillico entered the Shark Tank show with a Float N Grill and asked the Sharks for $200,000 for 20% equity. They shared their story about their business with Shark. They had told their video of a portable floating grill had become quite viral.
They used to make this product for $126.88 and they used to sell it for $229. Their total sales in 2020 are $19,400. Shark did not like this sale and Kevin is not happy with this sale.
All the sharks got out of this business but Daniel is still showing interest in this business. Daniels offered $200,000 for 50% equity but Mike countered it with a $100,000 loan at a 7% interest rate, 100,000 for 20% equity, and a $2 per unit royalty until the loan is paid back.
Daniel countered another $100,000 + $100,000 loan for 22.5% equity + 7% plus 50% of licensing deals. Mike and Jeremy agreed to this offer.
Finalize: Daniel Lubetzky invested $100,000 + $100,000 loan for 22.5% equity + 7% plus 50% of licensing deals.
What Happened To Float N Grill After Shark Tank?
Float N Grill got a deal in Shark Tank and Daniels became a partner in this company. In this pitch, there was a lot of negotiation between the entrepreneur with Daniels, and after that, the deal was finalized.
Good marketing is needed to grow this business as this is the first such floating grill product that is new in the market. This grill will be liked more by those people who like the sea and they like to do fishing.
This business shipped thousands of orders from its warehouse to consumers on May 29, 2021. Mike also shared about the product manufacturing process on Instagram.
This product was made available on Amazon as well as online home store Wayfair on June 2021.
The Float N Grill was featured in the US popular magazine Rolling Stone in December 2021 as well as featured in Us Weekly Magazine.
In the coming time, entrepreneurs are going to work on the accessories of this product. Currently, a good marketing strategy & funding is needed to grow this business.
Float N Grill Shark Tank Update
The Shark Tank episode of Float N Grill went well and the business also got an investment from Shark Daniels. So far no evidence has been received on whether Daniel has closed this deal or not.
Float'N'Grill LLC Company's lifetime sales are $1.2 million. Till now not much information related to this business is available.
What Is Float N Grill Net Worth?
Talking about the net worth of the company, we think that Float N Grill's net worth can be $1 million.
Is Float N Grill Still In Business?
Currently, not much information is available about this Float N Grill. The marketing information of this business is also not known properly.
This company's official Instagram account is inactive since December 2021. The rest of the social media platforms are also not active.
The entrepreneur is currently running his grill business part-time. This product is "Currently Unavailable" on Amazon.
September 2022 It is going on pre-order on the official website of this product. (If you order now, you will get the product once it is in stock.)
The headquarters of this company is currently in Detroit, Michigan, United States. In this 1-10 employees are working.
Yes, Float N Grill is still in business as of September 2022.