DEUX is a plant-based functional foods company that manufactures cookie doughs and dessert spreads in a variety of flavors. Her cookie doughs and dessert spreads products are vegan and gluten-free and have the lowest sugar content of any other cookie.
This company uses clean functional ingredients to make cookie doughs and dessert spreads, Due to which essential vitamins and supplements get boosted along with good test.
They have partnered with naturopathic doctors to determine the most influential ingredients in each product. Sabeena Ladha, founder of this plant-based functional foods company, goes through different processes to make her products fit for healthy eating.
Sabeena started this food business through her Instagram, After the demand for her product increased, Sabeena launched the company Deux Foods, Inc. on October 2020.
Sabeena appeared on Shark Tank Season 13 Episode 6 of her company DEUX and asked the sharks for $300k for a 10% equity at a $3 Million Valuation.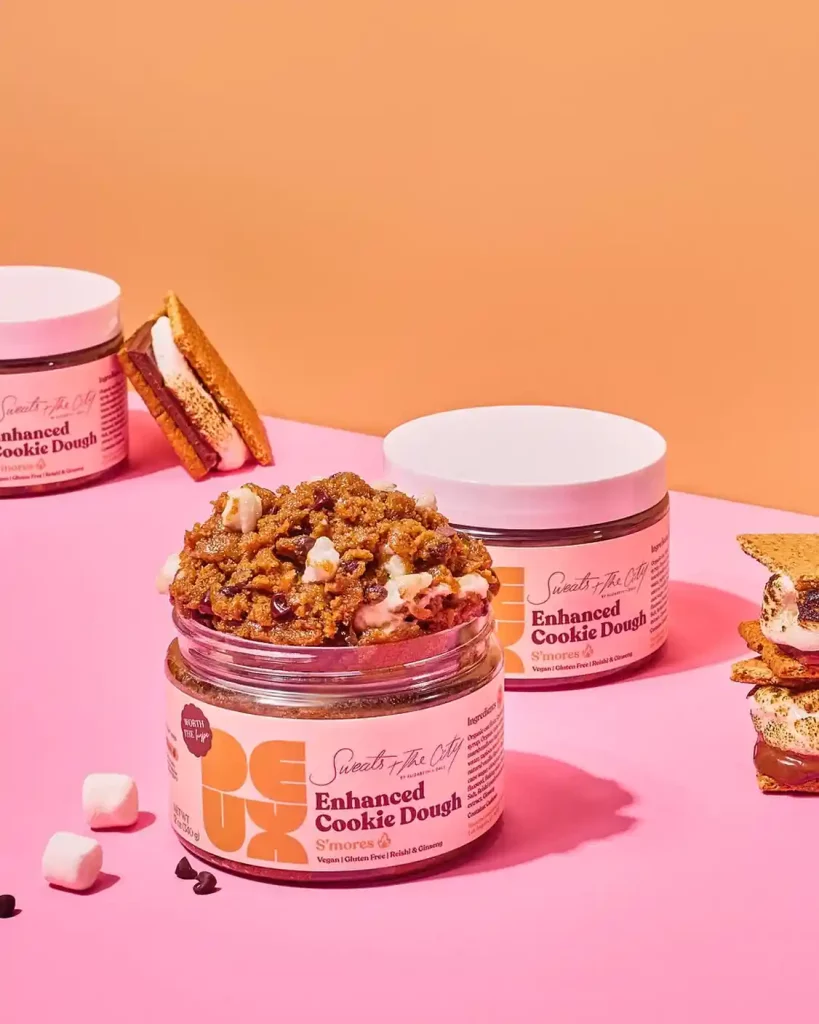 What Is DEUX?
DEUX is a plant-based functional foods company. This company makes Vegan and Gluten Free Cookie Doughs and Dessert Spreads in consultation with Naturopathic Doctors.
All the products have full amount of vitamins and supplements. This cookie dough was launched with three flavours, this includes Chocolate Chip, Brownie Batter, and Peanut Butter.
It uses oats, nut butter, vanilla, maple syrup, coconut sugar, water, and flaxseed to make cookies. The quality is enhanced through different ingredients in it, that is amino acids, pea protein, mushrooms, vitamin D or elderberry.
None of their products contain dairy, eggs, and gluten. This cookie dough comes in 11 individual flavours jars which include Chocolate Chip, S'mores, Cinnamon Roll, Peanut Butter Cup, Brownie Batter, Birthday Cake, Pumpkin Spice, Pink Frosting, Sweet & Salty Oatmeal, Sugar Cookies and Space Brownie
Each jar costs $16. Recently this company has launched Glazed Donuts, its price is $16. This company is making spread of different flavors, it includes Birthday Cake Spread, Chocolate Hazelnut Spread and Cookie Butter Spread.
| | |
| --- | --- |
| Company Name | Deux Foods, Inc. |
| Founder | Sabeena Ladha |
| Founded | Oct 2020 |
| Product | plant-based functional foods |
| Asked For | $300k for a 10% equity |
| Final Deal | No Deals |
| Shark | No Sharks |
| Episode (Shark Tank USA) | S13 E6 |
| Air Date | Nov 12, 2021 |
| Business Status | In Business |
| Website | Visit Website |
| Headquarters | Los Angeles, California, United States |
| Lifetime Worth (Sales) | $2.5M *estimated |
| Go To Amazon | Buy Now |
| Watch On | Amazon Prime |
Another Shark Tank Pitch
Who Is The Founder Of Deux Foods?
The Founder & CEO of Deux Foods Company is Sabeena Lada and the company base is in Los Angeles, California, United States.
Sabeena worked for 2 years as an Associate Brand Manager at Diamond Foods after graduating from the Texas McCombs School of Business.
For a few years, she worked as a marketing person in different companies, including McKinsey & Company, M13 and many more.
Deux Foods Before Shark Tank
The official launch of Deux Foods Company took place in October 2020 when Sabeena created Plant-Based Functional Foods.
She mixed different supplements in her vegan and gluten free recipe with the help of naturopathic doctors. She made cookie doughs and started selling them on Instagram.
Sabeena mother is Pakistani and her father is Indian and her father opened a gas station to shave money and started living there. This business idea came to the founder in June 2020 and he launched it in October 2020.
Sabina had been watching her father doing business since childhood, so she had very good knowledge of business. Within 1 year of starting the company, the founder raised $1 million from 6 investors (Yanni Hufnagel, Tony Antoci, Jake Kassan, Carter Reum, Brandin Cohen and Animal Capital) in the seed round.
To increase product sales, the founders were able to list their products on various supermarket chains, including Whole Foods, Fresh Market and many more.
How Was The Shark Tank Pitch Of Deux Foods?
Sabeena entered Shark Tank with her company and asked the sharks for $300k for a 10% equity. The founder gave this product to all the sharks to test and Mark liked the test.
Kevin was worried about the 110 calories of this food, but the founder said that it depends on the size. She is not focusing on calories, she is focusing on clean ingredients.
From October to December in 2020, this company made $70,000 in revenue, in 2021 it has reached $630,000 and is on track to made $1.2 million end of this years. The founder had got the approval of the Whole Foods chain before joining Shark Tank.
Each jar cost $3.70 to make and sold for $15. So far it has raised $1 million at a $6 Million Cap. Robert Herjavec said that he does not like sweets and if this product is not for him, then he is out.
Lori Graner said that this is not the right match for her then she is out. Nirav Tolia said that he is an "Internet Guy" and this field is not for him then he is out.
Kevin O'Leary said he would never eat this type of food, so he is out. Mark Cuban also refused to invest in this business. So Sabeena had to go from Shark Tank without taking any investment.
Finalize: Deux Foods didn't get the deal in Shark Tank.
What Happened To Deux After Shark Tank?
Deux Foods Company did not get investment in Shark Tank but this company got a chance to promote its product on National TV. All the sharks were impressed with the way Sabeena was operating her business.
Sabeena had built a successful business in a very short time which is also profitable with a very good margin. This company's foods product has been listed on various supermarkets nationwide in the United States, including Whole Foods, Erewhon, Target, Gelson's Markets and many more.
In December 2022, this company's foods product is available at 868 stores across the United States, with only 132 stores in Los Angeles.
On March 2022, this business appeared in the Natural Products Expo. The company collaborated with social media influencer Amanda Hirsch on April 19, 2022.
On September 2022, Sabeena teamed up with Tscpodcast to put out a podcast. On November 2022, this foods company listed its product on Walmart and the first 2 locations were Texas & Louisiana.
Currently, this company has made many influencers as brand ambassadors, including Karlie Kloss, Mari Llewellyn and Josh Richards.
Deux Shark Tank Update
This business did not get investment in Shark Tank but Sabeena was able to meet her sales target. So the founder has reached $1.8 million in 2021.
The founders are projecting $5.1M in sales by 2022 as their product has been approved by several supermarket chains. Many supermarkets are included in this list such as Target, Whole Foods, Hyvee, Erewhon, Westside Market, Foxtrot and many more.
We're following Sabeena Ladha along with her company for further updates.
What Is Deux Net Worth?
The Deux company was Worth at $3 million in Shark Tank but this company raised an investment of $1 million at a $6 million cap. Sabeena comes from a business background and grew up watching business since childhood.
The growth of this company is increasing every year and 80% of its sales are coming from retail stores. Sabeena has taken approval of many supermarket chains for her product.
Is Deux Still In Business?
In just one year, this company has reached million dollar value, there are very few startups that are able to do this.
The company has been featured in several media publications, including The New York Times, Forbes, Today and Shark Tank.
This food and beverage services company is headquartered in Los Angeles, California, United States. About 2 to 20 employees are working in this company.
Yes, Deux Foods is still in business as of December 2022.