Kinfield is a plant-based outdoor skincare brand. This brand creates outdoor skin care using plant base products and natural ingredients. During outdoor adventures, there is a lot of impact on the skin, so their products work to keep the skin clean.
Outdoor skincare brand Kinfield was founded by Nichole Powell in 2018. Nichole was looking for a clean product she could trust and couldn't find one, so Kinfield was born. She has been able to protect her body without chemicals etc. during outdoor activities through her products.
Nichole Powell appeared on Shark Tank Season 14 Episode 11 with her company Kinfield and asked the sharks for $250,000 for 5% equity at a $5 Million Valuation. The founder created this company while searching for natural outdoor skin care products.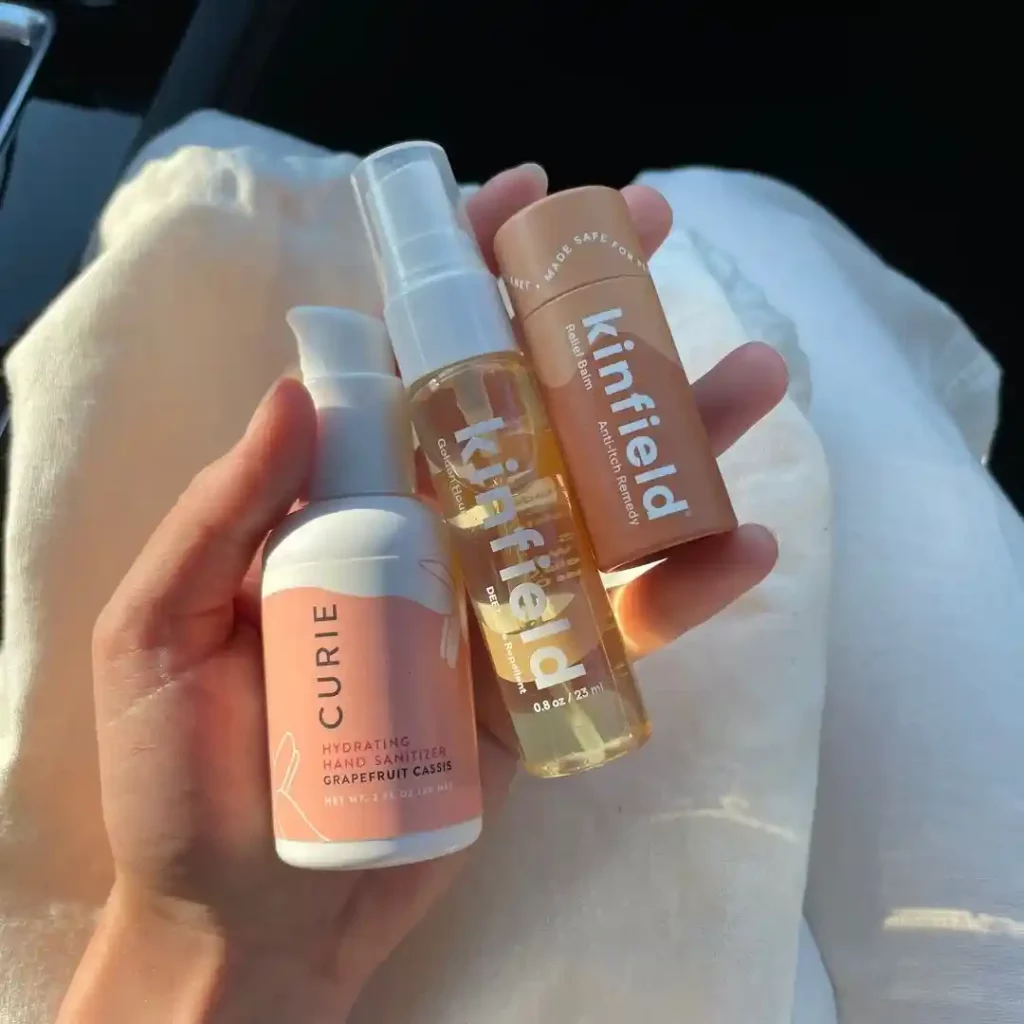 What Is Kinfield?
Kinfield is an outdoor skincare company. Plants and science come together to create a natural outdoor skincare product.
This company uses plant base ingredients to make skincare products. The formula for making their products is vegan, cruelty-free, and Leaping Bunny certified.
They do recyclable packaging and through this, they also promote an eco-friendly environment. Under their recycling program, users who return old product packages will be given a 40% discount on their next order.
The brand sells a variety of skincare products such as Golden Hour, Sunglow SPF 35, Relief Balm, Daily Dew SPF 35, and many more. All these products are available on Kinfield's website.
| | |
| --- | --- |
| Company Name | Kinfield |
| Founder | Nichole Powell |
| Founded | 2018 |
| Product | plants base outdoor skincare product brand |
| Asked For | $250K for 5% equity |
| Final Deal | $250K for 10% equity |
| Shark | Tony Xu and Barbara Corcoran |
| Episode (Shark Tank USA) | S14 E11 |
| Air Date | Jan 13, 2023 |
| Business Status | In Business |
| Website | Visit Website |
| Headquarters | San Francisco, California, United States |
| Lifetime Worth (Sales) | $2.8 Million *estimated |
| Go To Amazon | Buy Now |
| Watch On | Amazon Prime |
Another Shark Tank Pitch
Who Is The Founder Of Kinfield?
The Founder and CEO of Kinfield Skincare Brand is Nichole Powell. Nichole has been featured in multiple media magazines such as Forbes, Huff Post, InStyle, The New York Times, and many more.
Nichole Powell
Nichole worked at Intuit for two years as a Marketing Associate after earning her Bachelor of Arts in Political Science from the University of Wisconsin-Madison.
She worked as the Head of Business Development at Modern Citizen for 3 years. After leaving her job, she launched this skincare brand.
Kinfield Before Shark Tank
Every startup started as a solution to a problem. So Nichole started this company with a solution for outdoor skincare products.
At the beginning of the company, the founder faced difficulties in manufacturing, supply chain, and marketing, but gradually this problem was solved.
Nichole is from the marketing profession and has marketed her brand on many social media. As of January 2023, the brand has 24k+ followers on its Instagram account.
This brand needed investment to grow nationwide, so the founder decided to go to Shark Tank for funding.
How Was The Shark Tank Pitch Of Kinfield?
Nichole enters Shark Tank and asks the sharks for $250k for 5% equity. Nichole said that her parents used to apply chemical sunscreen on our bodies when she went out with her brother. That's why she created Kinfield.
Their best-selling products are Golden Hour and Sunglow SPF 35. They have their own independent verified insect repellent laboratory, test results found their insect repellent provides up to 3 hours of protection.
This product was launched in the summer of 2019 and did $45,000 in sales. Their sales were $187,000 in 2020, $565,000 in 2021, and $1.5 million in 2022 so far. All these sales came from online websites. Estimated sales of $2.1 million by the end of 2022.
They did not make a profit on the $1.5 million. They will become profitable in a year or a half. Guest shark Tony Xu said how much you spend on marketing, Nichole said their customer acquisition cost is $26.
Kevin O'Leary said what is the average margin of the product line, Nichole said the average margin is 75%-85%. The making cost of Golden Hour is $4.53 and the retail cost is $22. The Cloud Cover SPF 35 making the cost of $5.04 and a retail cost of $34.
The average order value on the website is $45. 80% of sales are direct to the customer. Mark Cuban said that if you go into retail, there will be a loss of money, and distribution, and marketing support will have to pay the cost.
They currently have a debt of $0.5 million. Mark Cuban said he couldn't see "Would They Start Versus Where We'd End Up", he's out.
Barbara Corcoran said she would offer $250k for 10% equity + $2 royalty on product sales. Kevin O'Leary offered $250K for 5% equity + $0.50 royalty per unit until back $750,000.
Lori Greiner said that no one knows how to sell Mosquito products except me. Lori told Kevin, "You're the biggest blood-sucking thing up here." Mark said he has more in common with the mosquitoes.
Lori said she invested in the "Bug Bite Thing" company a few years ago on Shark Tank Season 11, The company did $25 million in sales and is available in 30,000 stores. Lori's offer is $250K for 5% equity + $4 royalty per unit money back.
Tony said he would add another offer of $250k for 10% equity. Barbara said she would match Tony's offer. Nichole asks Tony and Barbara to team up and counter $250k for 10% equity (each 5% equity). Lori Greiner said I'm Sorry to say I'm out,
Finalize: Tony Xu and Barbara Corcoran invest $250k in Kinfield for 10% equity.
What Happened To Kinfield After Shark Tank?
Many people congratulated Nichole after this product appeared in Shark Tank. Some people shared their opinion on social media and said that they will definitely use this product once.
Barbara tweeted "Welcome to the family, Kinfield! Excited to work with you, Tony". As of January 2023, it has joined 24,000+ outdoor enthusiasts with the brand.
After the episode aired, the company received thousands of orders and Nichole was involved with the team in packaging and shipping the product.
As of February 2023, the brand's products are available across +47 locations across the United States and Australia counters. Due to getting the deal in Shark Tank, this company reached to more than 4 million users.
What's new on Kinfield
They have launched two new products by June 2023, Cloud Clip and Kinfield Hat. Right now we do not have much information available related to this company.
Kinfield Shark Tank Update
This episode of Shark Tank aired on January 13, 2022, and founder Nichole explained to Shark about her outdoor skincare product. There was a lot of negotiation between Shark and Nichole regarding the sales and annual revenue of the company.
We're following Nichole Powell along with her company for further updates.
What Is the Net Worth of Kinfield?
Kinfield is worth $2.5 million. This is the annual sales average of the brand, many media sites have featured this skincare brand. Currently, the performance of this brand is quite good and its annual revenue is also good.
The worldwide anti-pollution skincare products market size is estimated at $9.5 billion. This is a small market size. As the environment is getting polluted, this industry is growing a lot.
Is Kinfield Still In Business?
Nichole has been keeping this brand running till now through her marketing skills. This company is owned by women and 9 women are working in it.
According to the report of SimilarWeb in January 2023, Monthly 42k+ visitors are coming to the Kinfield.com website. 44% of visitors visit the direct website.
This skincare brand has been featured in 65+ media publications including VOGUE, The New York Times, Refinery29, NYMag's The Cut, and many more.
Yes, Kinfield is still in business as of June 2023.
frequently asked questions
Who Founded Kinfield?
Kinfield was founded by Nichole Powell in 2018.
What is Kinfield worth?
Kinfield is estimated to be worth $2.5 million.
Feedback Form
If you find any mistake in this post, or need some improvement in the post, then email us or tell us through comments.