Pnuff Crunch is a non-GMO, plant-based, puffed peanut snack that founder Juan Salinas introduced in Shark Tank Season 12 Episode 2. Juan explained his product very well to the Sharks and wanted $300,000 for 10% equity in his company. Due to this demand, this company is worth $3 million.
Pnuff Crunch is a healthy peanut-based snack Puff. Pnuff provides many healthy ingredients which are very important for health. This snack contains very less calories, fat, and protein than the rest of the snacks, it is important for people who want to keep their health better.
Globally, the food and beverage industry is a huge market, according to some reports, the market value of this industry is $ 6,383.49 billion in 2022. This is a growing industry, there are very big startups that are targeting different subcategories in this industry.
Snacks also fall under the category Healthy and Unhealthy. In today's time, most people are liking healthy snacks. But the manufacturing company of healthy snacks is very less and it is also growing slowly.
If we talk about the global market of snacks only, then this market was USD 78.13 billion till 2019. Globally more than 62% of people consume this snack every day. It is a profitable market but the margin is very less.
Due to those healthy snacks, people fall from a lot of diseases, so because of this people are now swearing by healthy snacks.
Pnuff Crunch is a healthy snack brand, in their snacks, you get calories 130, fat 5g, and protein 5g. Pnuff Crunch has a total of 450 stores in different locations in the United States and is slowly expanding.
What Is Pnuff Crunch?
Pnuff Crunch is a healthy snack brand from the food and beverage industry based in West Orange, New Jersey. it is made non-GMO, plant-based, puffed peanut snack.
This healthy snack contains 9 plant-based simple & natural ingredients that are used to make the snack better.
This snack comes in 3 variants Original, Cocoa, and Cinnamon and different ingredients have been used in it.
These three snacks are found in Ground Navy Beans, White Rice, Peanut Oil, Tapioca Starch, Organic Cane Sugar, Brown Rice Protein, Roasted Peanuts, and Salt. which are good for your health.
All these snacks are healthy and are available in gluten-free, vegan, non-GMO, complete plant protein, a good source of fiber, and no artificial ingredients.
It is full of amino acids and 3 plant proteins(Peanuts, Navy beans, and Brown Rice) are also included in it. You can consume this snack during workouts, breakfast, and mid-day, to curb bedtime cravings.
Pnuff Crunch Shark Tank Update
| | |
| --- | --- |
| Company Name | Pnuff Crunch |
| Founder | Juan Salinas |
| Product | non-gmo, plant-based, puffed peanut snack |
| Asked For | $300,000 for 10% |
| Final Deal | $400,000 for 25% |
| Shark | Mark Cuban |
| Episode (Shark Tank USA) | Season 12 Episode 2 |
| Air Date | October 23, 2020 |
| Business Status | In Business |
| Net Worth | $1.6 Million *estimated |
Pnuff Crunch Contact Details
| | |
| --- | --- |
| Website | Visit Website |
| Social Media | Linkedin |
| Place | West Orange, New Jersey, United State |
Who Is The Founder Of Pnuff Crunch? – Juan Salinas Shark Tank
The Founder & CEO of Pnuff Crunch is Juan Salinas formerly of Nestle S.A. Has been the Global Project Manager/Director. They have very good knowledge about this food industry.
He has spent 25 years in this food industry and has good knowledge about it. Salinas is a Food Industry Expert as well as a Bodybuilder and Dos Marathons & Triathlons.
In 2015, he started Perfect Life Nutrition, LLC Company, its subsidiary is Pnuff Crunch Snacks Company.
He started experimenting with different nutrients to make a healthy snack. Finally, Pnuff Crunch was born which is a healthy snack.
They wanted this snack to be made with natural sources, and contain no preservatives, artificial flowers, colors, and sweeteners.
He completed his MBA studies at Rutgers Business School.
Pnuff Crunch Before Shark Tank
Pnuff Crunch is a healthy snacks brand, Founder Juan tried this snack more than 100 times before it was made.
After that, he got this health snack product. It is made with Peanuts, Navy Beans and Rice which come in the original, cocoa and cinnamon flavors.
It does well in the test and provides a satisfying crunch. The snacks are available in Walmart supermarkets and are available online on Amazon.
When Juan was 16 years old, he was from Honduras. He did not know English, after he came to New Jersey, after that he came home.
His parents told him to give importance to studies and that nothing can be done without studies.
How Was The Shark Tank Pitch Of Pnuff Crunch?
Founder Juan Salinas asked for $300,000 in Shark Tank in exchange for 10% equity in his company PNuff Crunch. Salinas' pitch went very well in Shark Tank, he presented his product very well.
The retail price of this product ranges from $3.29 to $3.99. Talking about its distributor cost, it is $1.70 and its making cost is 75 cents.
In this, their margin is 55% which is a very good margin. The founder says that high-quality complete protein has been used in this.
It currently has 450 stores. In 2019, he generated revenue of $104,000. Kevin said that it is not impressive in the snack category.
At first, he used to make products through another manufacturing company, but he did the deed to make his own product. Juan's brother paid $250K for this and he invested $135K totaling $375K in it.
In the middle of 2020, this company generated sales of $ 65,000 because of this COVID-19.
Mark Cuban: Found them in his home one day and at the whole bag. He needs to buy it back for his wife. Mark offered to invest $300k but wanted a 25% stake.
Enterpernure: Juan said that you also know Mark and me too this brand can become a $100 million company after 5 to 6 years. Juan made a counter offer of $300k for a 15% stake.
Mark Cuban: Mark refused Juan's counteroffer, saying it was not worth it. Juan said can you do this offer in the middle. Mark made his counter offer of $400k for a 25% stake.
Kevin O'Leary: Kevin said what a madness, Has never seen Mark more excited about a product.
Enterpernure: Counter Offer: $400K for 20%
Mark Cuban: Counter Offer: $400K for 25%
Finally Juan agreed to Mark's offer of $400k for 25% and the deal was completed.
What Happened To Pnuff Crunch After Shark Tank?
Pnuff Crunch got a lot of sales after Shark Tank, generating more than $200,000 in revenue in just a few hours.
Although before Shark Tank, their sales were going very slow, now after the investment of Mark, its sales increased rapidly.
With the help of Mark, Juan expanded his brand and it is also growing rapidly in the international with the United States.
After the show, there were many interviews about them and this feature was also done on many channels.
Currently, this brand is available in many retail stores including Wal-Mart, Target, CVS, Walgreens, The Vitamin Shop, and Amazon.
According to the report of March 2022, their annual revenue is $1.5 million.
Where Can You Buy Pnuff Crunch?
Pnuff Crunch is currently available in many supermarkets and retail stores. It is available in most major stores in the United States. The price of its 6 pack on Amazon is $25.99, you can buy this snack through the Amazon link given below.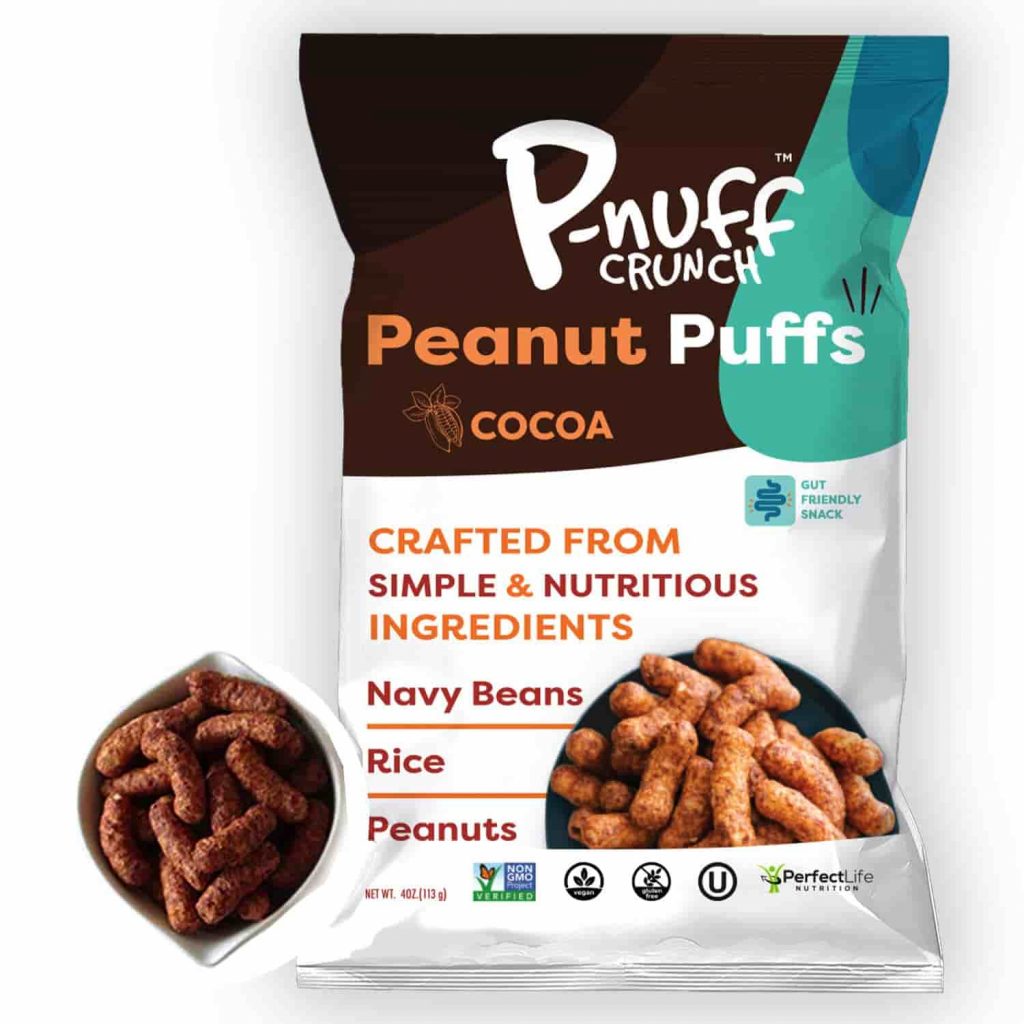 What Is Pnuff Crunch Net Worth?
When Pnuff Crunch asked for funding in Shark Tank, his valuation was $3 million, but when the final deal was done, Pnuff Crunch's net worth was $1.6 million. This company made annual sales revenue of $ 1.5 million in March 2022 and it is also growing slowly.
| | |
| --- | --- |
| Pnuff Crunch's Worth | $1.6 million *Approx |
Is Pnuff Crunch Still In Business?
It is also running Pnuff Crunch Company in July 2022 and is increasing its variety. Many employees are also working in this company which is working to provide employment to the people.
Right now this company is running in a profitable way but it needs a lot of marketing to move forward.
It is slowly expanding internationally, and perhaps in the coming time, it can become a $100 million company.