Atmosphere Studio is a Delhi based startup that delivers Healthy & Natural Kombucha. Along with kombucha, it also delivers many other healthy and natural foods like Pancakes, Brewing Kombucha, Cheesecake, Pasta, Salad and many more.
The founders of Atmosphere Studio Company, Ariella Blank and Rebekah Sood, both launched this business in 2018 in South Delhi.
Both these sisters had very good knowledge of wellness space because they had been working in this space for many years.
Looking at the busy lifestyle and a polluted environment, they decided to share their knowledge with the world and Atmosphere Kombucha was born. Kombucha is a sparkling probiotic tea and has many health benefits such as antioxidant, kill bacteria, reduce heart disease and many more.
Ariella Blank and Rebekah Sood appeared in Shark Tank India Season 2 Episode 3 and demanded ₹75 lakhs from the sharks for 3% equity at a ₹25 Crores Valuation.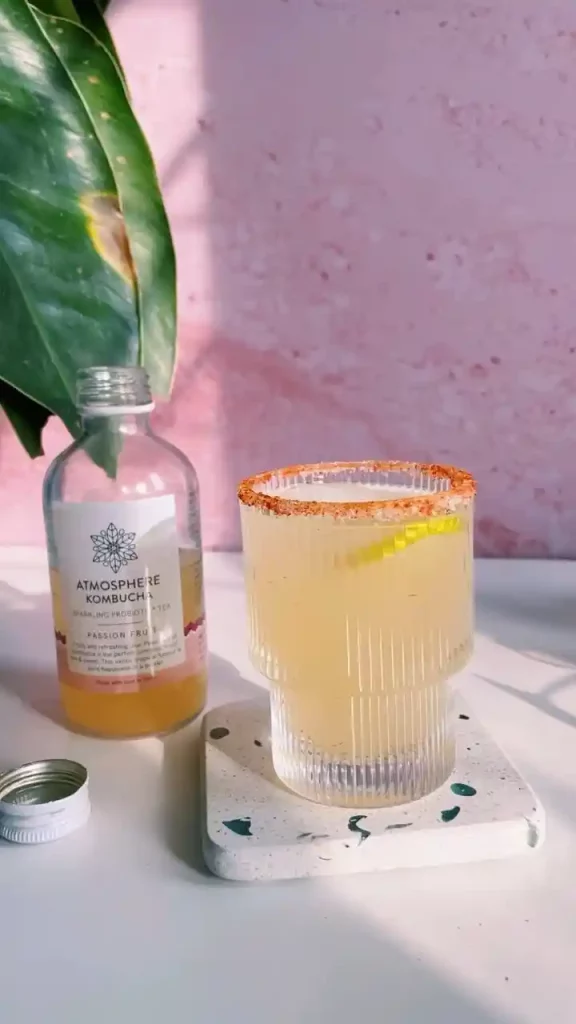 What Is Atmosphere Studio?
Atmosphere Studio is a New Delhi based food and beverage startup that delivers Kombucha. Kombucha is mainly made using Water, Kombucha Culture (Yeast and Bacteria), Organic Tea, Organic Sugar, Vanilla, Molasses, Organic Spices and Lime Juice ingredients.
It contains probiotics, digestive, organic acids and B vitamins which give energy to health. Drinking this in the morning helps in digestion.
Along with kombucha, the startup also sells kefir, cheesecake, fudge, pancake mix and pasta. This company delivers its product in Delhi NCR, Jaipur, Bangalore & Mumbai. One bottle of Kombucha is of 210 ml and costs Rs 220.
It ships the products in eco-friendly packaging. It sells products on Swiggy, Zomato, Amazon and on its website.
| | |
| --- | --- |
| Company Name | Atmosphere Studio |
| Founder | Ariella Blank and Rebekah Sood |
| Founded | 2018 |
| Business | India's Finest Kombucha |
| Asked For | ₹75 Lakhs for 3% equity |
| Final Deal | No Deal |
| Shark | No Shark |
| Episode (Shark Tank India) | S2 E3 |
| Air Date | Jan 4, 2023 |
| Business Status | In Business |
| Website | Visit Now |
| Headquarters | South Delhi, Delhi, India |
| Lifetime Worth (Sales) | ₹2 Crores *estimated |
| Go To Amazon | Buy Now |
| Watch On | Amazon Prime |
Another Shark Tank India Pitch
Who Is The Founder Of Atmosphere Studio?
Atmosphere Studio was launched by Sisters Ariella Blank and Rebekah Sood. The experience of both of them is in the wellness space since many years. Their family came to India from America in 1992 and settled in India.
Ariella Blank
After studying Computer Science from Oberlin College, Ariella did a course of Nutritional Therapy Association for 1 year.
After completing her studies, she worked as a Nutrition Consultant in Organic India for 1 year. In 2017, she launched a nutritional therapy practitioner named Ellas Wellness in Delhi.
Ariella is the Co-Founder and Chief Operations Officer of The Atmosphere Kombucha Company.
Rebekah Sood
Rebekah is the founder and CEO of this company. She has studied Computer Science from Oberlin College. On 2017, she worked in Fabcafe Foods Pvt Ltd restaurant chain and opened 28 restaurant chains nationwide.
How Was The Shark Tank India Pitch Of Atmosphere Studio?
Ariella Blank and Rebekah Sood both entered Shark Tank India and asked sharks for 75 lakhs for 3% equity. They told Shark their business story and how their family had settled in India from America.
They supply Kombucha through Starbucks, Blue Tokai and own website in Pan India. 100% of the employees in this business are women. Total 14 women work in their company.
In the financial year 2022 (to date August 2022), their annual sale has been of ₹1 crores. 60% of this sales came from B2B and 40% came through online. In b2b business they have 40% cafe & restaurant and 20% retail store.
Average margin in Retail & Cafe 35% & 40%. Their profit margin is ₹29 lakhs in ₹1 Crores. They sell most of kombucha products at railway stations in India.
With the investment money, they want to set up a manufacturing unit and can make 3 lakh kombucha bottles every month.
Namita Thapar said this is a headache business so she is out. Aman Gupta said that growing this business is like fighting a fight and he cannot come in it.
Anupam Mittal offered ₹75 lakhs for 20% equity at a ₹3.75 Crores. Vineeta Singh made an offer ₹30 lakhs for 10% equity & ₹45 Lakhs Debt @ 12% intrest at a ₹3 Crores Valuation.
Ariella & Rebekah counter Anupam ₹75 lakhs for 8% equity at a ₹9.38 Crores Valuation. Anupam said that he can reduce the equity from 20% to 1 or 2%, but Rebekah said that they cannot go beyond 10% equity. Anupam said that his valuation will not match, so he is out.
Finalize: Atmosphere Studios did not get the deal in Shark Tank India.
What Happened To Atmosphere Studio After Shark Tank?
Atmosphere Studios didn't get the deal in Shark Tank because the founders didn't want to go above 10% equity. The founder refused to accept Vineeta's debt offer.
As Aman said, there would be 90% people in India who would have heard about Kombucha for the first time in Shark Tank India. That's right, we didn't even know there was a drink called Kombucha in the market.
This new startup got free promotion in Pan India and there will be many people who will probably start using this product.
After this episode aired, many people shared their opinion on social media.
Saw it on SharkTank just now , I've ordered a pack of Kambuchas for nearly Rs 1000 for my mum. May you get the required funding and are able to scale up…

@vashishttwinkle
Kombucha is available at 200 locations across India like Modern Bazaar and other super market stores.
Atmosphere Studio Shark Tank India Update
Atmosphere Studio, a kombucha business, didn't get the deal in Shark Tank India, but the sharks liked their product. This founder demanded ₹25 crores valuation in Shark Tank.
This company had sold ₹1 crores by August 2022 and their profit margin in this was only ₹29 lakhs. To grow this type of Foods and Beverages business, a good strategy and strong supply chain is required.
We're following Ariella Blank and Rebekah Sood along with their company for further updates.
What Is Atmosphere Studio Net Worth?
Atmosphere Studio is worth ₹25 Crores. Both the sisters started this business and very well they used their strategy and made the business profitable. Namita says that it is very difficult to make this type of business profitable. Currently this kombucha business needs an investment to grow.
Is Atmosphere Studio Still In Business?
New Delhi Base This Foods & Beverages business is in profit and delivering the products in Delhi NCR, Jaipur, Bangalore & Mumbai.
Various of media publications have featured this startup such as LiveMint, Times of India, IndiaTimes, IndiaExpress and many more.
Yes, Atmosphere Studio is still in business as of January 2023.
Atmosphere Kombucha: Latest Deals, Promo Code & News
frequently asked questions
Who founded Atmosphere Kombucha?
Atmosphere Kombucha was founded in 2018 by Ariella Blank and Rebekah Sood.
What is the valuation of Atmosphere Kombucha?
The current valuation of Atmosphere Kombucha is ₹25 Crores.