Ride FRSH is a car air freshener business and the founders of this business are 4 black entrepreneurs Donovan Brown, Garrett Mitchell, Trey Brown and Dean Parker. This car air freshener keeps the cars fresh for long and has a very strong smell.
Donovan Brown and Garrett Mitchell graduate from one school (Distributive Education Clubs of America). Both of them and their two friends Trey Brown and Dean Parker after a lot of thought came up with the idea of ​​this "Ride FRSH" car air freshener business.
This is the first black on car air freshener company in the United States. These four friends are very fond of driving cars, due to which they came up with this business idea.
Car Air Freshener Market Size is very big. In 2021, the total value of this industry is $2.51 billion and it is expected that it will reach $3.56 billion in 2029.
According to transparencymarketresearch, the car air freshener market in the US alone was worth $897.1 million in 2020.
Donovan Brown and Trey Brown along with their company Ride FRSH appeared on Shark Tank Season 14 Episode 7 and demanded $200K for a 5% equity at a $4 Million Valuation from the shark.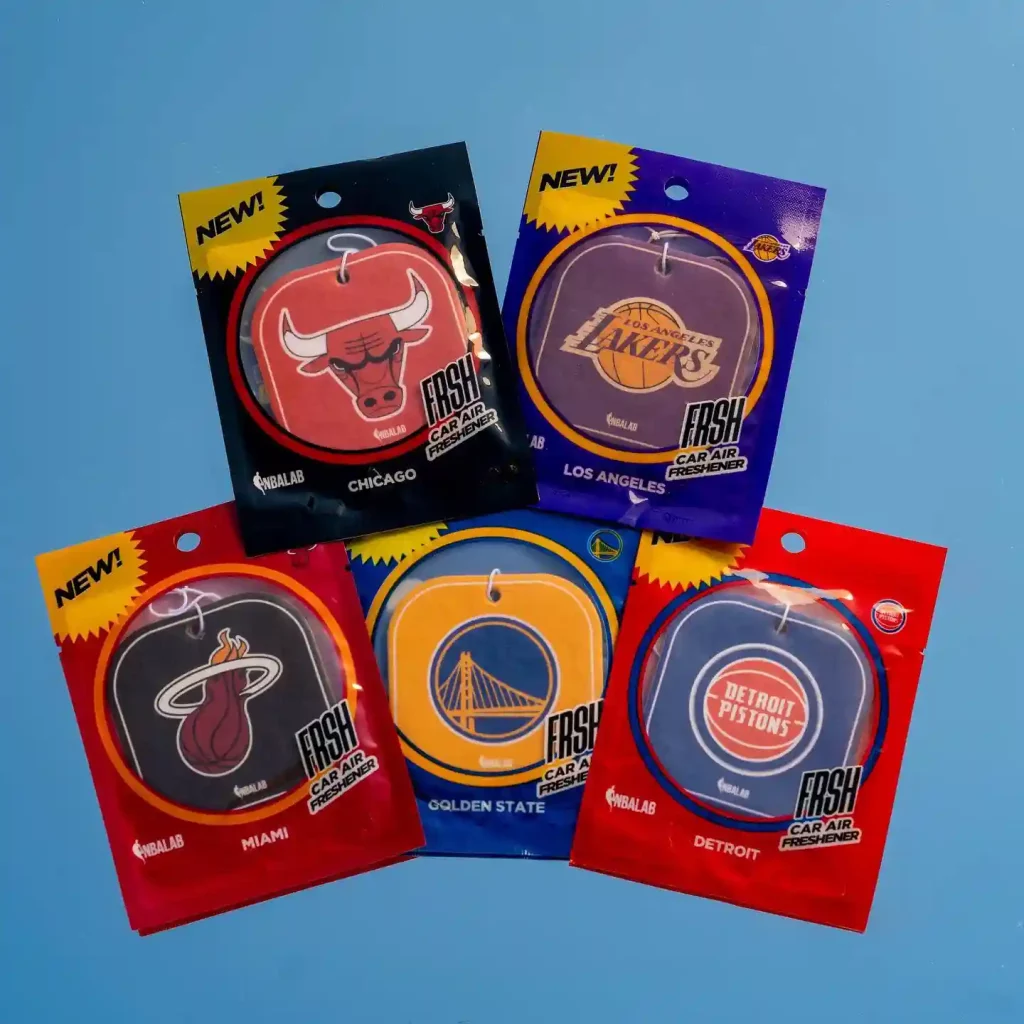 What Is Ride FRSH?
Ride FRSH is an American black owned company that exclusively manufactures car air fresheners. The air freshener of this company is a kind of strong scent which works to improve the ride of the rider.
The design of this air freshener scent is completely simple and does not look like an air freshener. "Ride FRSH" air fresheners are thicker than old-fashioned fresheners and last twice as long.
Each air freshener is a quote from a funny hip hop song's lyrics. This freshener is available in different scents which include Midnight, Peach, Vanilla, New Car Scent, Cool Mint, Lavender, Strawberry, Woodgrain, Cherry, Jasmine, Leather, Pina Colada, Eucalyptus and Ocean Breeze.
They sell their air fresheners in two way, bundled gift box and subscription base models. The gift box pack is available for 12, 6 and 3 months, in which every month 2 air fresheners are delivered to the customer. Its price is $60, $30 and $15.
In the subscription model, $5 is charged every month and 2 cents are delivered every month. You can customize your air freshener by paying $7.25 every month.
| | |
| --- | --- |
| Company Name | Ride FRSH |
| Founder | Donovan Brown, Garrett Mitchell, Trey Brown and Dean Parker |
| Founded | Oct, 2018 |
| Product | long lasting car air freshener |
| Asked For | $200K for a 5% equity |
| Final Deal | $200K for a 20% equity |
| Shark | Barbara Corcoran |
| Episode (Shark Tank USA) | S14 E7 |
| Air Date | Nov 18, 2022 |
| Business Status | In Business |
| Website | Visit Website |
| Headquarters | South Gate, California, United States |
| Go To Amazon | Visit Now |
Another Shark Tank Pitch
Who Is The Founder Of Ride FRSH?
The co-founders of this company are Donovan Brown, Garrett Mitchell, Trey Brown and Dean Parker. All four together came up with this car air freshener business idea.
Donovan Brown is the Co-Founder and Marketing Director of this company and has studied marketing, finance, hospitality and management from Distributive Education Clubs of America.
Trey Brown is the Co-Founder and Director of Partnerships of this company. Garrick Mitchell studied at the Distributive Education Clubs of America and is the Digital Advertising pro and Co-founder of this company.
Ride FRSH Before Shark Tank
This car air freshener business idea came to the 4 founders while spending time in their Los Angeles apartment.
This business was started in 2017 by 4 black entrepreneurs. In the beginning of the business, the co-founder faced a lot of difficulty but gradually they started growing the business.
To expand, this company has sign a license deal with NBA and Viacom Media. This company is selling different design cents of NBA Club and SpongeBob Squarepants characters.
In August 2021, this company had more than 10,000 active subscribers, due to which the company's revenue was $600,000 per year.
Their products are available in 2700 Target stores. On Jan 1, 2021, Bryce Roberts, co-founder of Oreilly AlphaTech Ventures, invested $350k in "Ride FRSH" in a seed round.
By November 2022, this company has sold a total of 27,000+ air fresheners. The CO-Founder has come to Shark Tank to seek the help of a shark to grow their business.
How Was The Shark Tank Pitch Of Ride FRSH?
Donovan and Trey Brown enter Shark Tank with their company FRSH and ask the sharks for $200k for a 5% equity. Both of them explained to the shark about their car air freshener in a very unique way.
The entrepreneur quoted Mark Cuban in his pitch because Mark is the owner of the Dallas Mavericks National Basketball Team and Mark didn't like it.
Mark Cuban said this was the dumbest marketing move ever so he's out of it. All the sharks were surprised to hear this and Mark said wrong move wrong time.
This business started with direct to consumer and in 3 years it has made total sales of $1.1 million.
In 2022, they sell about $750,000. Last 2021 year they had sales of $540,000 and all of this was done through a subscription model. If someone takes the subscription model, then he can cancel it after 4 months.
Last year 2021, they made $40,000 profit. Lori Greiner said that this is not the right investment for her then she is out.
Robert Herjavec and Kevin O'Leary also refused to invest in this business. Barbara Corcoran says she believes in Two Entrepreneur and will made a offer $200k for a 25% equity.
The entrepreneur countered with $200k for a 15% equity, but Barbara Corcoran said there could be no of 15% equity. After this the entrepreneur countered with 20% equity and Barbara Corcoran accepted the offer.
Finalize: Barbara Corcoran invested $200K in "Ride FRSH" for for 20% equity.
What Happened To FRSH After Shark Tank?
Donovan and Trey Brown both pitched their business very well on Shark Tank but Mark found it to be the dumbest marketing move. Because of this Mark decided to back out of the deal.
All the sharks refused to invest in this business except Barbara Corcoran. Barbara invested $200,000 in the business in exchange for 20% equity.
The profit of this business in 2021 was $40,000 which is very less. This business is yet to be expanded nationwide.
After the episode aired, many viewers started talking on Twitter about the short conversation between Mark Cuban and the entrepreneur.
Ride FRSH Shark Tank Update
Co-founders Donovan and Trey Brown pitched the shark very well in Shark Tank and also gave a lot of information about their business journey.
The CO-founder had also told how and from where they got this unique business idea. Apart from this, they also gave information about the annual revenue of their business.
Barbara Corcoran has invested in this car air freshener company and will try to grow this business nationwide using her expertise.
We're following Donovan Brown, Garrett Mitchell, Trey Brown and Dean Parker along with their company for further updates.
What Is Ride FRSH Net Worth?
These four co-founders had to face a lot of difficulty in the initial time to run this business. There are many challenges to list their product on a retail chain like Target. Despite all this, the co-founder has tried hard to grow their business. As of now We think the Ride FRSH net worth to be around $0.3 million to $0.7 million.
Is Ride FRSH Still In Business?
This simple car air freshener comes with a unique design and has music lyrics printed on it. This air freshener looks like a fancy product.
This air freshener company is currently in the process of expanding to International. There are many retail franchise stores in which this product is yet to be listed.
This private company is headquartered in Los Angeles, California, United States and employs total 1-10 employees.
Yes, Ride FRSH is still in business as of November 2022.