The Lit Handlers is a custom Koozies that handles different types of beverages so that the hands do not get sweaty, cold, etc. The use of these handlers makes the beverage product look very cool and unique. Lit Handlers Appeared in Shark Tank Season 12 Episode 25 for Funding.
It doesn't just handle beverages, it also has stylish pockets that can store small things like lighters, keys, lipsticks, etc. Custom Koozies are made for different shapes of favorite beverages.
In today's time, there are many companies that are making this type of beverage handler product. It has a lot of competition in the industry.
However, in the meantime, the founder of lit handlers, Destiny Padgett, is doing quite a good business. After joining Shark Tank, she asked the sharks for $200,000 for 10% equity at a $2 Million Valuation. Daymond John invested $200,000 for 20% equity in this company.
So this business got a deal in Shark Tank but what happened to the Lit Handlers after Shark Tank, we will know in this post.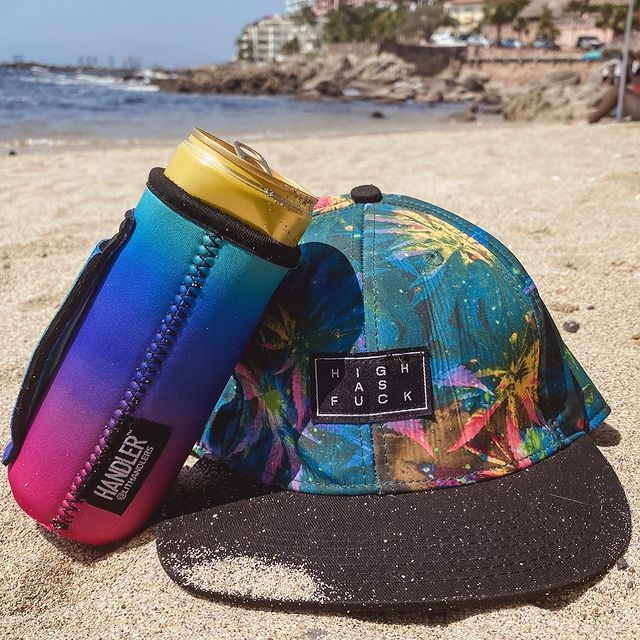 What Are Lit Handlers?
Lit Handlers is a custom Koozies designed to suit different beverage product sizes, colors, designs, and shapes. This product fits quite easily with your favorite beverages.
The special thing about this handler is that the cool beverages remain cool and the hot beverages keep getting hot. Perfectly it controls the temperature of beverages so that it is not difficult to hold in hand.
Most koozies are made from fabric or foam, but these Lit handlers are made with 3mm water-resistant neoprene (think wetsuits).
It becomes easy to hold it through the hand as it has a handlebar, as well as pockets, are available in it to keep lighter, key or lipstick, etc.
It doesn't just make only handlers attached to beverages, it also makes Car Coasters, Mermaid popsicles, Shark popsicles, Beach Totes, Backpacks, Lunch Bags, and Concealed pockets.
The price of this product depends on its color, size, and design. It is also available on its website along with Amazon.
| | |
| --- | --- |
| Company Name | Lit Handlers |
| Founder | Destiny Padgett |
| Founded | 2017 |
| Product | Custom beverage handlers |
| Asked For | $200k for 10% equity |
| Final Deal | $200k for 20% equity |
| Shark | Daymond John |
| Episode (Shark Tank USA) | S12 E25 |
| Air Date | May 21, 2021 |
| Business Status | In Business |
| Net Worth | $2 Million *estimated |
| Website | Visit Website |
| Headquarters | Buna, Texas, US |
| Go To Amazon | Buy Now |
Another Shark Tank Pitch
Who Is The Founder Of Lit Handlers?
The Founder and CEO of Lit Handlers is Destiny (Robison) Padgett. She started this company in July 2017 in Boona, Texas. Padgett is self-employed and a mother.
She completed her studies at BYU-Pathway Worldwide and then started LITcancoolers in July 2016.
Lit Handlers Before Shark Tank
Padgett, the founder of LitHandlers, is a sales expert who has already sold products on the e-commerce site. They have very good knowledge of listing the product on the e-commerce website and selling it.
Padgett started her entrepreneurial journey in a very difficult situation. She lost her daughter's biological dad to suicide when she was 10 weeks pregnant. this moment is a very difficult time for a mother.
She started a baby boutique for her family in 2010 and she started learning a lot about it. 2013 Christmas time, her parents gifted him a Silhouette machine, through which she tried to grow her business by opening a store on Etsy.
Once they realize that there are many people who are searching for blank can coolers. Due to this she created a website and started Selling 5 packs, 25 packs and 100 packs of the blank can coolers.
She started this company in the name of LITcancoolers, however later she changed its name to Lit Handlers.
How Was The Shark Tank Pitch Of Lit Handlers?
Destiny Padgett entered Shark Tank with litter handlers and asked the sharks for $200,000 for 10% equity. She told Shark about her business journey and also informed about her sales report.
It has sold $630,000 so far in 2020. Last year she made sales of a total of $780,000. Padgett said that the sharks would help him with licensing and business growth.
She sells this product on her website, Amazon and Etsy. In 2020, she is hoping for her net to be $200,000.
Mark, Robert & Lori are out of this business because they don't think Padgett needs investment. Kevin & Daymond are showing interest in this business. So Kevin offered $200,000 for 20% Equity. Daymond offered $200,000 for 25% equity.
Padgett has received offers from both Kevin and Daymond. Padgett counters the Daymond for 20% and the deal is closed.
Finalize: Daymond invested $200K in Lit Handlers for 20% equity.
What Happened To Lit Handlers After Shark Tank?
Lit handlers got a successful deal in Shark Tank. Daymond became a partner in this company. Daymond had to say about this business that he can grow it very well.
After this episode of Shark Tank aired, the sales of this beverage handler product became more than one month in the last few years. Due to the Shark Tank show, this business got more than half a million orders in just one month.
Many people bought this product and shared its photo on their social media accounts Instagram. This company is currently shipping its product internationally as well as giving it wholesale as well.
Recently this company has launched new products which include Tumbler Handler, Slim Can Handler, and many more.
Till now we have not got much information about this business but this company's annual revenue in September 2022 is $1.2 million.
Lit Handlers Shark Tank Update
After the Shark Tank episode of Lit Handlers aired. This company got a very good order. But due to heavy rain in Texas, Wherehouse got caught in the flood. However, there was not much damage to the product in this.
Due to this flood, it took a long time to ship the product. She also gave an update to her customer regarding this.
This deal was Closed with Daymond on July 2021. This September 2022, this company made approximately $1.2 million in annual revenue.
What Is Lit Handlers Net Worth?
In Shark Tank, this company signed a deal at a valuation of $1 million, and as of now, Lit Handler's net worth can be $2 million.
Is Lit Handlers Still In Business?
It has been 6 years of Lit Handlers doing business in 2022. Padgett is focusing more on this business so that it can grow.
In today's time, there are many products related to beverage handlers that have come into the market, due to which the competition of this company has increased even more.
Most of the sales of this product will be coming through Amazon & Etsy because its website is not getting many visits.
Currently, this company's headquarter and warehouse is in Buna, Texas, United States. At present 1-10 employees are working in this.
Yes, Lit Handlers is still in business as of September 2022.